Deluxe Scavengers w/CoQ10
Metabolic Maintenance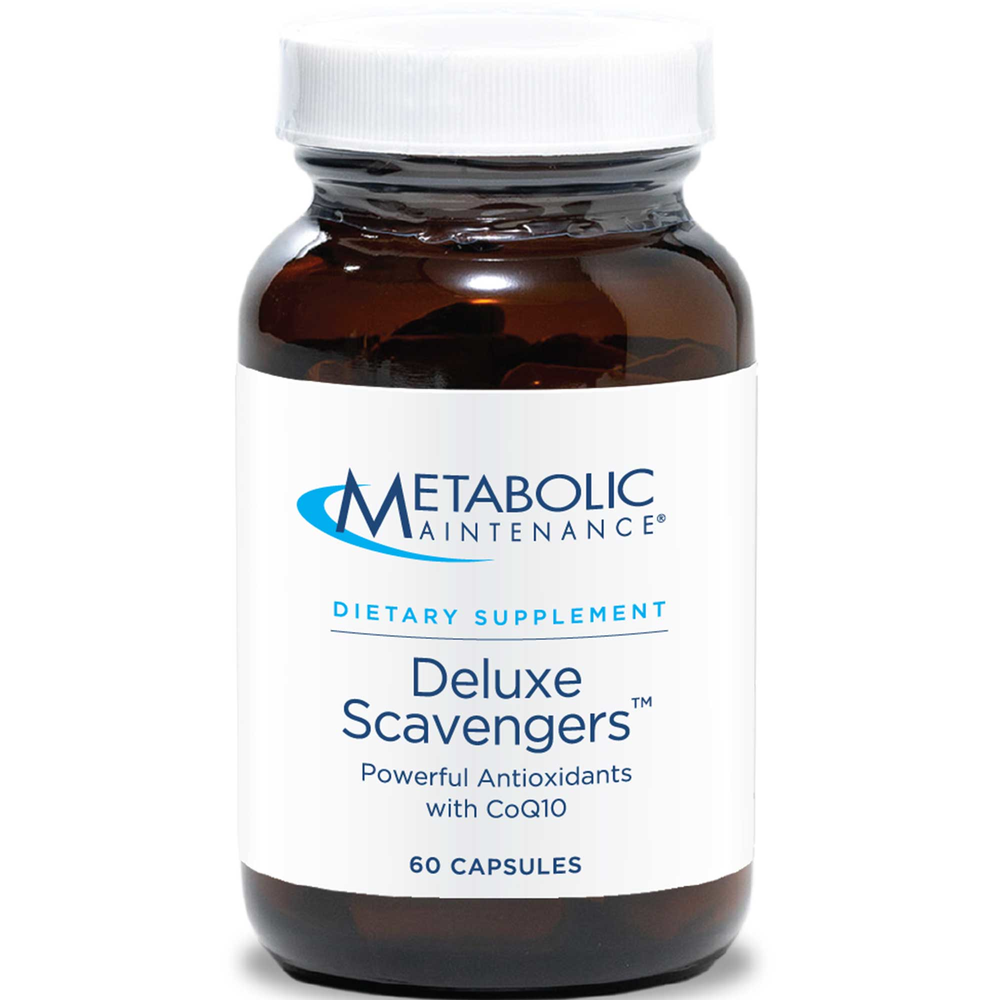 SKU: ME3-00214
Deluxe Scavengers premium antioxidant formula has been reformulated to include the latest generation of potent phyto-extracts and over 3 times the amount of CoQ10. Now a 2 capsule serving instead of 3, the new formula is designed to be more compatible with your daily multivitamin.
The new Deluxe Scavengers features Pomella ® pomegranate extract with 30% punicalagins. Water soluble and highly bioavailable, Pomella ® has been shown to have more antioxidant capacity than green tea, grape seed, resveratrol or acai, and to inhibit formation of advanced glycation end products (AGEs).
The powerful vegetable antioxidants lutein and zeaxanthin have also been added. Well known for their role in eye health, these pigments are also the predominant carotenoids in brain tissue and have been shown to support healthy aging and cognitive health.
Deluxe Scavengers includes 100 mg each of Setria ® glutathione and CoQ10. Oral doses of Setria ® have been proven effective at increasing serum levels of this master antioxidant. Our CoQ10 is the natural, all-trans form made in Japan or the US. Found in every cell of the body, CoQ10 requirements are highest for maintaining cardiovascular function.
The primary antioxidant vitamins A, C and E are still included as natural mixed carotenoids, both water and fat-soluble vitamin C, and natural d-alpha and mixed tocopherols. Since multivitamins contain riboflavin, B-6 and selenium, we have removed these to alleviate concerns of over-supplementation.
Take two (2) capsules daily with meals, or as directed by a healthcare professional.
Serving Size: 2 Capsules

Amount Per Serving
Vitamin A ... 3000 mcg RAE
(10,000 IU as Natural Mixed Carotenoids)
Vitamin C ... 500mg
(as Ascorbic Acid and Ascorbyl Palmitate)
Vitamin E ... 267mg
(400 IU as d-Alpha Tocopheryl Acid Succinate and Mixed Tocopherols)
CoEnzyme Q10 ... 100mg
Setria® L-Glutathione ... 100mg
(reduced form)
Pomella® Pomegranate fruit extract ... 100mg
(standardized to 30% punicalagins)
Lutein ... 100mg
(from Lutemax 2020)
Zeaxanthin ... 2mg
(from Lutemax 2020)
Other Ingredients: vegetarian cellulose capsule.
Vitamin E is derived from soy oil.
Keep tightly closed in a cool, dry place, out of reach of children.