DetoxiCleanse Powder
Bioclinic Naturals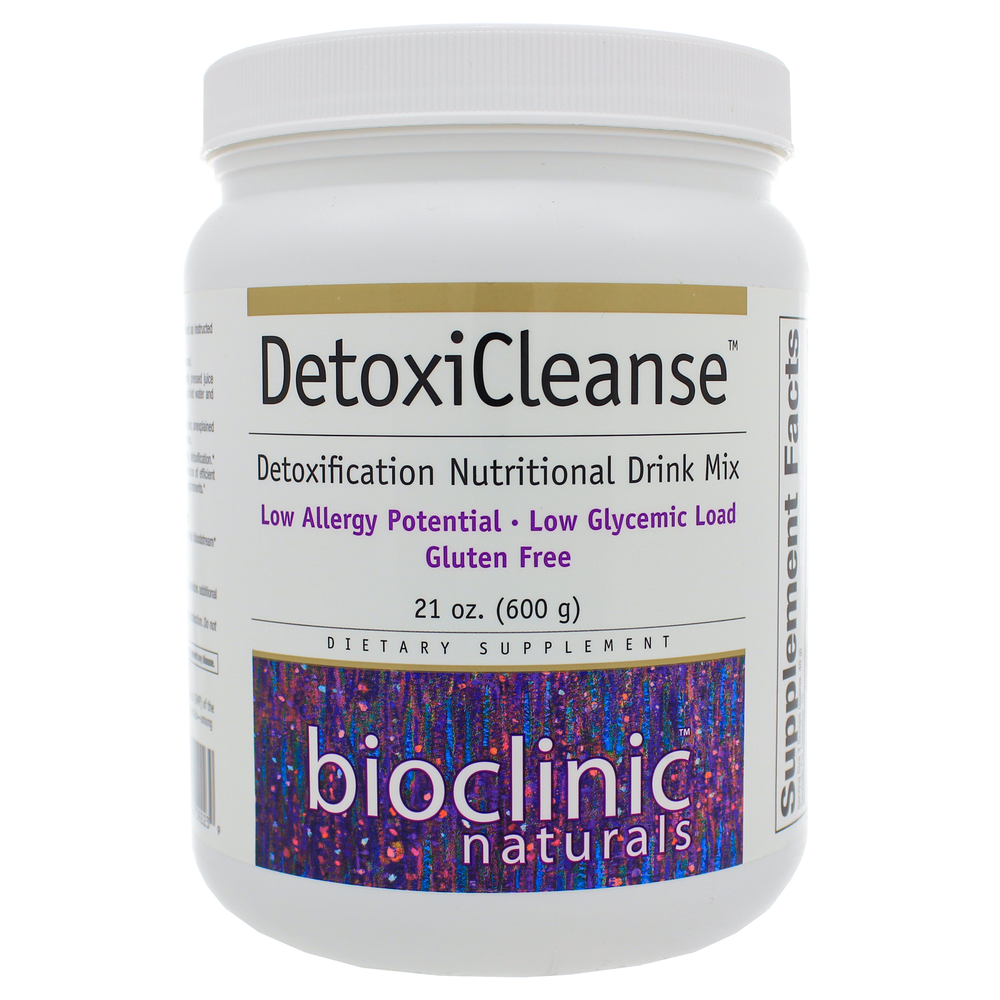 SKU: BCN-9223
In addition to a broad spectrum of vitamins and minerals that support detoxification pathways, the DetoxiCleanse™ Detoxification Nutritional Drink Mix contains a blend of amino acids, phytochemicals, and antioxidants that support the elimination of toxins and protect cells from damage. Among these nutrients is N-acetyl cysteine, an amino acid known to restore hepatic glutathione levels, prevent liver damage, and reduce the burden and toxicity of heavy metals such as methylmercury and cadmium. Also included is alpha-lipoic acid, which supports glutathione conjugation, provides antioxidant support in both fat- and water-soluble tissues, and prevents nerve cells from mercury damage as well as increases mercury excretion.
Green tea extract and milk thistle are both known for their hepatoprotective properties, as well as for their potent antioxidant capacity against environmental toxins. Milk thistle also enhances glucuronidation and protects against glutathione depletion. Additionally, the DetoxiCleanse Detoxification Nutritional Drink Mix mix contains broccoli powder, comprised of glucosinolates that have been shown to improve estrogen metabolism, and provide support for phase II conjugating enzymes. The use of sodium alginate, cellulose, apple pectin and guar gum promote healthy digestion and elimination of toxins by reducing stool transit time, and the use of organic-sprouted brown rice as the gluten free protein source allows those with celiac disease or gluten sensitivities to safely restore
intestinal wall health.
Unique Features
• Nutrients and phytochemicals designed to increase production of intracellular glutathione for enhanced elimination of toxic metals, free radicals, and other pollutants
• Improved bowel function, reducing transit time and increasing frequency of bowel movements
• Liver and kidney support for optimal detoxification and function
• Formula reduces recirculation of toxins during elimination process
• Provides a gluten-free protein source for those with gluten sensitivities to safely restore intestinal wall health
• Low glycemic index and load, low-allergy-potential, gluten-free
For Daily Maintenance & Mild Detoxification: Start your day with 2 scoops (40 g) mixed as instructed below or as directed by a health care professional.
5-Day Modified Diet: 2 scoops (40 g) 2–3 times per day for 5 days or as directed by a health care professional.
Mixing Instructions: Blend, shake or briskly stir 2 scoops (40 g) into 8 fl. oz. of purified water or freshly pressed juice (vegetable or fruit). You can also customize your drink mix by blending 2 scoops (40 g) with 8 fl. oz. of purified water and 1 cup of fresh or frozen organic berries or other fruit. Stir and drink immediately.
Serving Size: 2 Scoops (approx. 40 g)

Amount Per Serving:
Calories ... 140
Calories from Fat ... 35
Total Fat ... 4g
Saturated Fat ... 3g
Total Carbohydrate ... 10g
Dietary Fiber ... 6g
Sugars ... 4g
Protein ... 15g
Vitamin A ... 2, 400IU
(as beta carotene)
Vitamin C ... 150mg
(ascorbic acid)
Vitamin D ... 100IU
(as cholecalciferol)(lanolin)
Vitamin E ... 25IU
(as d-alpha tocopheryl acetate)
Thiamin ... 20mg
(as thiamin hydrochloride)
Riboflavin ... 10mg
Niacin ... 10mg
(as niacinamide)
Vitamin B6 ... 25mg
(as pyridoxine hydrochloride)
Folate ... 200mcg
(as folic acid)
Vitamin B12 ... 50mcg
(as cyanocobalamin)
Pantothenic Acid ... 15mg
(as calcium pantothenate)
Calcium ... 273mg
(as calcium citrate, dicalcium phosphate & calcium sulfate)
Phosphorus ... 37mg
(as dicalcium phosphate)
Iodine ... 15mcg
(as potassium iodide)
Magnesium ... 100mg
(as magnesium citrate)
Zinc ... 10mg
(as zinc citrate)
Selenium ... 40mcg
(as selenium chelate)
Chromium .... 75mcg
(as chromium chelate)
Molybdenum ... 10mcg
(as molybdenum citrate)
Potassium ... 150mg
(as potassium citrate)
Organic Sprouted Brown Rice ... 20g
Protein Concentrate
Cellulose ... 3, 000mg
Medium Chain Triglycerides ... 3, 000mg
Guar Gum ... 1, 185mg
Soy Lecithin ... 1, 000mg
L-Glutamine ... 500mg
L-Glycine ... 500mg
Sodium Alginate ... 400mg
(extracted from Laminaria japonica)
Chlorella ... 250mg
L-Methionine ... 250mg
L-Lysine Hydrochloride ... 165mg
N-Acetyl-L-Cysteine ... 150mg
Stevia, powdered extract (leaf) ... 150mg
Methylsulfonylmethane (MSM) ... 100mg
Apple Pectin ... 100mg
Taurine ... 60mg
Alpha-Lipoic Acid ... 50mg
Sodium Copper Chlorophyllin ... 50mg
Milk Thistle (Silybum marianum) ... 50mg
powdered extract (seed)
Standardized to 60% Silymarin
Broccoli Sprout, powder ... 50mg
Green Tea (caffeine free) ... 50mg
(Camellia Sinensis), powdered extract (leaf)
Standardized to


Contraindication: Some of the components should be
avoided during pregnancy. While no specific contraindication
exists or is predicted, data is lacking for use during
lactation, and in children, and the dosage may need to be
reduced for those less than 18. Consult your health care
professional if you have been experiencing persistent diarrhea,
abdominal pain, unexplained weight loss or blood in
the stool.

Drug Interactions: N-acetyl cysteine may cause hypotension and headaches when taken with nitroglycerin. Some components may also have a hypoglycemic effect, and caution should be used for patients on antidiabetic therapy.

Note: DetoxiCleanse is also available as part of the 7-Day ReduceXS Total Body Cleansing Program which provides additional support for intestinal repair and rejuvenation.

Sealed for your protection. Do not use if seal is broken. For freshness, store in a cool, dry place.