DHA Infant
Nordic Naturals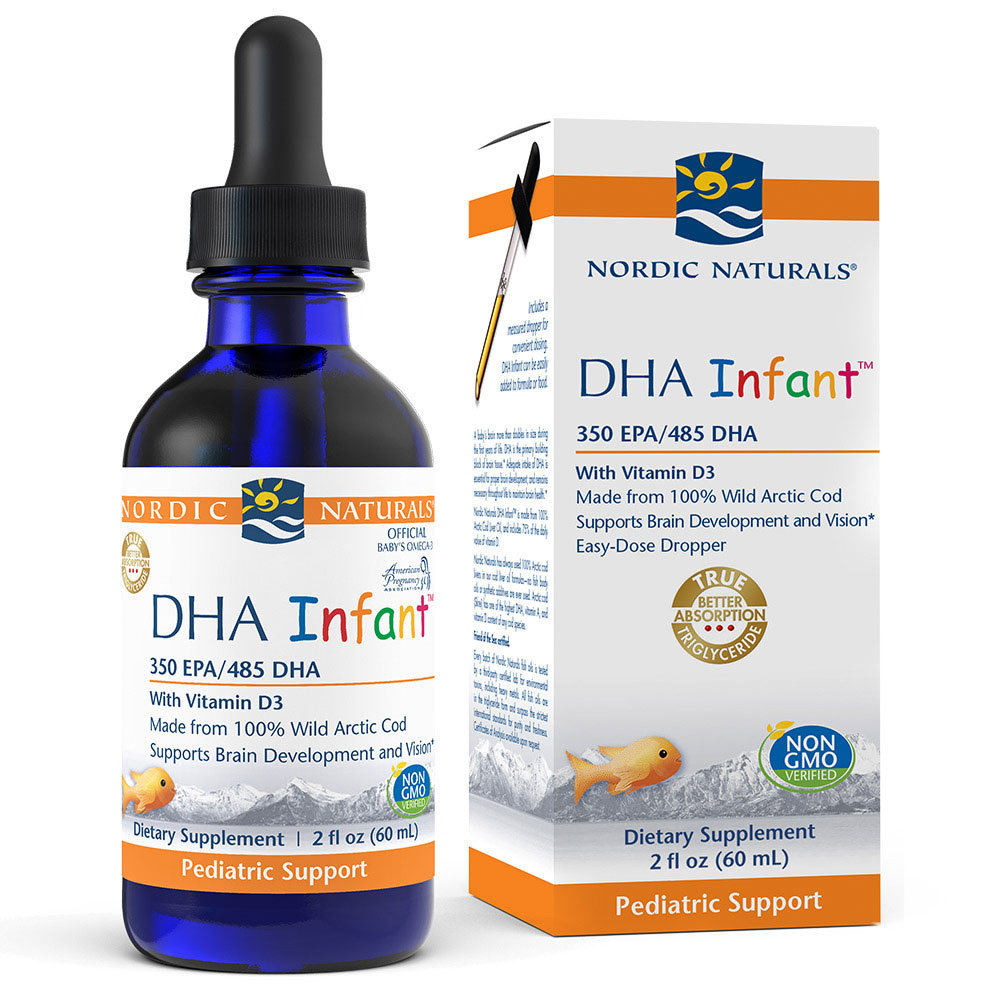 SKU: NORD-53788
Supports healthy brain, eye, and nervous system function*
Supports learning and language abilities*
With added natural vitamin D3 for further support of healthy development*
Measured dropper for easy addition to formula or food
Adequate intake of DHA is essential for proper brain development in infants. Nordic Naturals DHA Infant™ is made exclusively from Nordic Naturals Gold Standard 100% Arctic Cod Liver Oil. It is formulated for the specific omega-3 nutritional needs of infants 5 to 35 lbs. (or as directed by a health care professional).
Suggested Use for Infants:
5–10 lb: 1.0 mL
11–20 lb: 2.0 mL
21–25 lb: 3.0 mL
26–30 lb: 4.0 mL
31–35 lb: 5.0 mL
Serve with food, or as directed by your pediatrician. Do not depress bulb in oil.
Serving Size:
5mL
Amount Per ServingCalories
... 40
Total Fat
... 4.5g
Saturated Fat
... 0.5g
Cholesterol
... 20mg
Vitamin A
... 40mcg RAE
Vitamin D3
... 7.5mcg (300IU)
Total Omega-3s
... 1050mg
EPA
... 350mg
(Eicosapentaenoic Acid)
DHA
... 485mg
(Docosahexaenoic Acid)
Other Omega-3s
... 215mg
Other Ingredients:
purified arctic cod liver oil, rosemary extract (a natural preservative), d-alpha tocopherol (antioxidant), vitamin D3 (olive oil, cholecalciferol).
No gluten, milk derivatives, or artificial colors or flavors
Do not take if the tamper-evident seal is broken or missing. Refrigerate after opening. Best if used within 3 months after opening. Keep out of the reach of children.
Warning:
Consult with your physician before using this product if your baby is allergic to iodine, or uses blood thinners.