DigestSolve 24/7
American BioSciences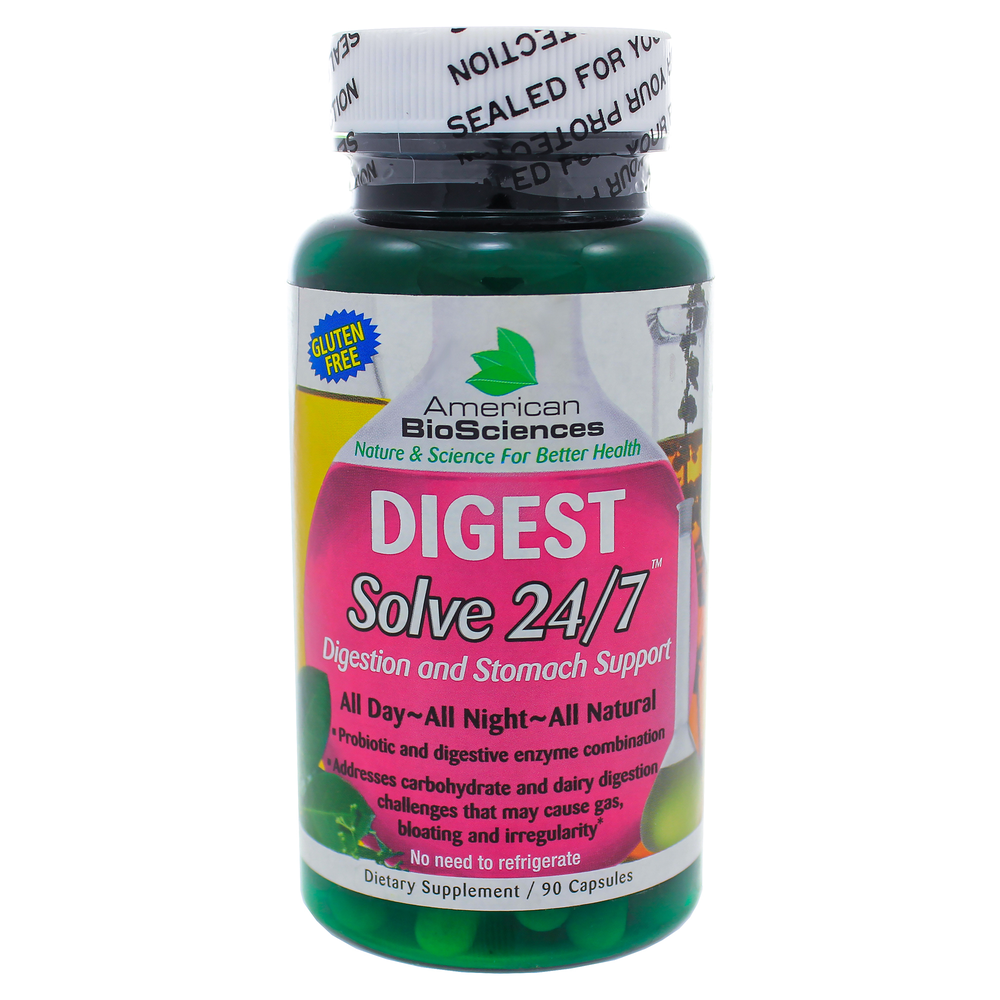 SKU: AM7-ABDS90
-Probiotic and digestive enzyme combination
-Address carbohydrate and dairy digestion challenges that may cause gas, bloating and irregularity.
No need to Refrigerate
DIGESTSolve 24/7, contains a combination of Bifidus BB536 Probiotic, BioCore Carbo & Dairy digestive enzymes and the gut soothing herbs, Chamomile and Fennel, digestion and promote healthy stomach function.* DIGESTSolve 24/7 also helps to support healthy intestinal flora and immune system balance.*
Take 1 capsule just prior to eating each meal, typically 3 capsules per day.
Serving Size: 3 capsules
Amount Per Serving
BioCore Dairy Ultra ... 108mg
Protease ... 630 BLGU
(from Aspergillus niger and A. oryzae)
Lactase ... 1000 ALU
(from Aspergillus oryzae)
Lipase ... 600 FIP
(from Candida rugosa)
Bifidobacterium Longum ... 75mg
(BB536)(over 3 billion microorganisms)
BioCore Carbo ... 43mg
Amylase ... 3, 526 DU
(from Aspergillus oryzae)
Invertase ... 473 SU
(from Saccharomyces cerevisiae)
Glucoamylase ... 11.8 AGU
(from Aspergillus niger)
Malt diastase ... 3, 870 DP
(from Barley)
Proprietary Blend ... 200mg
(Chamomile, Fennel)
Other Ingredients: Cellulose (capsule), tapioca
starch powder, silicon dioxide, magnesium stearate
Do not purchase if outer seal is broken or missing. Do not use if you are hypersensitive to any ingredient in this formula. Consult with a physician prior to use of the product if you are pregnant, nursing, or have any existing medical condition.
Store in a cool, dry place.
*These statements have not been evaluated by the FDA. This product is not intended to diagnose, treat, cure or prevent any disease.
It looks like there are no similar
products available