Digesta Guard Forte 10
Perque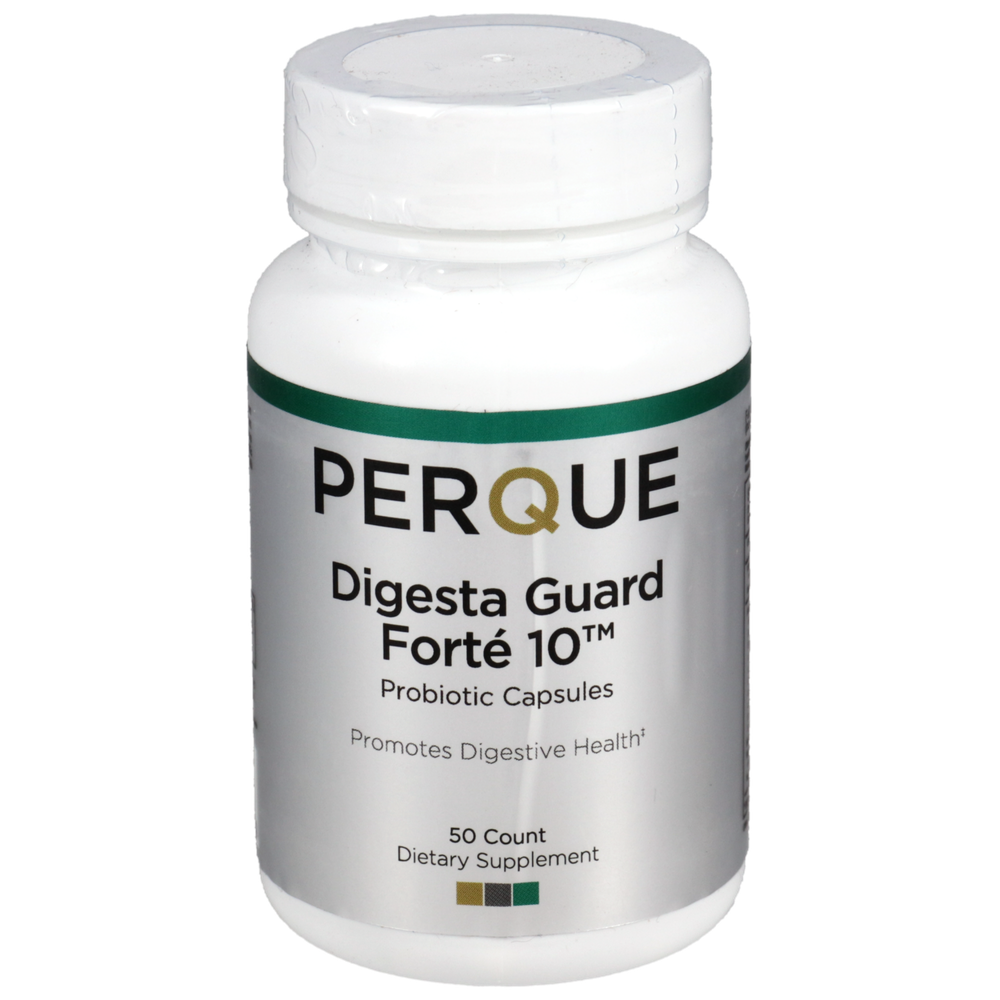 SKU: PER-157
Benefit: Protects the digestive track even when under assault in turn defending against infection and ill health.
PERQUE Digesta Guard Forte 10 is essential for individuals who take antibiotics. These medications wipe out good as well as bad bacteria, leading to complications, such as yeast infections, maldigestion, constipation, or diarrhea and nausea.
Digesta Guard Forte 10 effectively rehabilitates the digestive system by restoring the bodyis healthy, digestive organisms and clearing out toxins in the intestines. As individuals age, digestive malfunctions become more common. Breakdowns in the digestive tract are linked with antibiotic use, unhealthy diet, food allergies, heartburn, gastritis, ulcers, hemorrhoids, flatulence, and constipation.
PERQUE Digesta Guard Forte 10 is a probiotic supplement that actually replaces bad bugs with ten beneficial bacteria. It thereby improves digestion and wards off dietary toxins, such as pesticide residues, hormones in foods, and toxic metals like lead or mercury.
Directions: Take one (1) to six (6) capsules daily as directed by your health professional. Capsule may be opened and sprinkled on food.
Serving Size: One Capsule
Amount Per Serving
Alive, energized probiotic organisms ... 5billion
B. bifidum R0071 ... 500 million
B. breve R0070 ... 200 million
B. longum R0175 ... 600 million
L. acidophilus R0418 ... 1000 million
L. casei R0215 ... 400 million
L. paracasei L26 ... 400 million
L. plantarum R1012 ... 200 million
L. rhamnosus R0011 ... 500 million
Lc. lactis ssp. lactis R1058 ... 1000 million
S. thermophilus R0083 ... 200 million
Vitamin C ... 1.36mg
(100% l-ascorbate, fully reduced, corn free)
Magnesium ... 3.4mg
(as C16 and C18 alkyls from whole, untreated palm fruit and leaf)
Maltodextrin ... 358mg
Vegetable capsule ... 75mg
NOTE
Color of product varies naturally from white to tan.
WARNING
Pregnant and nursing mothers need to check with their health professional before taking supplements.
KEEP OUT OF REACH OF CHILDREN
Must be stored with cap on tightly in a cool, dry place. Do not use product if the tamper-resist shrink band aroung the cap or inner seal beneath the cap appears to have been tampered with or is missing.