Digestion GB
Pure Encapsulations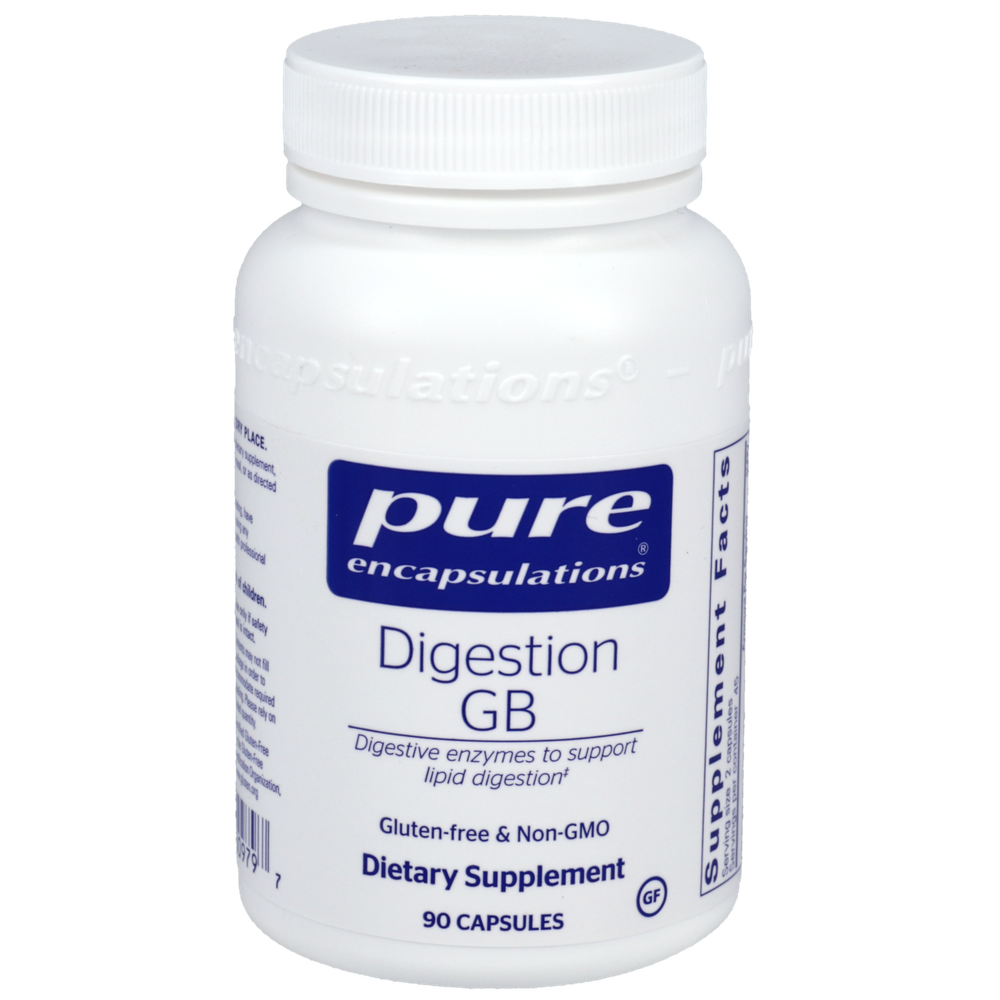 SKU: PUR-DGB9
Digestion GB is a digestive enzyme formula created to promotes healthy digestive function. Digestion GB specifically supports fat, carbohydrate and protein digestion as well as gall bladder function.*
Digestive enzyme formula*
Supports digestive health and gall bladder function*
Optimal support for fat digestion*
Made with hypoallergenic ingredients
Digestion GB contains digestive enzymes, bile salts, taurine and herbal extracts to promote healthy gall bladder function and fat utilization. The metabolism of fats involves emulsification and digestion in a complex process that requires healthy liver, gallbladder and pancreas function. Milk thistle, curcumin and taurine promote liver and gallbladder health and stimulate production and secretion of bile acids. Bile acids, also provided in the form of ox bile salts, support the emulsification of fats necessary for digestion. The digestive enzymes included in this formula are active in a broad pH range to support fat, carbohydrate and protein digestion to complement pancreatic enzyme activity. This formula has enhanced lipase for extra fat digestion support.
Take 2 capsules with each meal, or as directed by a health professional.
Serving Size: Two Vegetarian Capsules
Amount Per Serving
Proprietary Enzyme Blend ... 160mg
Providing:
Protease ... 16, 000HUT
Lipase ... 6, 000FIP
Amylase ... 600DU
Ox Bile Powder ... 225mg
(bovine)
Taurine ... 250mg
(free-form)
Milk Thistle Extract ... 150mg
(Silybum marianum)(seed)
(standardized to contain 80% silymarin)
Turmeric Extract ... 100mg
(curcuma longa)(root)
(standardized to contain 95% curcuminoids)
Other Ingredients: vegetarian capsule (cellulose, water), hypoallergenic plant fiber (cellulose), ascorbyl palmitate
Some studies have reported that milk thistle and curcumin can affect the way that the liver breaks down medications metabolized by the cytochrome p450 system, altering the effects of these medications and possibly the doses needed for treatment. Curcumin may be contraindicated with blood thinning medications. Consult your physician for more information.
In rare cases, curcumin or milk thistle may cause gastrointestinal upset. Milk thistle should be avoided by individuals with allergies to members of the aster (Compositea/Asteraceae) family, daisies, artichoke, kiwi or thistle. Curcumin should be used with caution in individuals with bile duct obstruction. If pregnant or lactating, consult your physician before taking this product.