DigestMax
Advanced Naturals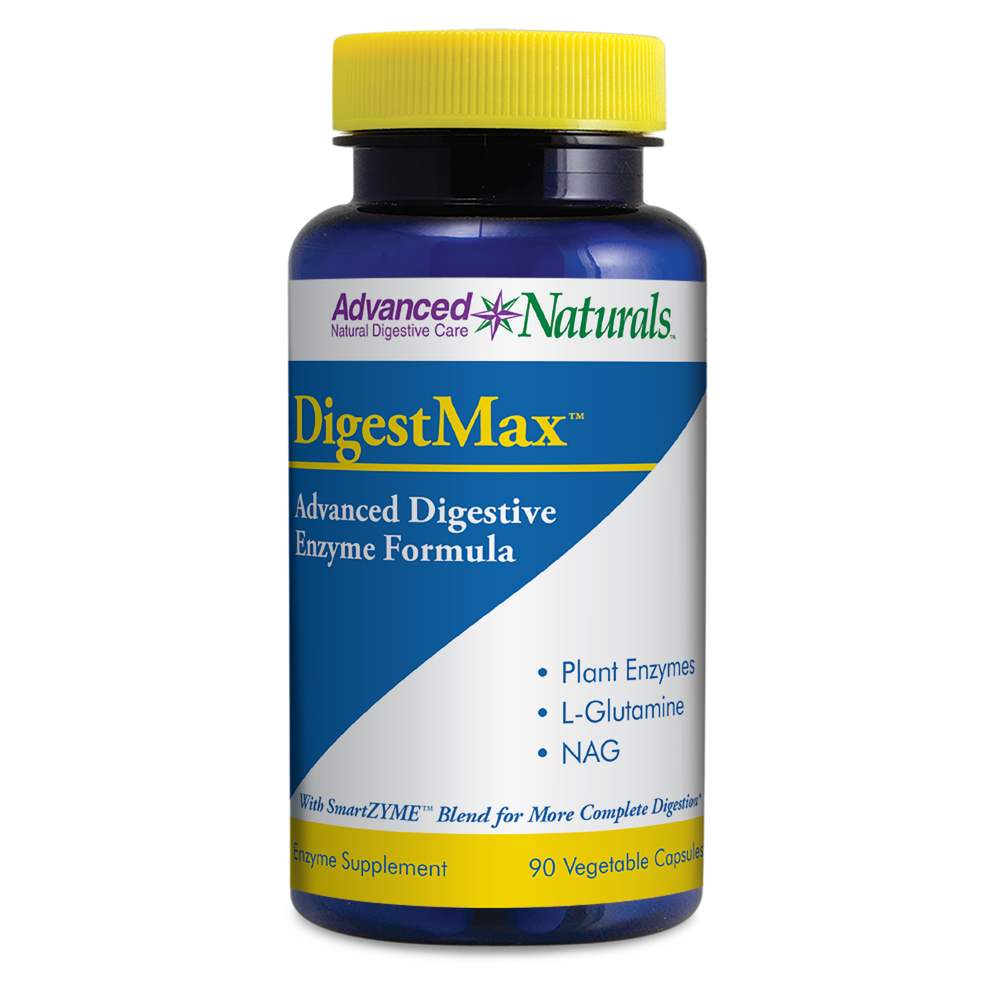 SKU: AVN-A16723
DigestMax is a powerful plant-based digestive enzyme formula made with natural ingredients to help support digestive tract health.* Plant enzymes help digest a variety of foods (including protein, carbohydrates and fats) and assist with nutrient absorption.* L-glutamine and N-acetyl D-glucosamine support digestive tract health.* Additional herbal and nutraceutical ingredients include marshmallow, ginger root, and gamma oryzanol (from rice bran), which have been used traditionally to help soothe the digestive tract.*
Why take Enzymes?
Enzymes help break down and digest food so the body can use it. Poor diet and rapid eating can cause incomplete breakdown of food. In addition, some people do not produce enough digestive enzymes. Without the enzymes needed for proper digestion, the body may not be able to digest and absorb the valuable nutrients it needs.
Who needs Enzymes?
Anyone can benefit from taking digestive enzymes with their meals, as they help maximize the nutrient intake from food.
Take 1 capsule with meals. May increase to 2 capsules if needed.
Serving Size: 1 Capsule
Amount Per Serving
Plant Enzyme Blend ... 210mg
Protein Digestive Complex with SmartZYME
Protease Blend 20, 000 HUT
Bromelain 260, 000 PU
Papaya Fruit 25mg
Fat Digestive Complex with SmartZYME
Lipase Blend 180 FIP
Carbohydrate, Fiber and Sugars Digestive Complex with SmartZYME
Amylase Blend 9, 000 DU
Lactase 250 ALU
Cellulase Blend 250 CU
Invertase (Sucrase) 395 SU = 130INVU
Malt Diastase 125 DP°
Pectinase w/Phytase 21 endo-PG
Sensitive Stomach Blend ... 170mg
L-Glutamine, Ginger root, Marshmallow root, N-Acetyl D-Glucosamine, Gamma Oryzanol
Other Ingredients: Vegetable capsule (vegetable fiber and water).
This product contains an ingredient derived from crustacean shells (shrimp, lobster, crab).
WARNING: Consult your physician before using this or any product if you are pregnant, nursing, trying to conceive, taking medication, or have a medical condition.