DigestRight
Integrative Therapeutics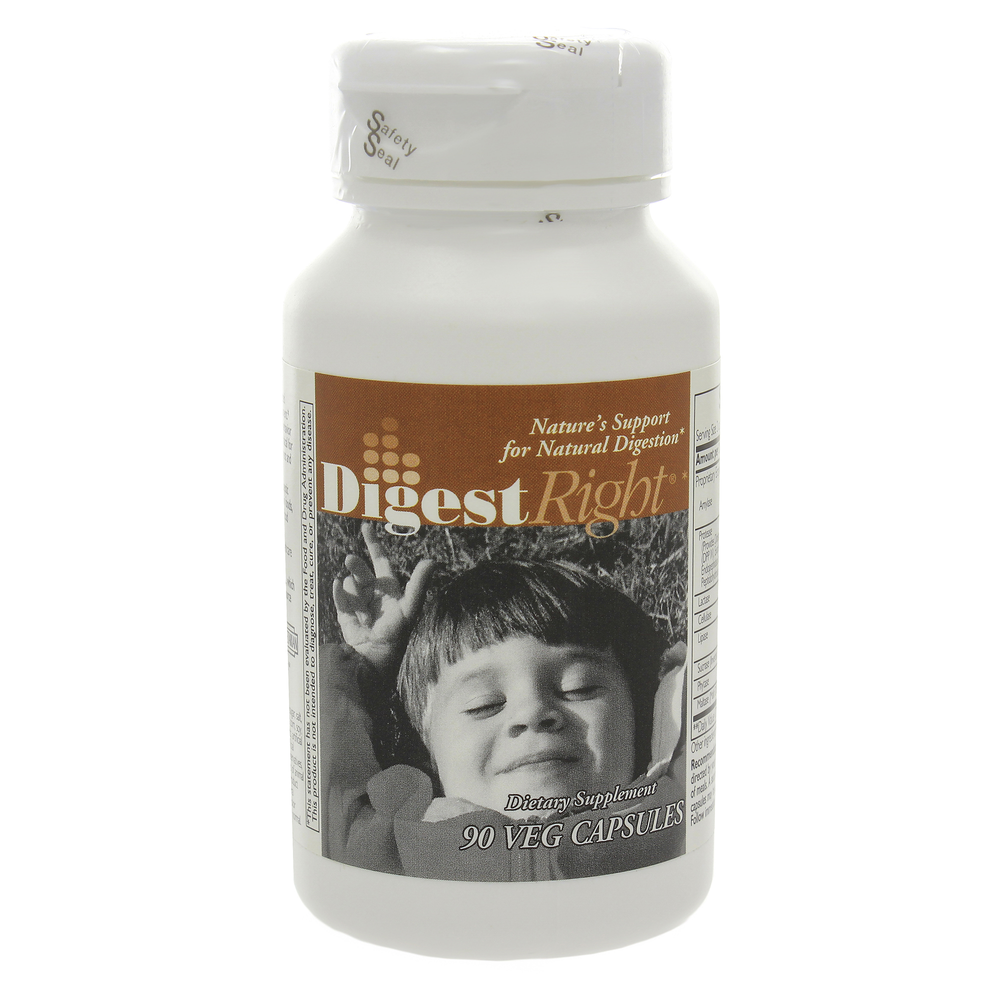 SKU: ITI-295002
Support for Digestion*
DigestRight is a comprehensive enzyme supplement formulated for children.* DigestRight has been formulated with a combination of ingredients designed to promote optimal digestion of the fullest range of foods.*
Take 1 or 2 capsules with each meal or snack, or as recommended by your healthcare professional. If desired, capsules may be opened and contents mixed into a small quantity of cold food. Consume immediately and follow with untreated food.
Serving Size: 2 Veg Capsules
Amount Per Serving
Microbial Enzymes ... 315mg
Assay Method
Amylase USP ... 6, 700 USP (pH 6.8)
FCC ... 6, 000 DU (pH 4.8)
Protease
(Provides Dipeptidylpeptidase IV 14, 500 USP USP (pH 7.5)
(DPP IV), Exopeptidase, 20, 200 PC FCC (pH 7.0)
Endopeptidase, and Peptide 34, 300 HUT FCC (pH 4.7)
Peptidohydrolase activity) 2, 000 CFAU (pH 7.0)
Lactase ... 2, 400 ALU FCC III (pH 4.5)
Cellulase ... 124 CU FCC (pH 4.5)
Lipase ... 630 FIP FIP (pH 7.0)
FCC III 300 LU (pH 6.5)
Sucrase (Invertase) ... 112 Sumner FCC (pH 4.6)
Phytase ... 0.64 U Phytic Acid (pH 6.0)
Maltase (Malt Diastase) ... 108 DP FCC (pH 4.6)
Other Ingredients: vegetable capsule (modified cellulose), cellulose, ascorbyl palmitate
DigestRight® Does Not Contain
artificial coloring
artificial flavoring
corn
dairy products
ingredients of animal origin
preservatives
salt
soy
sugar
wheat
yeast
Warning: Do not chew capsules. Do not use if gastritis, peptic ulcer or heartburn is present. When mixing capsule contents in foods, avoid contact with eyes and inhalation of powder. Changes in food consistency may occur when mixed with capsule contents.
If pregnant, nursing, or taking prescription drugs, consult your healthcare professional prior to use.
DigestRight® is a registered trademark of Creations Own, Inc., which is licensed for use to the International Child Development Resource Center (ICDRC) and Integrative Therapeutics, LLC.