DIM-Pro 100
Pure Encapsulations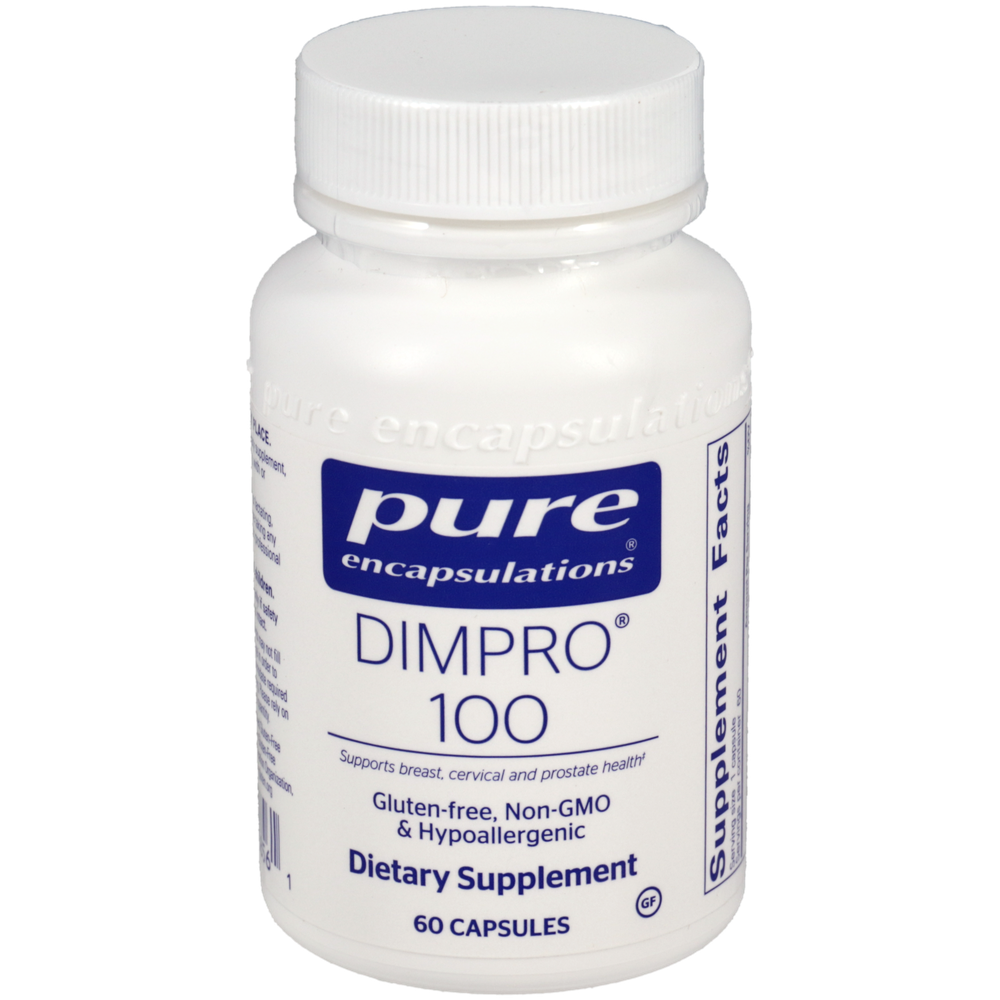 SKU: PUR-DP6
Metabolite of indole-3-carbinol for breast, cervical and prostate health
Support for healthy breast, cervical and prostate cells*
Made with ingredients naturally found in vegetables like broccoli, kale and Brussels sprouts
Safe for everyday use
Made with vegan ingredients
DIM–PRO® 100 contains BioResponse DIM® (diindolylmethane complex). Diindolylmethane is a metabolite of indole–3–carbinol (I3C). Both are found naturally in cruciferous vegetables like broccoli, kale and brussels sprouts. Upon contact with gastric acid in the stomach, I3C is converted to a number of active compounds, predominantly diindolylmethane. Research indicates that diindolylmethane supports healthy cell cycle function and signal transduction to maintain breast, cervical and prostate cell health. In a double blind, randomized clinical trial, BioResponse DIM® revealed potential support for maintaining the function of healthy breast cells. Another randomized placebo–controlled crossover trial found that it promoted statistically significant breast comfort. Furthermore, an additional double blind randomized clinical trial with 52 women found that BioResponse DIM® supported cervical cell health. Diindolylmethane in its pure form is highly insoluble. Patented, microencapsulated BioResponse DIM® has been specially developed for enhanced absorption. This form may be more supportive than I3C in cases of low gastric acidity.*
Take 1–3 capsules daily, in divided doses, with or between meals.
Serving Size: One Vegetarian Capsule
Amount Per Serving
Diindolylmethane Complex ... 100mg
(complex of starch, diindolylmethane,
D-Alpha tocopheryl succinate, phosphatidylcholine and silica)
(standardized to contain 25% diindolylmethane)(25mg)
Other Ingredients: hypoallergenic plant fiber (cellulose), ascorbyl palmitate, vegetarian capsule (cellulose, water)
WARNING
Not to be taken by pregnant or lactating women. Consult a health professional before taking this or any other product. Natural color variations may occur.