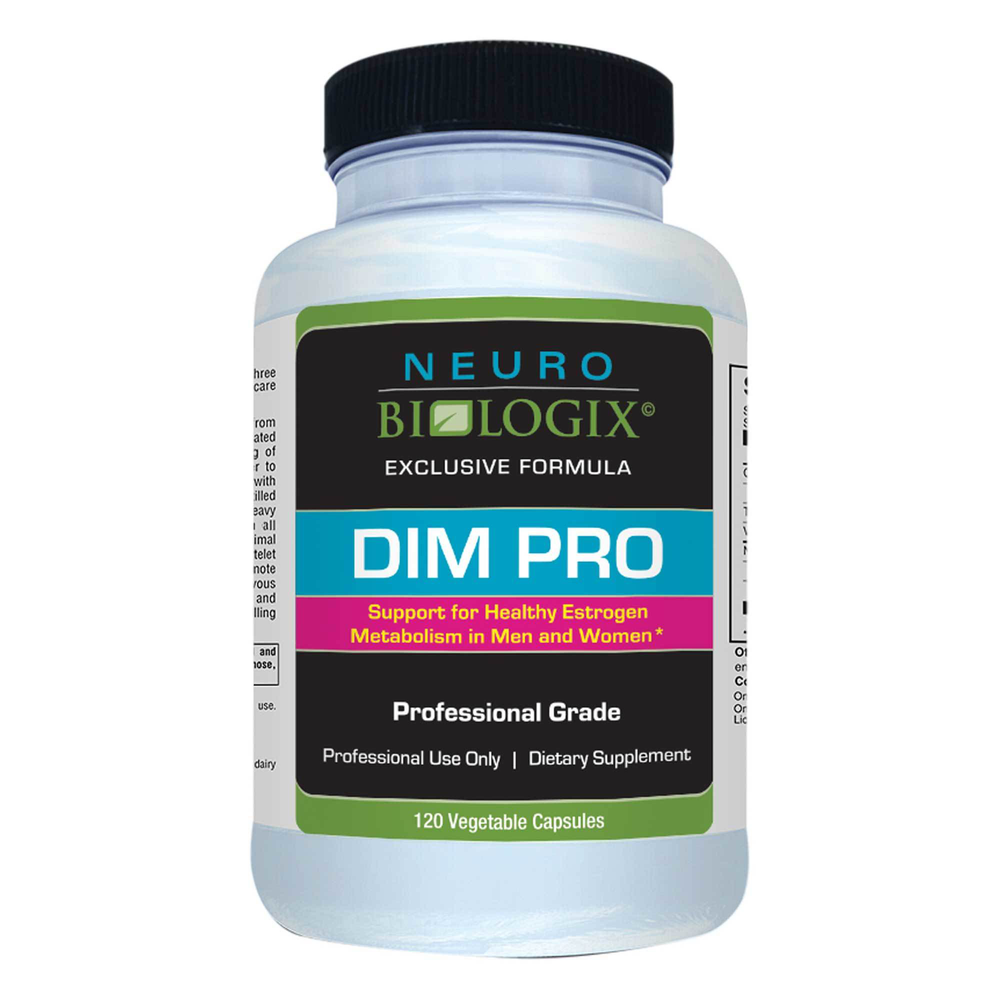 SKU: NEU866-667
Now with 200mg of DIM and 200mg of Calcium D-Glucarate Per Dose!
Diindolylmethane (DIM) is a compound derived from the digestion of indole-3-carbinol found in cruciferous vegetables such as broccoli, brussels sprouts, cabbage and kale. Dr. Leonard Bjeldanes PhD. of UC-Berkley was the first to discover DIM's biological mechanism of action through its role in healthy estrogen metabolism and unique immune modulatory properties.*
DIM possesses an ability to stimulate specific pathways of estrogen metabolism. Supplementation of DIM has been shown to increase the "good" estrogen metabolites (2-hydroxy) while simultaneously decreasing the "bad" estrogen metabolites (4-hydroxy and 16-hydroxy).
DIM Pro by Neurobiologix is typically utilized in patients who show signs of estrogen dominance.
With the addition of calcium gluconate, this ingredient has the ability to bind the "bad" forms of estrogen and assist with eliminating them from the body.
The common symptoms of estrogen dominance are:
Decreased interest in sex*
Loss of energy*
Irregular or otherwise abnormal menstrual periods*
Bloating (water retention)*
Breast swelling and tenderness*
Mood swings (most often irritability and sadness)*
Weight and/or fat gain (particularly around the abdomen and hips)*
Sluggish metabolism*
Foggy thinking, memory issues*
Trouble sleeping*
Suggested Use:
Adults take 1 capsule in AM and 1 capsule in PM (2 capsules daily). Children consult with a healthcare practitioner.
Serving Size:
2 Vegetable Capsules
Amount Per ServingCalcium D-Glucarate
... 200mg
(Calcium)
DIM
... 200mg
(Diindolylmethane)
Black Pepper Extract
... 2mg
(95% Piperine)
Other Ingredients:
Hypromellose (Capsule), Ascorbyl Palmitate, Silicon Dioxide, Microcrystalline Cellulose.
Does not contain:
Wheat, gluten, corn protein, soy, dairy products, artificial colors or preservatives.
Caution:
Do not use if pregnant or breast feeding.