Dr. Wilsons Dynamite Adrenal Pwd
Allergy Research Group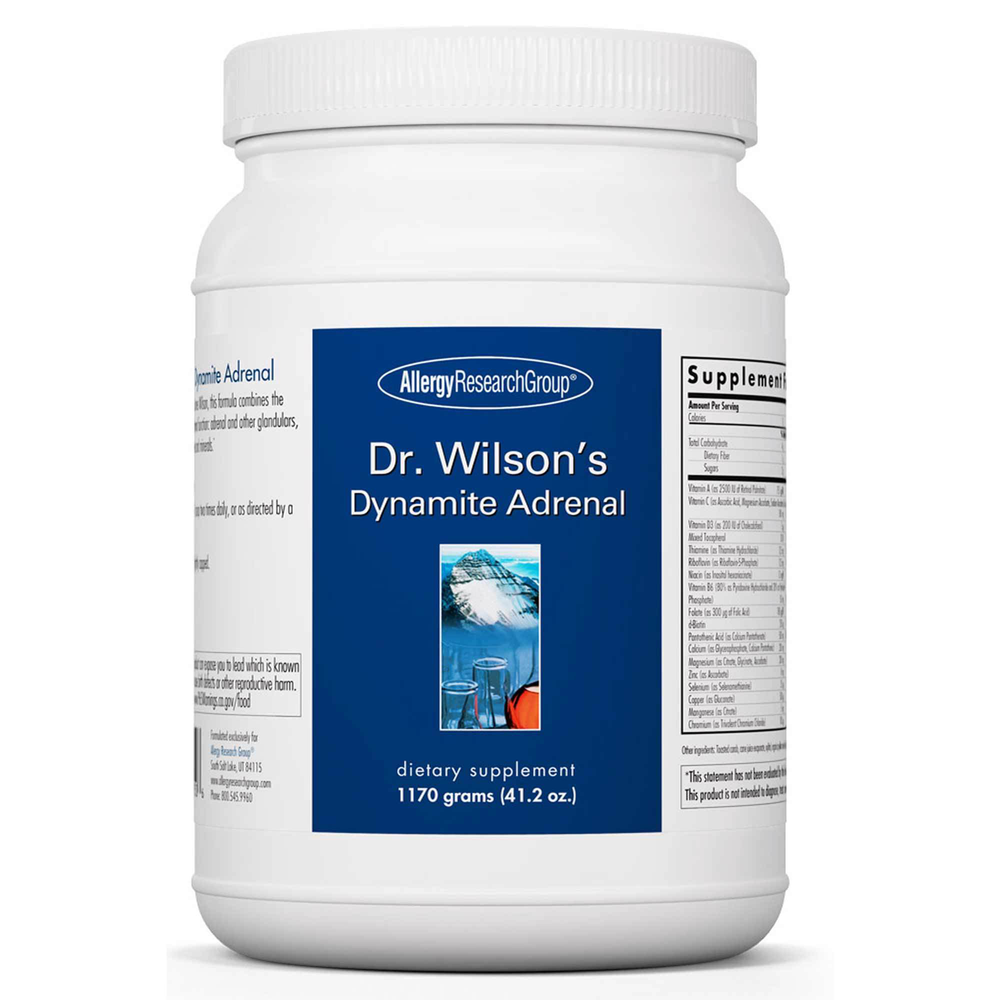 SKU: ARG-76150
Multi-nutrient formula designed to provide comprehensive nutritional support for the adrenal glands during times of stress and "adrenal fatigue."* Contains key vitamins, minerals, amino acids, herbs and glandulars in a delicious powder form. Developed by Dr. James Wilson, DC, ND, PhD.
Supports adrenal function and stress neutralization, and normal adrenal hormone production*
May be taken for daily maintenance of healthy adrenal glands*
May also be used as a daily multivitamin/ mineral formula
As a dietary supplement, 1 scoop two times daily, or as directed by a healthcare practitioner.
Serving Size: 1 scoop (approximately 13 grams)
Amount Per Serving:
Calories ... 15
Total Carbohydrate ... 4g
Dietary Fiber ... 1g
Sugars ... 2g
Vitamin A ... 2500IU
(as Retinol Palmitate)
Vitamin C ... 180mg
(as Ascorbic Acid, Magnesium Ascorbate, Sodium Ascorbate, Zinc Acorbate)
Vitamin D3 ... 200IU
(as Cholecalciferol)
Vitamin E ... 30Iu
(as Mixed Tocopherols)
Thiamine ... 12.5mg
(as Thiamine Hydrochloride)
Riboflavin ... 12.5mg
(as Riboflavin-5-Phosphate)
Niacin ... 13mg
(as Inositol Niacinate)
Vitamin B6 ... 50mg
(80% as Pyridoxine Hydrochloride and 20% as Pyridoxal-5-Phosphate)
Folic Acid ... 300mcg
d-Biotin ... 250mcg
Pantothenic Acid ... 500mg
(as Calcium Pantothenate)
Calcium ... 200mg
(as Glycerophosphate, Calcium Pantothenic)
Magnesium ... 200mg
(as Citrate/Malate, Bisglycinate, Ascorbate)
Zinc ... 8mg
(as Ascorbate)
Selenium ... 25mcg
(as Selenomethionine)
Copper ... 500mcg
(as Gluconate)
Manganese ... 5mg
(as Citrate)
Chromium ...100mcg
(as Trivalent Chromium Chloride)
Sodium ... 10mg
(as Ascorbate, Chloride)
Potassium ... 2mg
(as Chloride)
Organic Psyllium Seed Husk ... 700mg
Pantethine ... 50mg
Bioflavonoids ... 7.5mg
Choline Bitartrate ... 25mg
Glycine ... 1g
DL-Phenylalanine ... 250mg
L-Serine ... 125mg
L-Threonine ... 100mg
L-Tyrosine ... 25mg
EDTA ... 25mg
(Calcium)
Kelp ... 25mg
Proprietary Blend of Porcine Glandulars ... 372.5mg
(Adrenal, Orchic, Hypothalamus, Pituitary)
Maca Powder ... 275mg
(Root)
Ashwagandha Powder ... 125mg
(Root)
Licorice Powder ...50mg
(Root)
Eleuthero Powder ... 25mg
(Root)
Ginger Powder ... 12.5mg
(Root)
Ginkgo Powder ... 12.5mg
(Leaf)
Oat Bran ... 300mg
Other ingredients: Toasted carob, cane juice evaporate, xylitol, organic psyllium seed husk, sodium chloride, maltodextrin, natural tangerine flavor, natural vanilla flavor, silicon dioxide, carageenan gum.
This statement has not been evaluated by the U.S. Food and Drug Administration. The product is not intended to diagnose, treat, cure, or prevent any disease.