Drive Out Stasis in the Mansion of Blood (T-171)
TCM Zone
100 capsules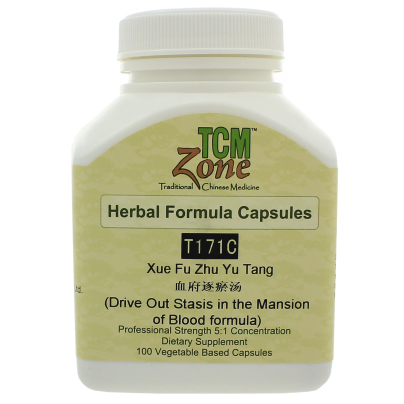 SKU: TCM-T171C
Drive out Stasis/Mansion of the Blood (T-171) 100c is available by Honsa, Usa.
TCM ZONE
Traditional Chinese Medicine
Herbal Formula Capsules
T171
Drive Out Stasis in the Mansion of Blood formula
(Xue Fu Zhu Yu Tang)
Professional Strength 5:1 Concentration
Dietary Supplement
100 Vegetable Based Capsules
More Info:
Manufactured for:
TCMzone, LLC
Exclusively Distributed by:
Honso USA, Inc.
4602 E. Elwood St # 6
Phoenix, AZ 85040
Made in China
Suggested Use:
Take four (4) vegetable capsules each time, three (3) times daily before or between meals, or as directed by your health care professional.
Serving Size: 12 vegetable capsules (6 g total, 5:1 concentration)

Amount Per Day (12 vegetable capsules)*
Rehmannia Root (Di huang) ...3.59
Angelica sinensis (Dang gui) ...3.59
Peach Pit (Tao ren) ...4.79
Safflower (Hong Hua) ...3.59
Citrus aurantium fruit (Zhi Ke) ...2.39
Peony Root (Shao yao) ...2.39
Bupleurum Root (Chai hu) ...1.20
Licorice (Gan cao) ...1.20
Platycodon Root (Jie geng) ...1.84
Radix Ligustici (Chuan xiong) ...1.84
Cyathula officinalis root (Chuan Niu Xi) ...3.59
* Amount of raw herbs before processing; Daily value not established.