Easy Being Green: Greens Powder - Orange
Ora Organic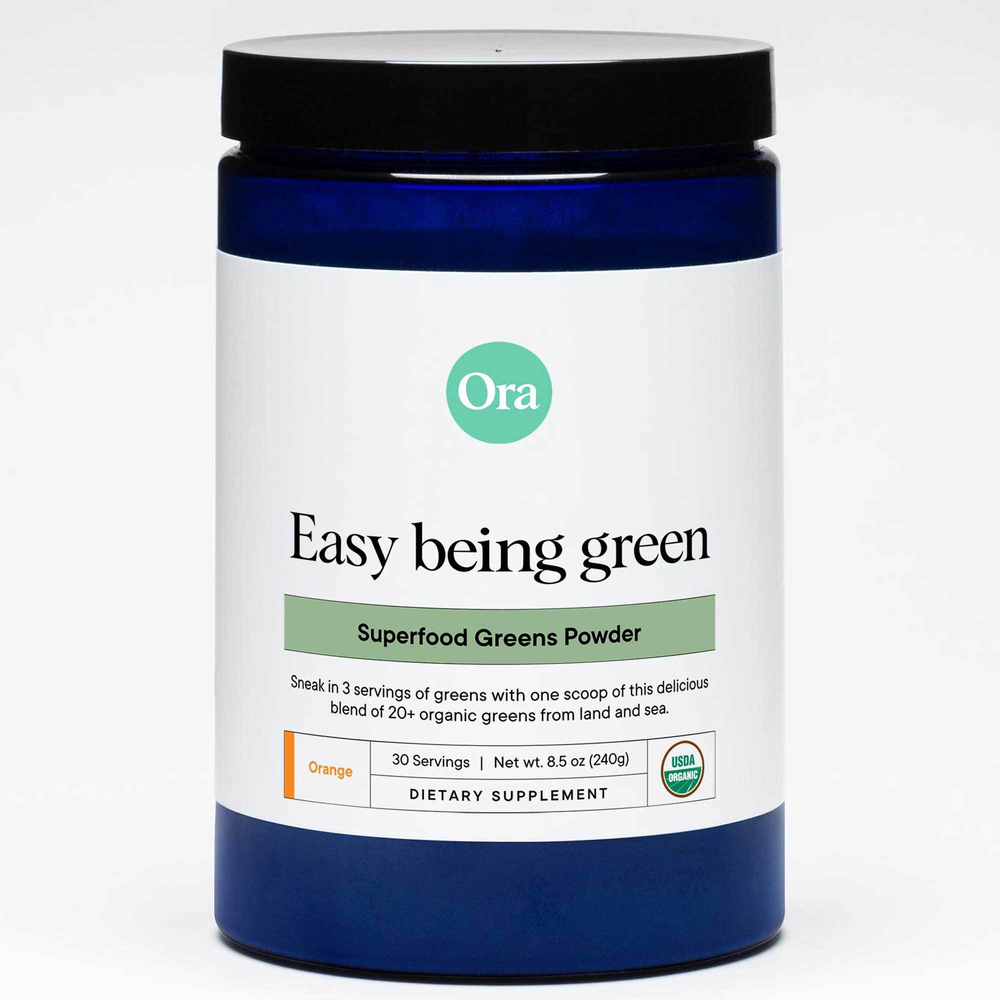 SKU: ORA858-1250P
Antioxidants and digestion:
Triphala is an Ayurvedic herbal formulation literally meaning "three fruits" that aids in digestion, internal cleansing and is a powerful antioxidant.
Counteract acidosis and boost your immune system:
Adding more veggies and greens to your diet can help counteract acidosis and preserve bone, muscle, and tissues. Ashwagandha, also called the "Indian ginseng," boosts the immune system, supports stress relief, increases focus while decreasing fatigue.

Ora Organics carefully crafted delicious citrus flavor comes from organic fruit and prebiotics, with no added sugar, filler ingredients, artificial flavors, colors, sweeteners or preservatives.
Why Ora Organics made this…
They know it can be tough getting your greens, and not everyone likes eating fruits and vegetables!
Ora Organics delicious Certified USDA Organic greens powder is made from over 20 veggies, grasses, herbs, algae and superfoods, helping you get the greens you need and perfect for sneaking extra nutrients to kids and picky eaters!

Suggested Use:
Mix 1 scoop or sachet of Ora Organic's 'Easy Being Green' greens powder with 8oz (250ml) of iced water.


Serving Size:
1 Scoop (8g)
Amount Per ServingCalories
... 30
Total Carbohydrate
... 5 g
Dietary Fiber
... 2 g
Sugars
... 1 g
Protein
... 2 g
Vitamin A
... 1859 IU
Vitamin C
... 8 mg
Vitamin K
... 11 mcg
Calcium
... 40 mg
Iron
... 1 mg
Sodium
... 30 mg
Organic Alkalizing Grass Blend
... 4.80 g
Organic Barley Grass Juice Powder, Organic Wheat Grass Juice Powder, Organic Alfalfa Leaf Powder, Organic Oat Grass Powder
Organic Alkalizing Grass Blend
... 1.66 g
Organic Spinach, Organic Kale, Organic Broccoli, Organic Cabbage, Organic Chlorella, Organic Spirulina, Organic Dandelion Leaf, Organic Parsley, Organic Cilantro, Organic Celery, Organic Green Bell Pepper, Organic Leek, Organic Dulse, Organic See Kelp
Organic Digestive Adaptogens and Prebiotics
... 1.05 g
Organic Tapioca Oligosaccharides, Organic Ashwagandha, Organic Triphala
Other Ingredients:
Natural Lemon Flavor, Natural Orange Flavor, Organic Monk Fruit, Organic Lemon Juice Powder.
Contains NO:
Dairy, gluten, soy, GMOs, peanuts, tree nuts, added sugars, filler ingredients, artificial ingredients, artificial. flavors, colors, sweeteners or preservatives.
Warning
: If pregnant, nursing, or taking prescription drugs, consult your healthcare professional prior to use.
Storage: Store in a cool, dry place and keep away from moisture. Refrigeration is not required.