Cal-Mag + Boron (Effervescent)
Priority One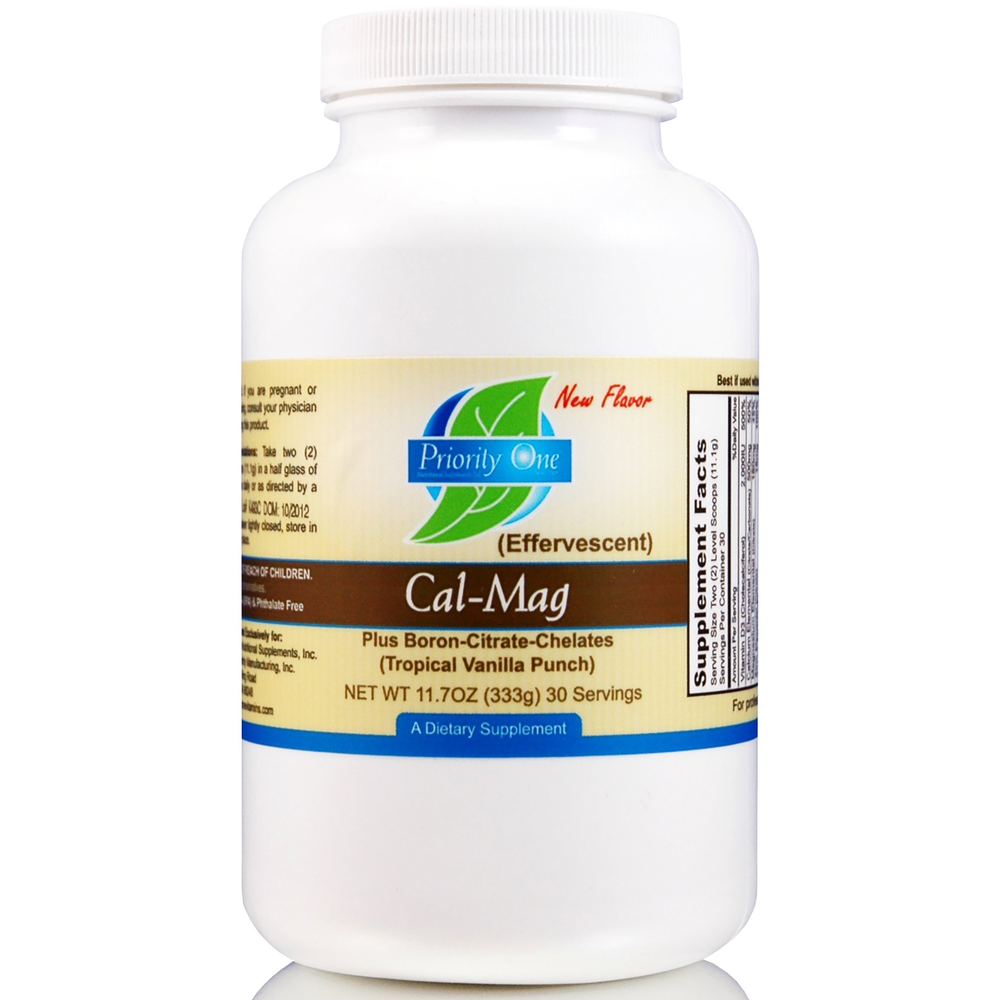 SKU: PR7-1204
A delicious vanilla-tropical punch flavored effervescent calcium magnesium supplement.
An easy way to obtain all the benefits of these vital minerals, great for children, seniors, or those who are not able to swallow a tablet.*
Take two (2) scoops (11.1g) in a half glass of water twice daily or as directed by your physician.
Serving Size: Two Scoops (11.1g)
Amount Per Serving
Vitamin D3 ... 2, 000IU
(as cholecalciferol)
Calcium ... 500mg
(as calcium citrate hydroxide carbonate)
Magnesium ... 180mg
(as magnesium citrate oxide)
Zinc ... 15mg
(as zinc citrate oxide)
Selenium ... 1mcg
(as sodium selenite aspartate)
Chromium ... <1mcg
(as chromium polynicotinate)
(ChromeMate®)
Molybdenum ... <1mcg
(as sodium molybdenum rice chelate aspartate)
Potassium ... 50mg
(as potassium citrate)
Boron ... 150mcg**
(as boric acid citrate)
L-Glycine ... 500mg**
Vanadium ... <1mcg**
(as sodium metavandate rice chelate)
Other Ingredients: Fructose, natural vanilla flavor, natural tropical punch flavor, sodium bi-carbonate, xanthan gum, sucrose, gum arabic, starch, silicon dioxide, citric acid, dicalcium phosphate, rice protein, dextrose, tapioca flour.
This product does not contain
preservatives
Bisphenol-A (BPA)
Phthalates
GMOs
ChromeMate® is a registered trademark of InterHealth Nutraceuticals Inc.
Warning: If you are pregnant or breast feeding, consult your physician before using this product.
Keep container tightly closed, store in a cool, dry place.
Keep out of reach of children.