Ele-Max
Integrative Therapeutics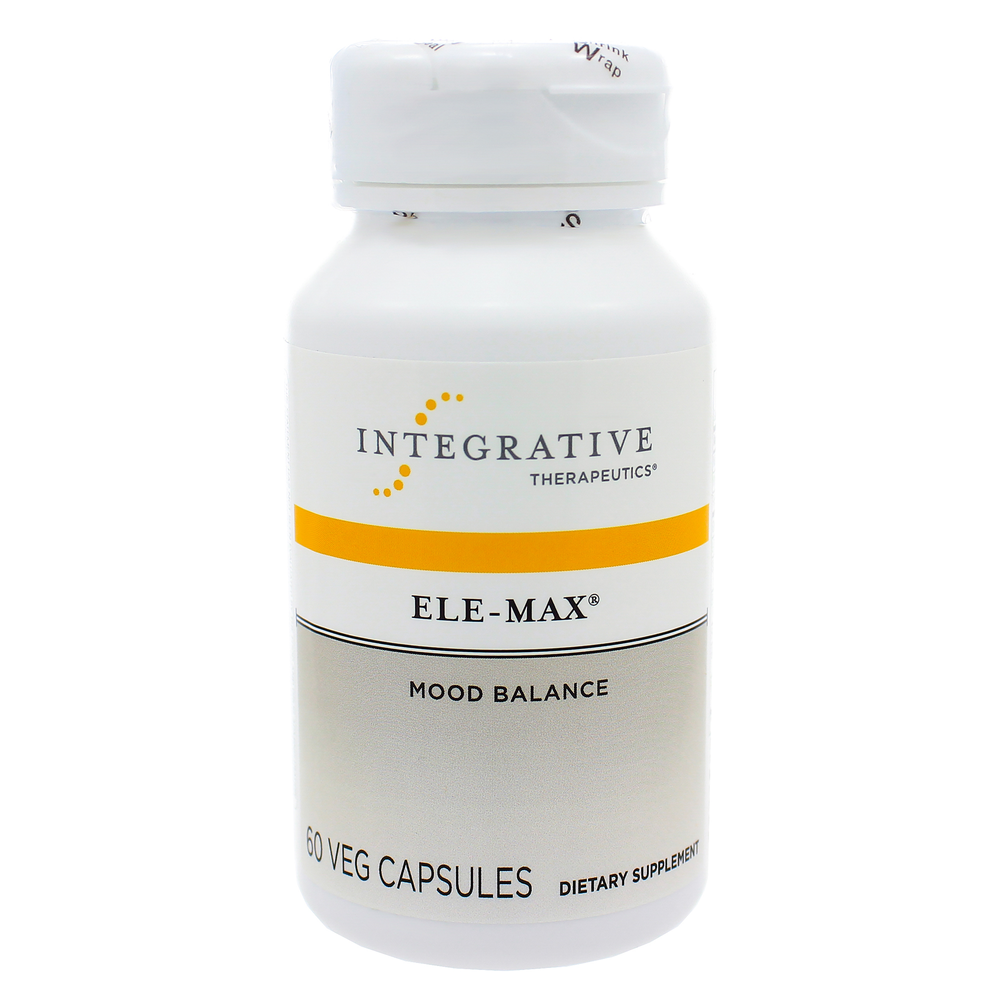 SKU: ITI-246002
Fluctuations and imbalances in neurotransmitters may predispose functional changes in mood. Ele-Max® mood balance provides nutrient cofactors, amino acid precursors and standardized botanicals specially formulated to support normal levels of endogenous neurochemicals.*
Take 2 capsules daily, or as recommended by your healthcare professional.
Serving Size: 2 Veg Capsules
Amount Per Serving
Niacin ... 100mg
(as Niacinol™)
Vitamin B6 ... 10mg
(as Pyridoxal-5-phosphate)
Folate ... 400mcg
(as Quatrefolic® brand (6S)-5-methyltetrahydrofolate, glucosamine salt)
Glycine ... 400mg
L-Tyrosine ... 300mg
Green Tea Leaf Extract ... 200mg
(Camellia sinensis)
5-HTP ... 100mg
(5-Hydroxytryptophan)
Ginkgo Leaf Extract ... 80mg
(Ginkgo biloba) 24% ginkgoflavonglycosides
Eleuthero Root Extract ... 50mg
(Eleutherococcus senticosus) 1.2% eleutherosides
Forskohlii Root Extract ... 30mg
(Plectranthus barbatus) (10% Forskolin)
Other Ingredients: hydroxypropyl methylcellulose (vegetable capsule), microcrystalline cellulose, ascorbyl palmitate
Ele-Max® Does Not Contain
artificial coloring
artificial flavoring
corn
dairy products
gluten
preservatives
salt
soy
sugar
wheat
yeast
Niacinol™ is our preparation of "flush free" inositol hexaniacinate.
Quatrefolic® is a registered trademark of Gnosis S.p.A.
Warning: This product should not be consumed by children under the age of 12 years or by pregnant or nursing women. Some may experience gastrointestinal (GI) upset including abdominal cramping, nausea, or diarrhea while taking this product. As with any supplement, if discomfort persists discontinue use. Those suffering from GI disorders such as ulcers, irritable bowel syndrome, Crohn's disease, ulcerative colitis, or celiac disease, should not use 5-HTP. Those taking prescription anti-depressants should not use 5-HTP. Do not take this product if you have or are taking medications for epilepsy, scleroderma, or Parkinson's disease. This product may cause drowsiness and should not be used while driving or operating heavy equipment. If you are taking any medication, or have high blood pressure, consult your healthcare professional before use.