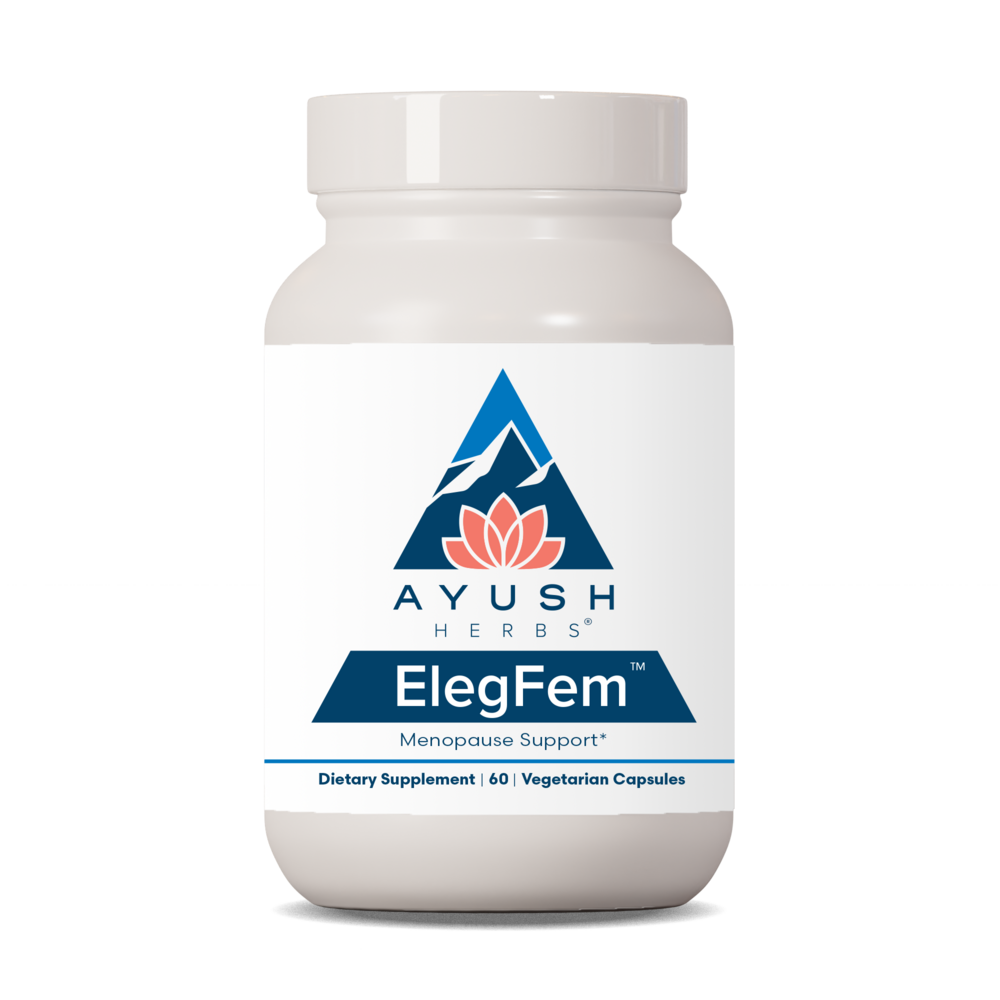 SKU: AY-0013
ELEG FEM™ is perfect for women who are approaching or passing through menopause, the golden transition of life. Eleg Fem™ has a combination of Saraca indica, Dioscorea villosa, Asparagus racemosus, Terminalia arjuna, Cissus quadrangularis, and Indian coral powder. Saraca indica has calcium salts, which, in Ayurveda, are considered to support the female reproductive system. Dioscorea villosa (wild yam) is used for menopausal support*, and Asparagus racemosus has traditionally been used for minor pain relief, and as an aphrodisiac*. Cissus quadrangularis is an ancient plant that has been used in the ancient Ayurvedic texts as a general tonic, with musculoskeletal , and endocrine system promoting properties. Terminalia arjuna and Indian coral powder have cooling and liver-supportive properties and provide naturally balanced elemental calcium and magnesium.
One capsule daily or as advised by your physician.
Serving Size: 1 capsule
Amount Per Serving
Proprietary Blend ... 804 mg
Bamboo manna° (Bambusa arundinacea) stem, Dill Seed, Fennel Seed, Wild Yam (Dioscorea villosa) root, Shatawari° (Asparagus racemosus) root, Ashoka tree° (Saraca asoca) bark & flower, Arjuna°(Terminalia arjuna) bark, Lodhchal°(Symplocos racemosa) bark, Coral calcium powder**, Hadjora° (Cissus quadrangularis) stem, Black Cohosh (Actaea racemosa) whole herb.
Other ingredients: Vegetarian Capsule, Magnesium Stearate (vegetarian source), Silicon Dioxide.
Does not contain: Milk, Soy, Egg and Wheat.
Trademark ™
During pregnancy or lactation, consult your physician
before use. This product is sealed for your protection.
Keep away from reach of children.

This product can expose you to lead, which is known to the State of California to cause cancer and birth defects or reproductive harm.