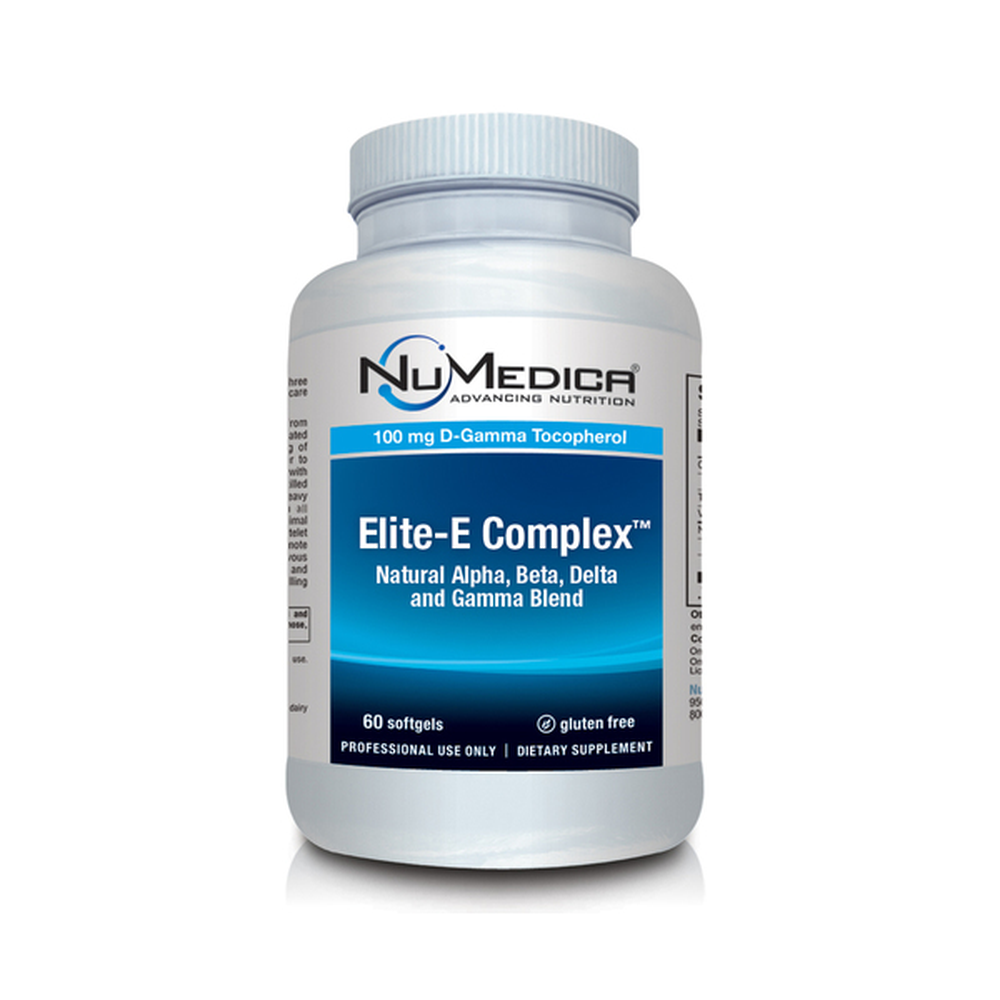 SKU: NMA-NM112
Elite-E Complex™
Elite-E Complex™ features a powerful blend of natural tocopherols for broad range antioxidant protection.* This supplement features high levels of natural gamma tocopherol in addition to alpha, beta and delta tocopherols. Clinical research on Vitamin E has demonstrated beneficial antioxidant effects in numerous organ systems, including cardiovascular, neurological, ocular, skin health and reproductive systems.*
Supplement Facts
Serving Size: 1 Softgel
Amount Per Serving
| | |
| --- | --- |
| Calories | 5 |
| Calories from Fat | 5 |
| Vitamin E (as d-alpha tocopherol) | 225 IU |
| Total tocopherols | 300 mg |
| d-gamma tocopherol | 100 mg |
| Tocomin® Mixed Tocotrienol Complex | 5 mg |
| Ingredient | Amount |
Other Ingredients
Gelatin (bovine), vegetable glycerin, rice bran oil, purified water, carob.
*
Delta-tocopherol, beta-tocopherol, gamma-tocotrienol, alpha-tocotrienol, delta-tocotrienol, beta-tocotrienol are naturally occuring in this product.
Does Not Contain: Milk, eggs, fish, shellfish, tree nuts, peanuts, wheat. Does not contain artificial colors, sweeteners, or preservatives.
Suggested Use
Take one softgel per day or as directed by your healthcare practitioner.
Contains:
Soy.
Tocomin®
is a registered trademark of Carotech Inc.
*These statements have not been evaluated by the Food & Drug Administration. These products are not intended to diagnose, treat, cure or prevent any disease.