End Fatigue Daily Energy Enfusion Citrus
Integrative Therapeutics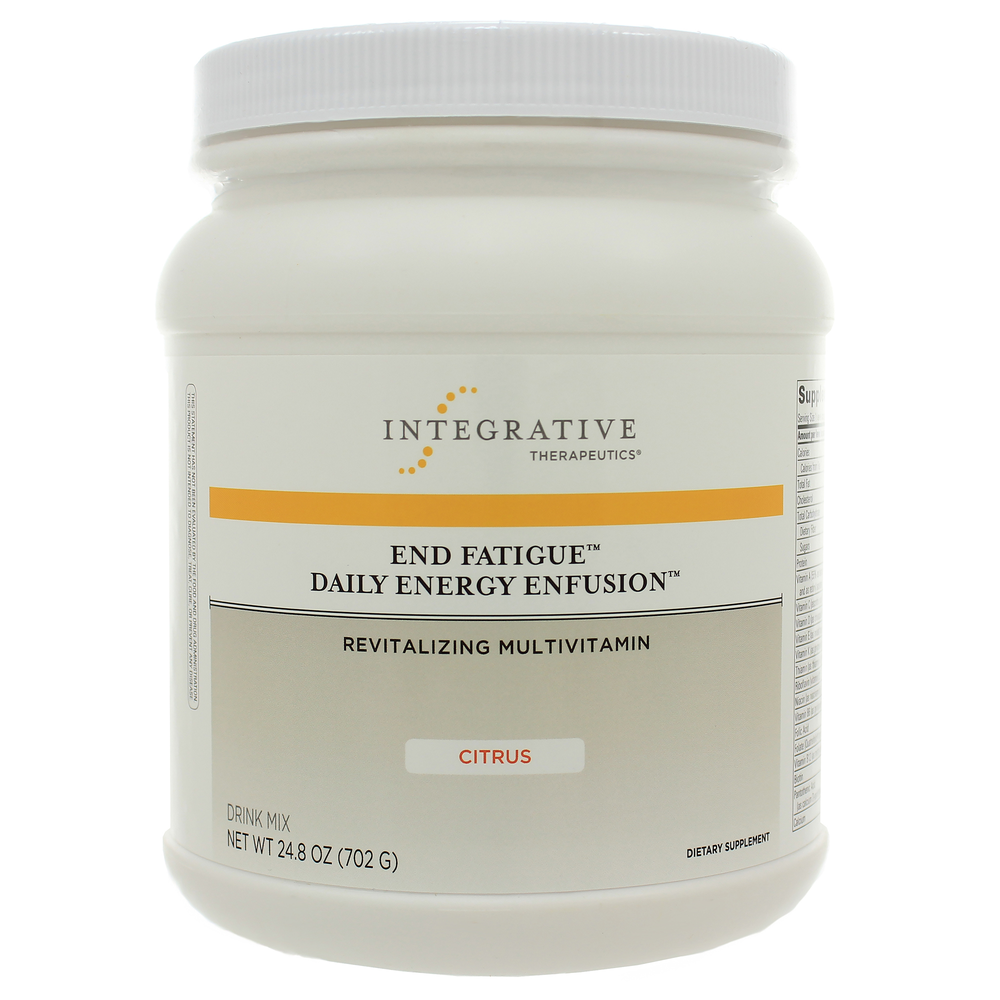 SKU: ITI-73220
Citrus Flavored End Fatigue Daily Energy Enfusion - Helps maintain mental alertness, all-day energy, and endurance.*
End Fatigue Daily Energy Enfusion revitalizing multivitamin was developed in conjunction with Dr. Jacob Teitelbaum, MD, and provides a combination of over 40 energy-building vitamins, minerals, and nutrients to help promote all-day energy and endurance.* End Fatigue Daily Energy Enfusion includes a potent vitamin B complex, as well as whey protein and antioxidants vitamin C, E, and selenium. The powdered supplement is designed to be mixed with water, juice, or other liquid beverages.
Physician-formulated
Provides stimulant-free, all-day energy*
Citrus flavored powdered drink mix is designed to be mixed with water or juice
Each morning, take 1/2 to 1 scoop, or as recommended by your healthcare professional. For 1/2 scoop: Mix with 4-6 oz water, your favorite beverage, smoothie or yogurt. For 1 scoop: Mix with 8-12 oz. Drink within 30 minutes of preparation.
Serving Size: One Level Scoop (23.4g) Drink Mix
Amount Per Serving
Calories ... 60
Calories from Fat ... 5
Total Fat ... <1g
Cholesterol ... 15mg
Total Carbohydrate ... 9g
Dietary Fiber ... 2g
Sugars ... 1g
Protein ... 6g
Vitamin A ... 4, 500IU
(55% as beta carotene and as retinyl acetate)
Vitamin C ... 500mg
(ascorbic acid)
Vitamin D ... 1, 000IU
(as cholecalciferol)
Vitamin E ... 30IU
(as mixed tocopherols)
Vitamin K ... 100mcg
(as phytonadione)
Thiamin ... 75mg
(as thiamin HCl)(vitamin B1)
Riboflavin ... 75mg
(vitamin B2)
Niacin ... 50mg
(as niacinamide)
Vitamin B6 ... 45mg
(as pyridoxine HCl)
Folate ... 400mcg
(as Folic Acid and Quatrefolic® brand (6S)-5-Methyltetrahydrofolate glucosamine salt)
Vitamin B12 ... 500mcg
(as methylcobalamin)
Biotin ... 200mcg
Pantothenic Acid ... 50mg
(as calcium d-pantothenate)
Calcium ... 80mg
Iodine ... 200mcg
(as potassium iodide)
Magnesium ... 200mg
(as magnesium aspartate)
Zinc ... 15mg
(as zinc gluconate)
Selenium ... 55mcg
(as L-selenomethionine)
Copper ... 500mcg
(as copper gluconate)
Manganese ... 2mg
(as manganese citrate)
Molybdenum ... 125mcg
(as sodium molybdate)
Sodium ... 20mg
Potassium ... 136mg
(as potassium citrate)
Whey Protein‡ ... 5.5g
(milk)
Malic Acid ... 1.2g
Betaine ... 750mg
Inositol ... 750mg
Inulin ... 750mg
(from chicory root)
Taurine‡ ... 500mg
Glycine‡ ... 390mg
L-Tyrosine‡ ... 377mg
N-Acetyl L-cysteine ... 250mg
(NAC)
L-Serine‡ ... 240mg
Stevia Leaf Extract ... 150mg
(Stevia rebaudiana)
Choline Bitartrate ... 100mg
Grape Seed Extract ... 50mg
(Vitis vinifera)
standardized to contain 85% polyphenols, including procyanidolic oligomers (PCOs)
Boron ... 2mg
(as sodium borate)
Other Ingredients: erythritol, orange juice powder, soy lecithin, organic gum acacia, peach juice powder, natural orange flavor with other natural flavors, mannitol, natural mango flavor with other natural flavors, gum acacia, natural cherry flavor with other natural flavors, monoammonium glycyrrhizinate (from licorice extract), mango powder, silicon dioxide
Contains milk and soy.
This product does not contain
artificial coloring
artificial flavoring
gluten
preservatives

Caution: Do not exceed recommended use. This product contains the amino acid phenylalanine. If you are pregnant, nursing, have a blood clotting disorder, or taking prescription drugs, consult your healthcare professional prior to use.

Quatrefolic® is a registered trademark of Gnosis S.p.A.