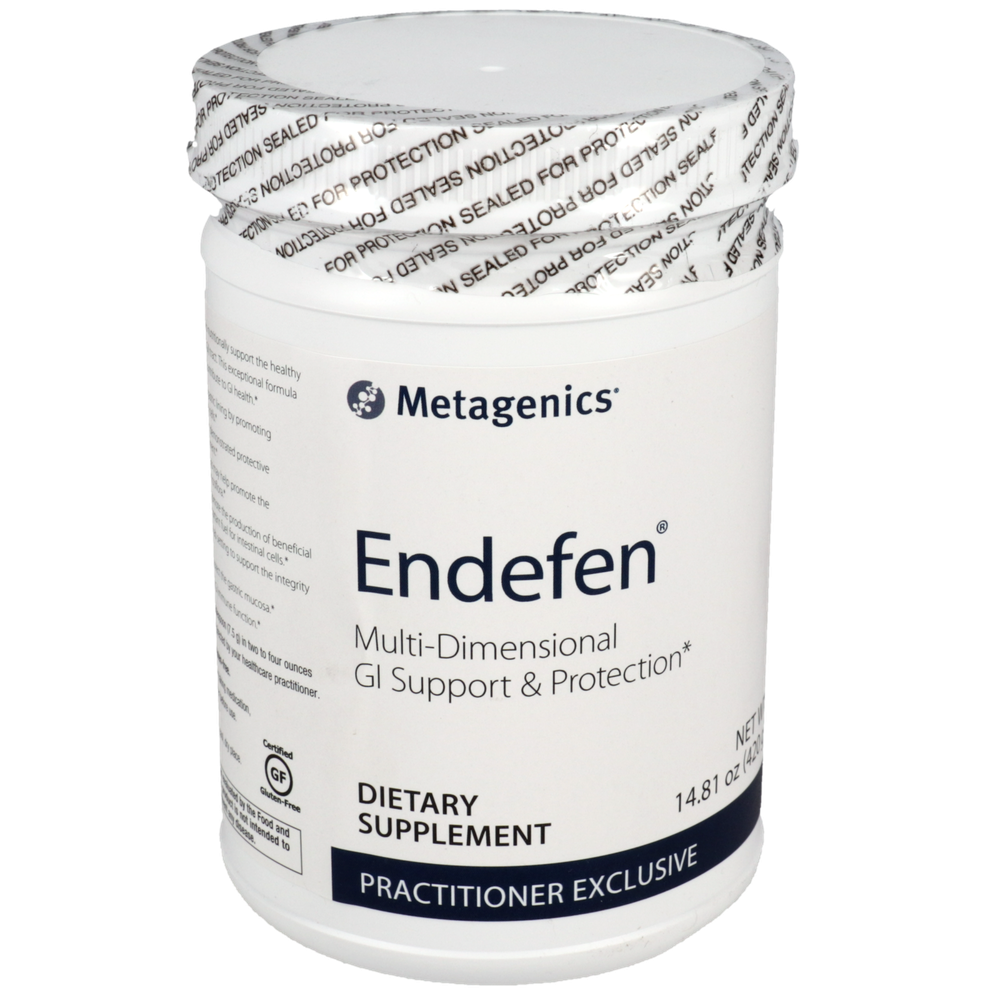 SKU: MET-ENDE
Endefen® is uniquely designed to nutritionally support the healthy function of the gastrointestinal (GI) tract. This exceptional formula addresses multiple factors that contribute to GI health.
• Supports the integrity of the gastric lining by promoting the growth of gastric mucosal cells.*
• Lecithin and astaxanthin have demonstrated protective effects on the gastric environment.*
• Green tea and arabinogalactans may help promote the growth of healthy intestinal microflora.*
• Arabinogalactans may help promote the production of beneficial short-chain fatty acids, an important fuel for intestinal cells.*
• Plantain has been shown in a lab setting to support the integrity of the gastric lining.*
• Targeted antioxidants help protect the gastric mucosa.*
• Key nutrients help to support GI immune function.*
Suggested Use:
Mix about one level tablespoon (7.5 g) in two to four ounces of juice or water once daily, or as directed by your healthcare practitioner.
Serving Size: About 1 Tbsp (7.5 grams)

Amount Per Serving
Calories ... 25
Total Fat ... 1 g 1%*
Total Carbohydrate ... 5 g 2%*
 Dietary Fiber ... <1 g 3%*
 Total Sugars ... 1 g**
Protein ... <1 g
Vitamin C ... 150 mg 167%
(as calcium ascorbate)
Sodium ... 5 mg <1%
Apple Fruit Powder ... 1 g**
Plantain ... 1 g**
(Musa paradisiaca) Fruit Powder
Arabinogalactans ... 750 mg**
(from larch gum)
Soy Lecithin ... 500 mg**
Phosphatides† ... 485 mg**
Chinese Cinnamon ... 350 mg**
(Cinnamomum cassia) Bark Powder
Decaffeinated†† Green Tea ... 125 mg**
(Camellia sinensis) Leaf Extract [standardized to 60% (75 mg) catechins and 40% (50 mg) epigallocatechingallate (EGCG)]
D-Mannose ... 125 mg**
Astaxanthin ... 250 mcg**
Other Ingredients: Rice bran, xylitol, rice syrup solids, and natural flavor.
Contains: Soy
This product is non-GMO and gluten free.
*Percent Daily Values are based on a 2,000 calorie diet.
**Daily Value not established.
†Typical analysis reveals 115 mg phosphatidylcholine.
††Contains no more than 4% caffeine.
Caution: If pregnant or nursing, or taking medication, consult your healthcare practitioner before use. Keep out of the reach of children.
Storage: Keep tightly closed in a cool, dry place.