Endura® - Lemon-Lime
Metagenics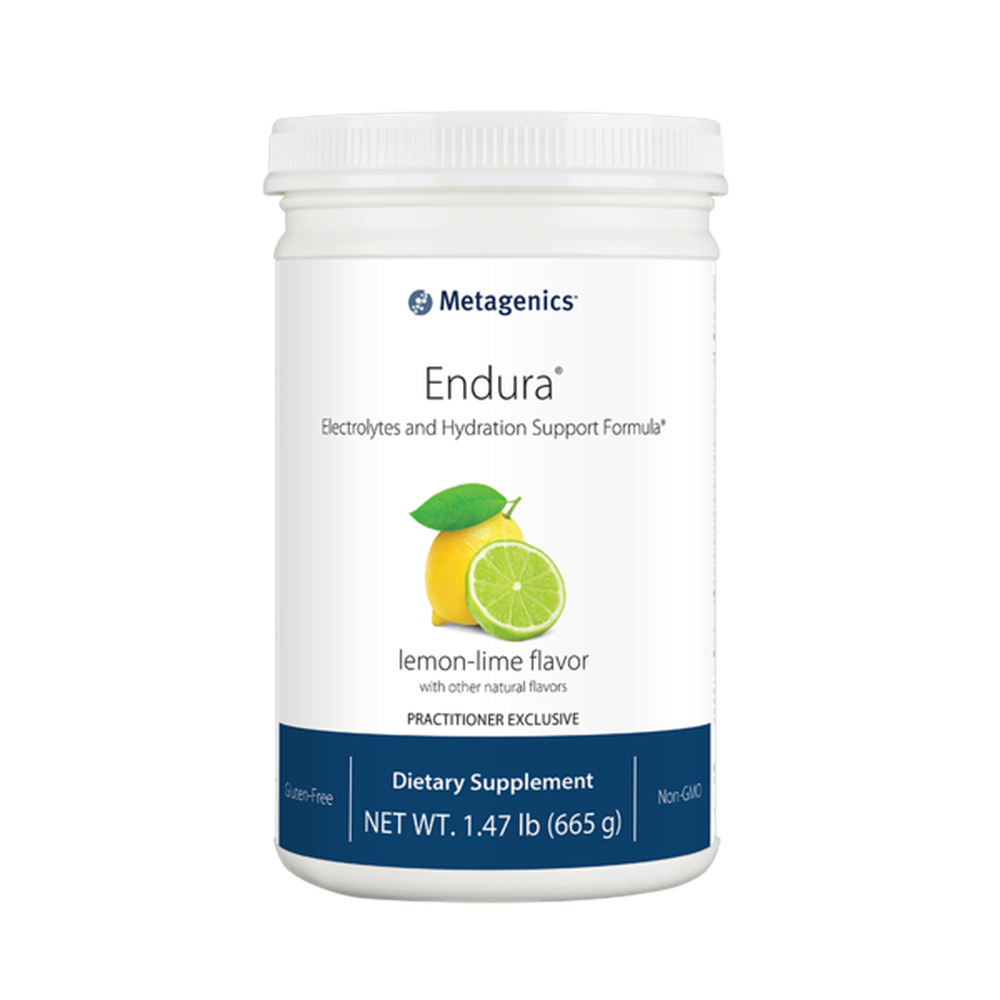 SKU: MET-ENDLEM
Endura® - Lemon-Lime
Endura® is a specialized supplement that supplies a unique blend of electrolytes and minerals that are found in muscle cells. Endura supplies these important electrolytes, including magnesium, in a formula designed to help support hydration.*
Supplement Facts
Serving Size: 1 heaping scoop (35g)
Amount Per Serving
| | |
| --- | --- |
| Calories | 120 |
| Total Carbohydrate | 29 g |
| Sugars | 21 g |
| Vitamin C | 120 mg |
| Vitamin E | 28 IU |
| Thiamin | 2 mg |
| Riboflavin | 5 mg |
| Niacin | 10 mg |
| Vitamin B6 | 5 mg |
| Pantothenic Acid | 28 mg |
| Calcium | 60 mg |
| Phosphorus | 69 mg |
| Magnesium† | 174 mg |
| Chromium | 83 mcg |
| Chloride | 148 mg |
| Sodium | 96 mg |
| Potassium | 176 mg |
| Citric acid | 990 mg |
| Taurine | 500 mg |
| Malic Acid | 500 mg |
| L-Carnosine | 20 mg |
Other Ingredients
Crystalline fructose, maltodextrin, magnesium bis-glycinate†, citric acid, taurine, malic acid, dipotassium phosphate, calcium citrate, sodium chloride, natural lemon lime flavor, ascorbic acid, d-alpha tocopheryl acetate, D-calcium pantothenate, L-carnosine, niacinamide, pyridoxine HCI, riboflavin, chromium citrate, and thiamin mononitrate.

This product is non-GMO, gluten-free, and vegetarian.Suggested Use
As a dietary supplement to help maintain adequate hydration, thoroughly mix one heaping scoop (35 grams) with 16 fluid ounces of water. Take on an empty stomach.
Storage
Keep tightly closed in a cool, dry place.
Cautions and Warnings
Keep out of the reach of children.
*These statements have not been evaluated by the Food & Drug Administration. These products are not intended to diagnose, treat, cure or prevent any disease.