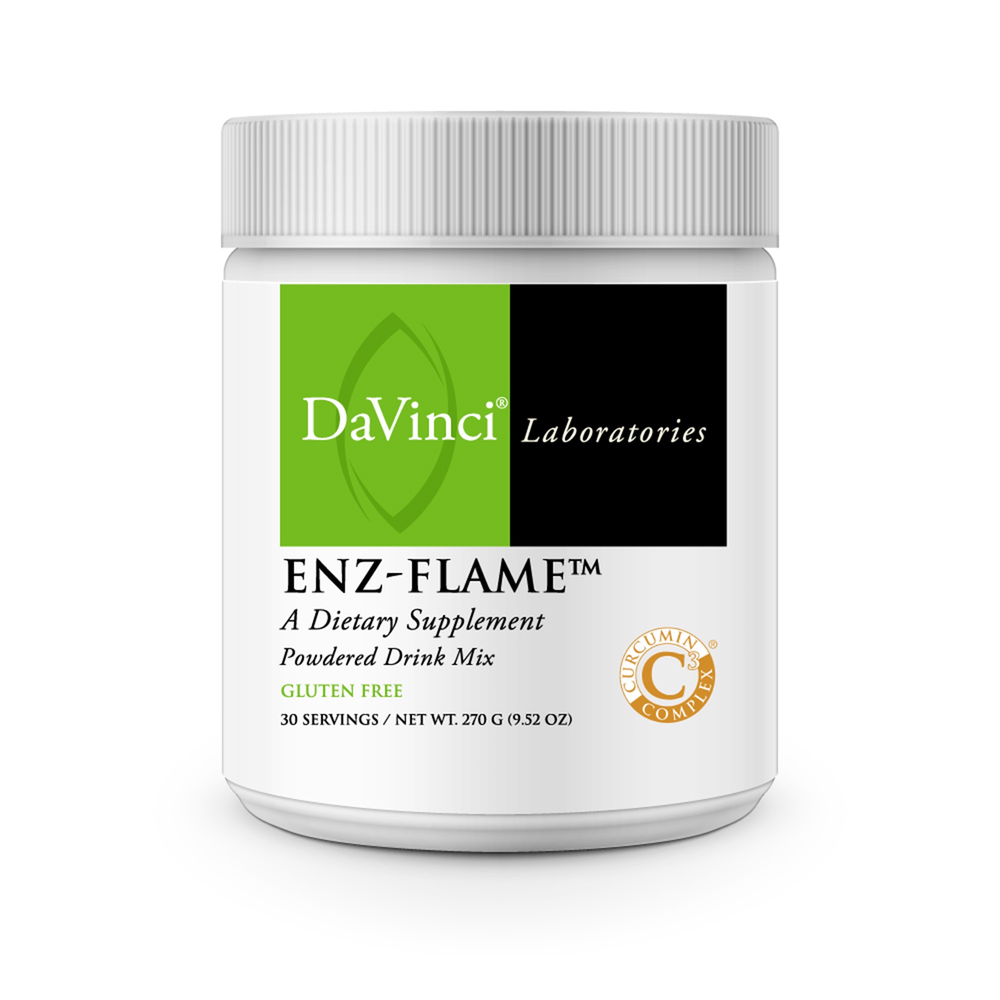 SKU: DAV-020017A030
ENZ-FLAME is a dietary supplement that combines 13 ingredients that work
synergistically to support comfort, mobility and flexibility.*
ENZ-FLAME has been designed to help support the body with general aches
and pains relief associated with physical activity and over-exertion making
it
exceptional for every day support.*
ENZ-FLAME Supports:
• Joint comfort (including neck, shoulder, knee and extremities)*
• Mobility, range of motion and flexibility*
• Muscle and joint comfort.*
As a dietary supplement, mix one scoop (9 g) in 8-10 oz of water and take
daily, or as directed by your healthcare practitioner.
Serving Size: 1 Scoop (9 g)
Amount Per Serving
Calories ...35
Total Carbohydrates ...8g
Vitamin C ...1mg
Calcium ...25mg
Cetyl Myristoleate (CMO) Complex ...1, 000mg
Proprietary Proteolytic Enzyme Blend ...930mg
Containing Pancreatin, Bromelain, Papain, Pepsin, Protease
N, N-Dimethylglycine HCl (DMG) ...250mg
Curcumin C3 Complex ...200mg
yielding Curcuminoids ...190mg
Boswellia serrata Gum Extract ...200mg
yielding Boswellic Acid ...130mg
Ginger Root Extract ...50mg
(Zingiber officinale)
yielding Gingerols ...2.5mg
Quercetin ...75mg
(as Quercetin Dihydrate)
Rutin ...200mg
Luteolin ...8mg
(from Perilla Leaf Extract)
Cayenne Pepper ...5mg
(Capsicum annum)
Stevia Leaf Extract ...100mg
Other ingredients: digestion resistant maltodextrin, orange powder, natural
orange flavor, citric acid, tricalcium phosphate, silicon dioxide.
Color, flavor and sweetness of this product may vary due to variations of
natural ingredients.
WARNING:Do not take this product if pregnant or nursing, on anti-
coagulants/anti-platelet medications, have gallstones or gallbladder disease.
CAUTION:It is recommended to discontinue use 2 weeks before any elective
surgery.
CAUTION:Jar contains desiccant to reduce moisture and clumping. Do not eat
desiccant.
Keep out of reach of children. Store in a cool, dry place.
Do not Refrigerate.
If inner seal is broken, do not use.
This product is packaged by weight, not by volume. Some settling may occur.
*This statement has not been evaluated by the Food and Drug Administration.
This product is not intended to diagnose, treat, cure or prevent any disease.
WARNING: Consuming this product can expose you to chemicals including lead, which is known to the State of California to cause birth defects or other reproductive harm. For more information go to www.P65Warnings.ca.gov/food