EnZym-Complete/DPP-IV II w/Isogest
Kirkman Professional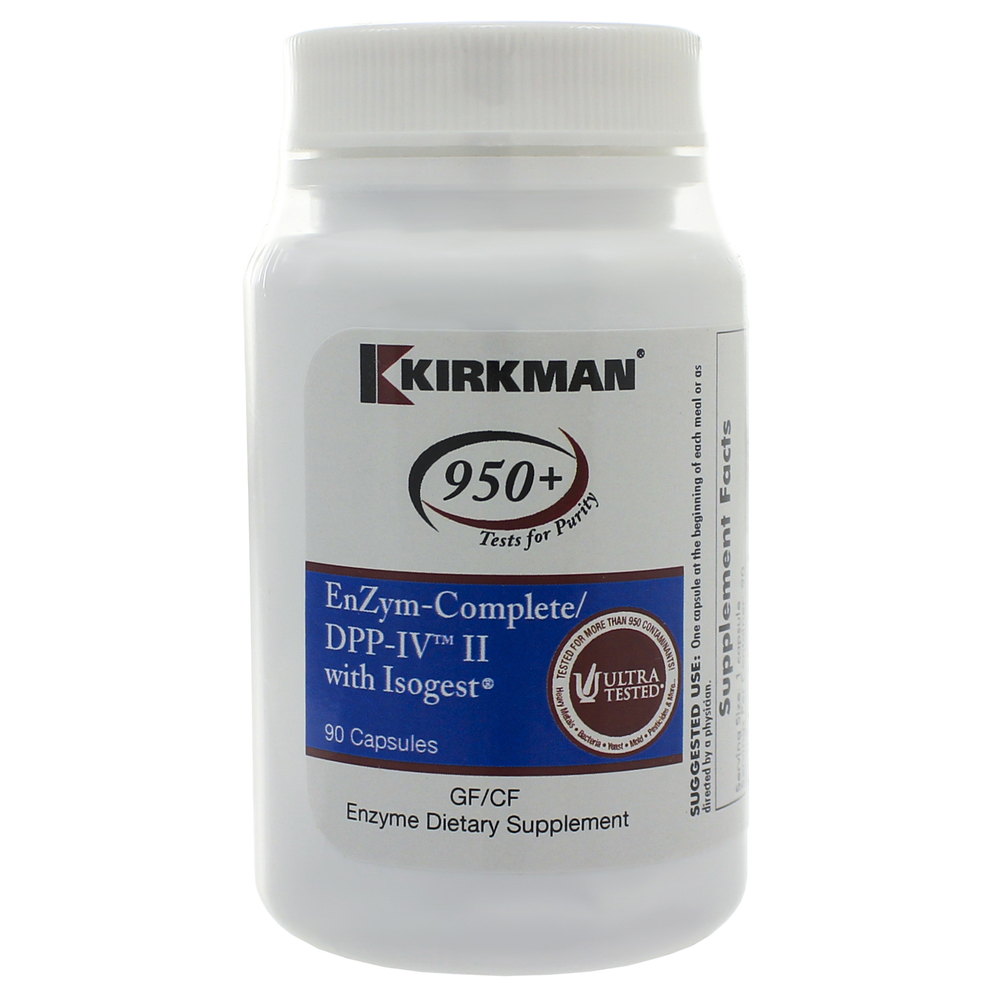 SKU: KRK-5931090
A broad spectrum enzyme with isomaltase/palatinase activity. Free of common allergens. Gluten and casein free. Capsules are plant based. Ultra Tested®.
EnZym-Complete/DPP-IVTM II with Isogest® is Kirkman's most popular enzyme. This proprietary enzyme is formulated to support digestive activity for a full range of foods.
The addition of the dipeptidyl peptidase-IV (DPP-IV) enzyme analog supports the ability of the body to degrade peptides formed from exposure to casein and gluten. Kirkman's proprietary enzyme Isogest® is also included for more complete digestion of carbohydrates.
This product includes a unique blend of 18 pure, plant-based enzymes that are recognized as essential for the effective digestion of all food groups, including proteins, carbohydrates, fats, sugars and fiber under a wide range of pH conditions.
Kirkman's EnZym-Complete/DPP-IVTM products provide a combination of proteases, amylases, lipases, disaccharides and cellulases that replace the enzymes lost in cooking, thus lessening the burden on the body's digestive tract so that it can function optimally, while also supporting optimal nutrient absorption.
One capsule at the beginning of every meal or as directed by a physician.
Serving Size: One Capsule
Amount Per Serving
Peptidase ... 25, 000HUT
Acid Fast Protease ... 50SAPU
(3.0)
Transglucosidase ... 33mg
(Isogest®)
Bromelain ... 640, 000FCCPU
Papain ... 1, 000, 000FCCPU
Glucoamylase ... 32AGU
Lactase ... 500ALU
Phytase ... 5FTU
Alpha-galactosidase ... 25GalU
Intertase ... 200SU
(Sucrase)
Cellulase ... 100CU
Xylanase ... 50XU
Alpha Amylase ... 50DU
Protease 6.0 ... 87.5HUT
Diastase ... 1.3DP°
n•zimes PA® ... 55mg
Lipase 1, 375FIP, Protease 11, 000HUT, Amylase 412.5DU
Other Ingredients: Microcrystalline Cellulose, Plant Cellulose, Maltodextrin, Water
Contains soy.
This product does not contain
sugar
wheat
casein
gluten
milk
egg
yeast
gelatin
flavorings
colorings
peanuts
tree nuts
fish
DO NOT ALLOW THE POWDER IN THE CAPSULES TO GET INTO THE EYE OR CONTACT THE SKIN.
STORE IN A COOL DRY PLACE AND TIGHTLY CAPPED.
KEEP OUT OF THE REACH OF CHILDREN.
It looks like there are no similar
products available