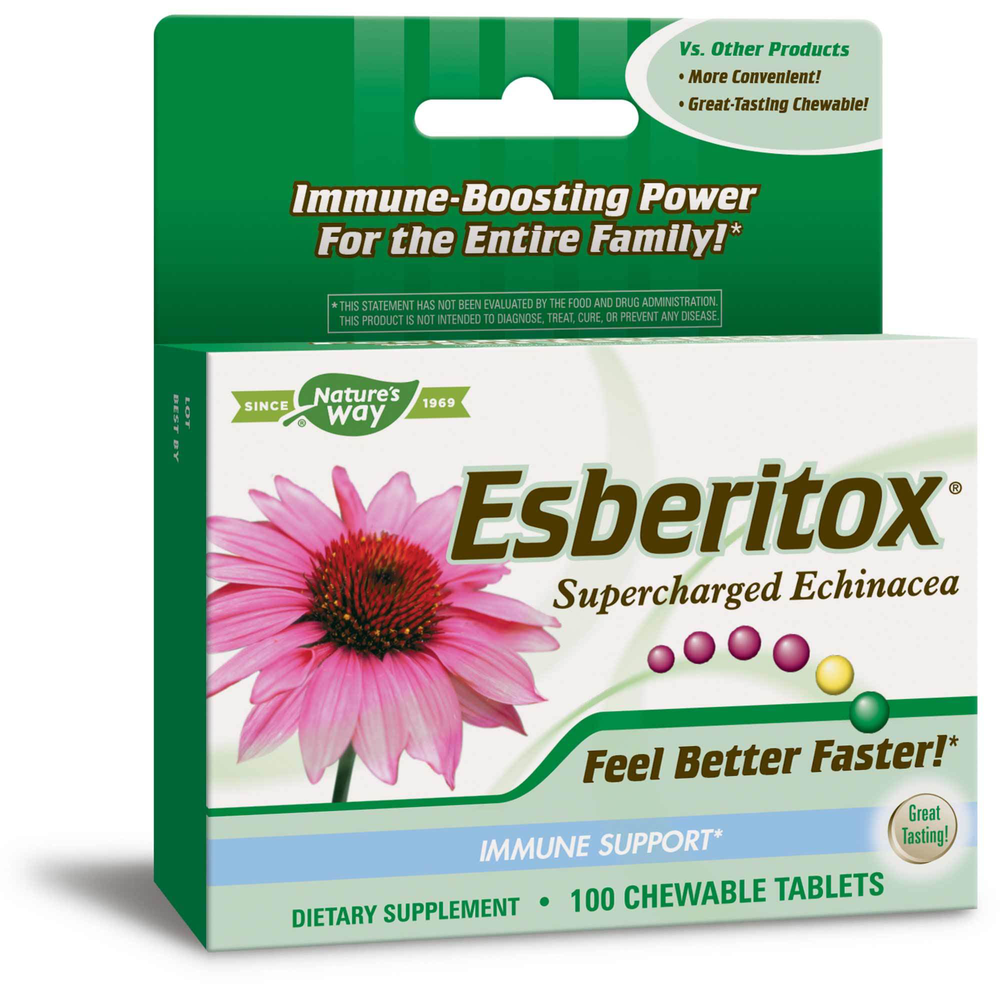 SKU: EN2-09951
Ideal for the entire family
Great-tasting chewable tablet
Not feeling at your peak? Count on triple-action Esberitox® supercharged echinacea to feel better faster!
More Than Echinacea Alone: Contains two types of echinacea, plus a dynamic blend of immune-enhancing herbs to boost your natural defenses. Time-Tested Remedy in Europe for More Than 90 Years. Convenient way to boost the immune system. In a study, people responded more than 2 days faster when using Esberitox.
Did you know that Echinacea has been traditionally used for centuries?
However, only one Echinacea product is backed by over 90 years of use and research-Esberitox. Esberitox® is a combination of two types of Echinacea plus two immune-enhancing herbs, Baptisia and Thuja, which arm your body's defense system for a speedy return to feeling your best! Try great-tasting Esberitox chewable tablets and feel better faster! Feel Better Faster!
Suggested Use:
Take 6 tablets three times daily initially for faster results. Reduce to 4 tablets three times daily as you begin to feel better.
Adults: 4-6 tablets, 3 times daily
Over 12 years: 4-6 tablets, 3 times daily
Age 7-11: 2-3 tablets, 3 times daily
Age 4-6: 1-2 tablets, 3 times daily
Serving Size: 6 Chewable Tablets
Amount Per Serving
Calories ... 5
Total Carbohydrate ... 2 g†
Total Sugars ... 2 g**
Includes 2 g Added sugars†
Extract 4-9:1 of a blend ... 19.2mg**
Wild indigo (Baptisia tinctoria) root, Purple Coneflower and Pale Purple Coneflower (Echinacea purpurea and Echinacea pallida) root, and Eastern White Cedar (Thuja occidentalis) leaf
Other Ingredients: Lactose, sugar, macrogol, magnesium stearate.
Contains milk.
No salt, yeast-derived ingredients, wheat, corn, soy, or artificial colors, flavors, or preservatives.
Warnings
Not recommended for children under 4 years of age or individuals with autoimmune diseases, HIV infection, progressive systemic disease, or who are taking cytostatic or immunosuppresive therapy. Nursing women or individuals who are allergic to Echinacea or other flowers in the Compositae (Asteraceae) family, or any of the other ingredients of Esberitox, should not use this product. If you are pregnant or taking any medications, consult a healthcare professional before use. Hyper-sensitivity, gastrointestinal discomfort, or dizziness may occur. If you observe these or other side effects, discontinue use and consult a healthcare professional.
This product has a tamper-evident foil pouch. Do not use if foil or pouch is punctured!