Eskimo-3 500mg
Nature's Way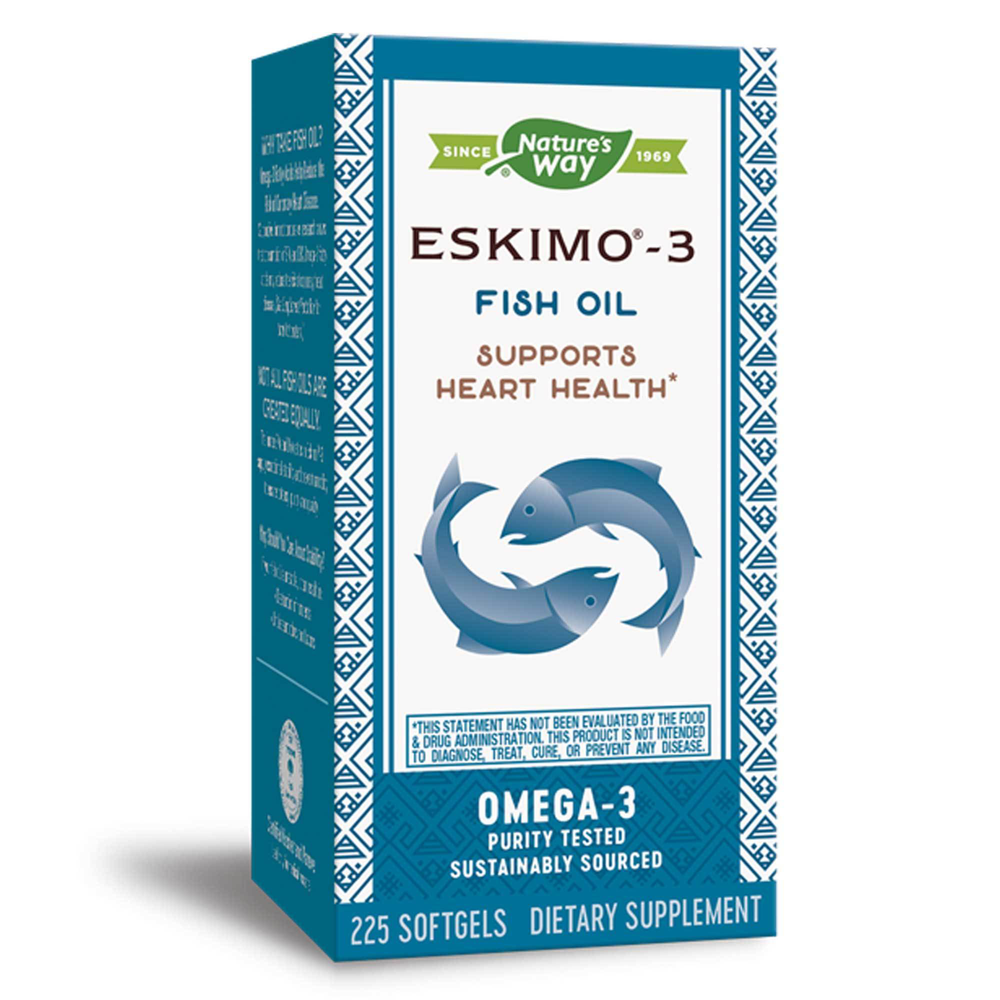 SKU: EN2-02292
Eskimo-3 Fish Oil is a dietary supplement that may possibly help promote healthy joints' brain' and heart.
This Enzymatic Therapy formula contains omega-3 fatty acids that may possibly be good for the heart. Fish oil is believed to have anti-aging properties that could potentially prevent premature signs of aging caused by free radicals—which might damage the tissues in the body. Taking fish oil' along with proper diet and exercise' may also possibly people who want to lose weight.
Studies show that fish oil might be able to improve fat burning in the body. It contains EPA and DHA' which may both possibly help support and maintain your cardiovascular health.
Suggested Use:
Take 3 softgels with meals one to three times daily.
Serving Size: 3 Softgels
Amount Per Serving
Calories … 15
Total Fat … 1.5g†
Saturated Fat … 0g†
Trans Fat … 0g**
Polyunsaturated Fat … 0.5g**
Monounsaturated Fat … 0g**
Cholesterol … 0mg
Eskimo-3 brand Fish Oil… 1.5g**
Providing Omega-3 fatty acids … 525mg
EPA (Eicosapentaenoic acid) … 240mg
DHA (Docosahexaenoic acid) … 150mg
Other Ingredients: Gelatin (capsule)' glycerin' purified water' tocopherol complex (preservative to maintain freshness) (mixed tocopherols' d-alphatocopheryl acetate' rosemary extract' soy lecithin' ascorbyl palmitate)' lime flavor
Contains soy and fish [anchovy' sardine' mackerel]
No salt' yeast-derived ingredients' wheat' corn' dairy products' or artificial colors.
Gluten Free / Kosher.
Warning: If you are pregnant' nursing' or taking any medications' consult a healthcare professional before use.
Keep out of reach of children.
Store in a cool' dry place.