Essential Detox (Badmaev 269)
American Nutriceuticals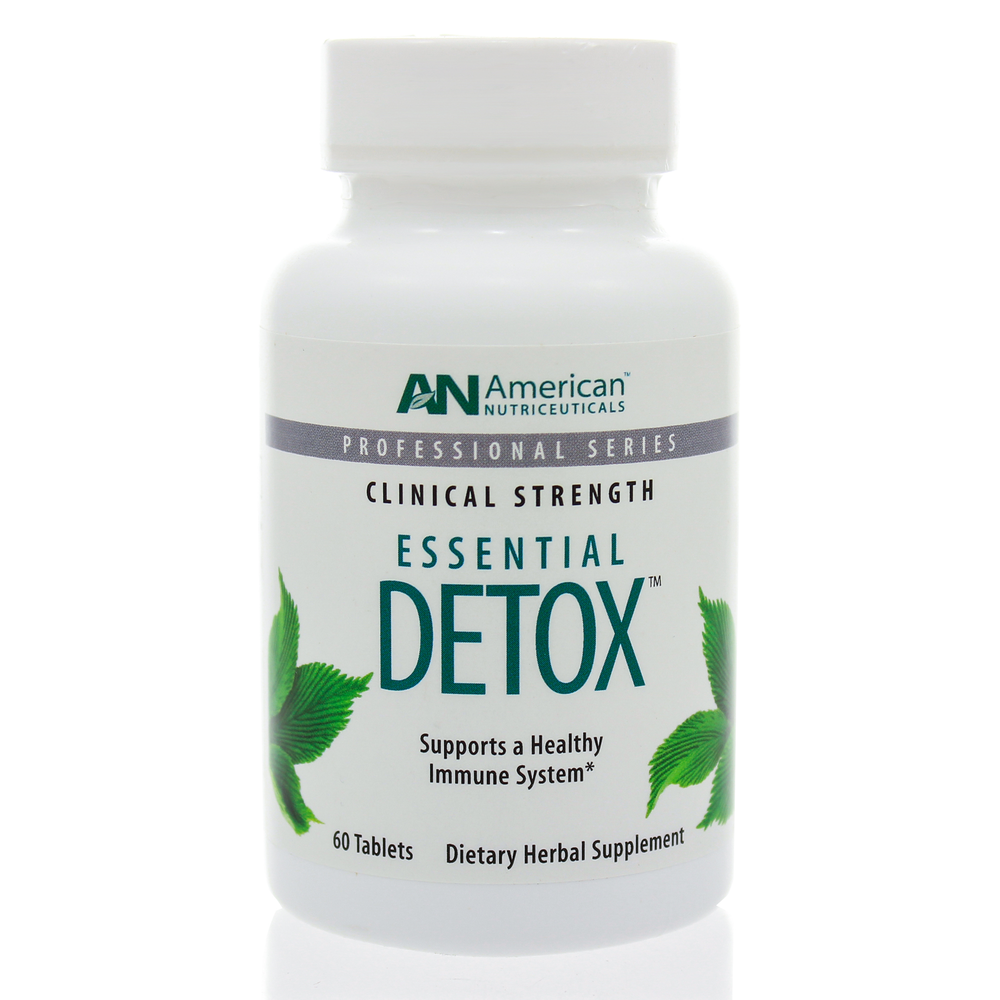 SKU: ANC-A1003
Essential Detox provides daily detoxification support for a healthy immune system.
The Essential Detox formula is a modern update of an ancient herbal formula based on traditional Indian Ayurvedic and Tibetian medicine. Essential Detox improves the bodys response to toxins or various forms of stress (biological, physical, and chemical) that disrupts the bodies homeostasis. This unique formula has traditionally been used for the prevention and treatment of viral diseases, and to assist the liver and digestive tract in the detoxification process. It works by attempting to balance the two important processes in bodys metabolism: assimilation and excretion. When metabolic by-products (waste) and other toxins are not efficiently neutralized and excreted, absorption and assimilation of valuable nutrients to the body are impaired. This formula increases the bodys readiness to screen for toxins. The secondary mechanism of the action is to stimulate the part of our immune function that is a network of defense cells that will neutralize and expel biological toxins from the body. By balancing assimilation and excretion, Essential Detox also helps in the prevention and the treatment of disease processes related to environmental toxins and to help the body heal itself.
Take 1 tablet daily with meals or as directed by your Health Care Professional.
Serving Size: 1 tablet
Proprietary Herbal Blend ... 540mg
(Tropical Almond, Melia azadirachta Azedarach, English Hawthorn, Gentiana barbata Gentain, Eyebright, Pyrus cydonia Quince, Angelica, Sunflower, Coltsfoot, Fenugreek, Galeopsis ochroleuca Nettle, Cowslip, Cinchona succirubra Peruvian bark, European Elder, German Chamomile, Salix purpurea Willow bark, Hyssop, Adiantum capillus-veneris Maidenhair, Marshmallow, Elecampane, Peppermint, Sage, Robinia pseudoaccacia Locus, Ferula sumbul Musk, Aconitum nepellus Monkshood)
Other Ingredients: Plant-based Cellulose, Vegetable-sourced Stearic Acid.
GMO free. Vegan. No soy, dairy, nut, gluten or egg.
Not intended for children and pregnant or nursing women
These statements have not been evaluated by the Food and Drug Administration. This product is not intended to diagnose, treat, cure, or prevent any disease. If you have any concerns about your own health, you should always consult with a physician or other healthcare professional.
It looks like there are no similar
products available