Essentia Greens Orange/Cranberry Flavor
Designs for Health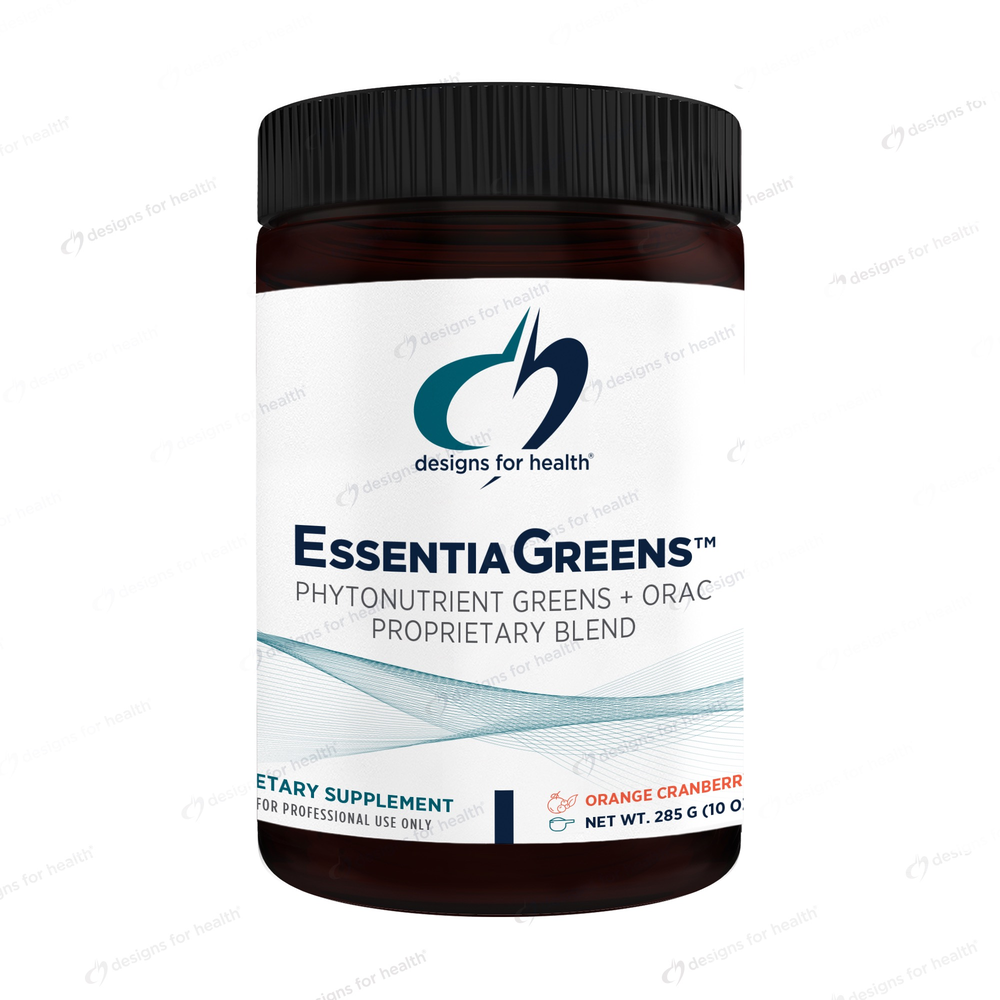 SKU: DFH-ESSGRN
EssentiaGreens is a greens food product densely packed with high ORAC value vegetables, cleansing alkalizing grass juices, and a proprietary blend of fruits and berries. Besides being phytonutrient-rich, the EssentiaGreens™ orange-cranberry flavor tastes wonderful, thanks to the inclusion of a natural polysaccharide, prebiotic fiber known as inulin, along with a splash of stevia. While it adds a subtly sweet flavor to EssentiaGreens™, inulin does not impact blood sugar levels the way so many other sweeteners do.* Because inulin is a soluble fiber it dissolves easily in water, making EssentiaGreens™ simple to mix into your favorite beverage.


As a dietary supplement, mix 9.5 grams (approx. one tablespoon) in water per day, or as directed
by your health care practitioner.
Serving Size: 9.5 grams (approx. one tablespoon)
Amount Per Serving
Calories ... 25
Sodium ... 30mg
Total Carbohydrate ... 5g
Dietary Fiber ... 1g
Sugars ... 1g
Protein ... 1g
Vitamin A ... 1250IU
(Beta-Carotene)
Vitamin C ... 39mg
Iron ... 250mcg
Fruit Proprietary Blend ... 2.0g
Organic Apple Powder
Organic Mountain Cranberry
Organic Blueberry Powder
Organic Raspberry Powder
Camu Camu Berry Extract
Greens Proprietary Blend ... 1.5g
Organic Spirulina
Organic Barley Grass Juice Powder
Organic Wheat Grass Juice Powder
Chlorella
Organic Stinging Nettle
Vegetable Proprietary Blend ... 750mg
Organic Carrot Powder
Organic Beet Powder
Organic Tomato Powder
Organic Kale Powder
Organic Parsley Powder
Organic Collard Powder
Organic Spinach Powder
Organic Broccoli Sprouts
Organic Cauliflower Sprouts
Organic Kale Sprouts
ORAC Proprietary Blend ... 103g
OxyPhyte® Grape Skin Extract
OxyPhyte® Grape Seed Extract
Enzyme/Prebiotic Proprietary Blend ... 59mg
Enzyme Blend
(Cellulose, Protease, Amylase, Lipase)
Organic Burdock Root
Other Ingredients: Organic rice flour, sunflower lecithin, tapioca maltodextrin, inulin, natural flavors, certified organic stevia leaf extract powder .
Does not contain gluten.
Notice: This is a natural product that may exhibit color, taste and density variations from lot to lot. It contains naturally occuring ingredients; therefore amounts may vary within the blend.
OxyPhyte® is a registered trademark of RFI Ingredients.
KEEP OUT OF REACH OF CHILDREN.
WARNING: This product contains a substance known to the State of California to cause birth defects or
other reproductive harm.