Seriously Delicious Chocolate Mint Essential Woman
Barlean's Organic Oils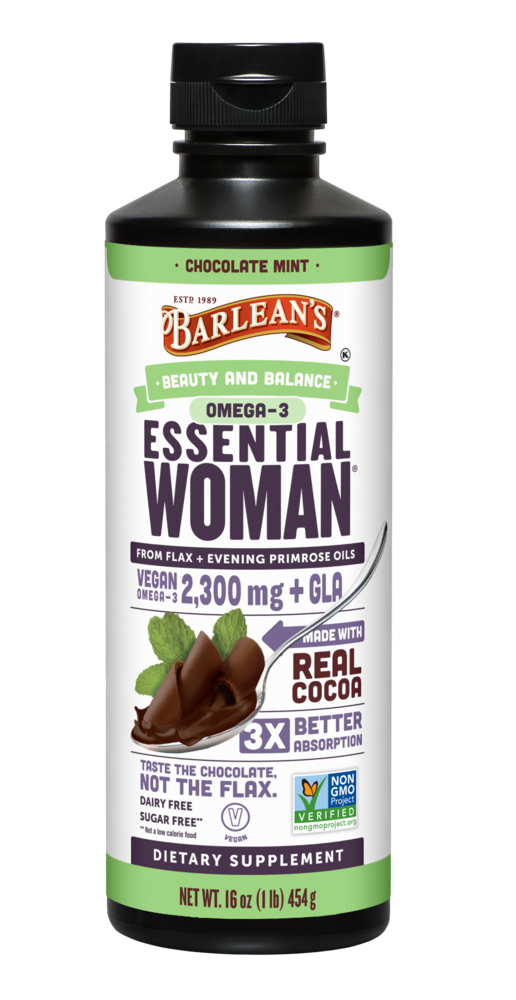 SKU: BAR-BE16EWCM
Beauty and balance within never tasted so good! Many of the obstacles to women's beauty and well-being have a common link: hormonal imbalance. Fortunately, this precise blend of flaxseed oil, evening primrose oil and lignans can set things right. Our patented emulsification technology gives this delicious formula a rich and creamy texture and provides superior absorption compared to standard nutritional supplements.
Adults & children ages 4 and up: 1 Tbsp daily. Great straight or in yogurt, oatmeal or smoothies.


Serving Size: 1 Tbsp (15 ml)

Amount Per Serving
Calories ... 70
Total Fat ... 5 g
Saturated Fat ... 0.5 g
Polyunsaturated Fat ... 3.5 g
Monounsaturated Fat ... 1 g
Total Carbohydrate ... 6 g
Total Sugars ... 0 g
Added Sugars ... 0 g
Sugar Alcohol ... 4 g
Omega-3 Polyunsaturated Fat Alpha Linolenic Acid ... 2,300 mg (ALA)
Omega-6 Polyunsaturated Fat: Linoleic Acid ... 1,350 mg (LA)
Gamma Linolenic Acid ... 100 mg (GLA)
Omega-9 Monounsaturated Fat: Oleic Acid ... 750 mg
Lignans ... 20 mg (SDG)

Ingredients: Essential Woman Oil Blend (flaxseed oil, evening primrose oil, Vitamin E (as d-alpha tocopherol), rosemary extract, ascorbyl palmitate, and ascorbic acid), water, xylitol, glycerine, alkalized cocoa powder, gum arabic, natural flavors, flaxseed SDG lignan, caramel color, xanthan gum, guar gum, sorbic acid
Keep out of reach of children and never give to pets. Refrigerate after opening.