Estrium® - Tropical Mango
Metagenics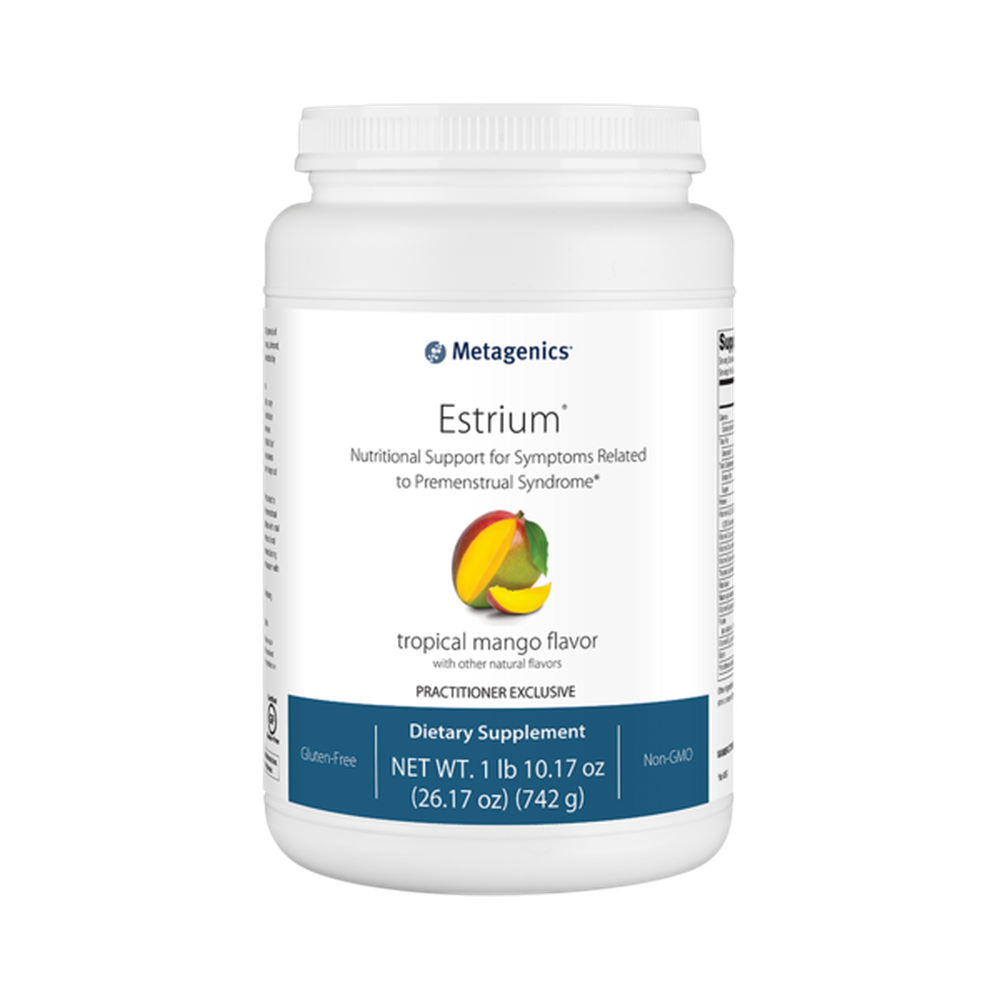 SKU: MET-ESTRM
Estrium® - Tropical Mango
Estrium® is designed to provide specialized nutritional support for women with premenstrual syndrome. Estrium features a specialized blend of macronutrients with essential vitamins and minerals, along with non-soy phytoestrogens, antioxidants, and flaxseed hull (equal to approximately one tablespoon of whole flaxseed) that were specially selected for their ability to promote healthy estrogen metabolism and healthy hormone balance.*
Supplement Facts
Serving Size: About 2 Scoops (46 g)
Amount Per Serving
| | |
| --- | --- |
| Calories | 170 |
| Calories From Fat | 35 |
| Total Fat | 4 g |
| Saturated Fat | 1 g |
| Total Carbohydrate | 22 g |
| Dietary Fiber | 3 g |
| Sugars | 10 g |
| Protein | 15 g |
| Vitamin A (2,500 IU as beta-carotene and 1,250 IU as retinyl palmitate) | 3,750 IU |
| Vitamin C (as ascorbic acid) | 60 mg |
| Vitamin D (as cholecalciferol) | 40 IU |
| Vitamin E (as d-alpha tocopheryl succinate) | 300 IU |
| Vitamin E (as d-alpha tocopheryl succinate) | 0.75 mg |
| Riboflavin | 0.85 mg |
| Niacin (as niacinamide) | 10 mg |
| Vitamin B6 (as pyridoxine HCl) | 50 mg |
| Folate (as calcium L-5-methyltetrahydrofolate) | 400 mcg |
| Vitamin B12 (as methylcobalamin) | 30 mcg |
| Biotin | 150 mcg |
| Pantothenic Acid (as calcium D-pantothenate) | 5 mg |
| Calcium (as calcium citrate) | 350 mg |
| Iron (as ferrous fumarate) | 9 mg |
| Phosphorus (as dipotassium phosphate) | 260 mg |
| Iodine (as potassium iodide) | 75 mcg |
| Magnesium (as magnesium citrate) | 240 mg |
| Zinc (as zinc oxide) | 7.5 mg |
| Copper (as copper gluconate) | 1 mg |
| Manganese | 1 mg |
| Chromium (as chromium picolinate) | 100 mcg |
| Sodium | 50 mg |
| Potassium (as dipotassium phosphate and potassium iodide) | 300 mg |
| Flaxseed Hull (containing lignans) | 1.84 g |
| Choline (as choline bitartrate) | 450 mg |
| Turmeric (Curcuma longa) Rhizome Extract [standardized to 95% (200 mg) curcuminoids] | 210 mg |
| Isoflavones [from kudzu (Pueraria lobata) root extract] | 25 mg |
| L-Lysine (as L-lysine HCl) | 17.5 mg |
| L-Threonine | 17.5 mg |
Other Ingredients
Rice protein concentrate, rice syrup solids, fructose, olive oil, natural flavors, xanthan gum, hydrogenated vegetable oil (one or more of highly refined soybean oil, palm oil, and cottonseed oil), rice maltodextrin, guar gum, and mono- and diglycerides.

This product is non-GMO and gluten-freeSuggested Use
Blend or shake 2 level scoops (53 grams) of Estrium into 8 fluid ounces of water, juice, or soy, almond, rice, or organic cow's milk twice daily or as directed by your healthcare practitioner.
Storage
Keep tightly closed in a cool, dry place.
Cautions and Warnings
Excess vitamin A intake may be toxic, may increase the risk of birth defects, and may contribute to osteoporosis. Pregnant women and women who may become pregnant should not exceed 10,000 IU of preformed vitamin A (retinyl palmitate) per day unless instructed to do so by a healthcare practitioner. Keep out of the reach of children.
Important Notice
This product has been formulated to provide nutritional support for females with premenstrual discomfort. It has not been tested for interactions with oral contraceptive medications, and the effectiveness of oral contraceptives for birth control cannot be ensured during use of Estrium. Please discuss this important concern with your healthcare practitioner.
Tamper Evident
Do not use if safety seal is missing or broken.
Contents sold by weight, not volume. Some settling may occur during shipping and handling. The amount of product contained in 2 scoops may be above or below 53 grams due to variations in handling and product density.
*These statements have not been evaluated by the Food & Drug Administration. These products are not intended to diagnose, treat, cure or prevent any disease.