Estrolief
Vita Aid Professional Therapeutics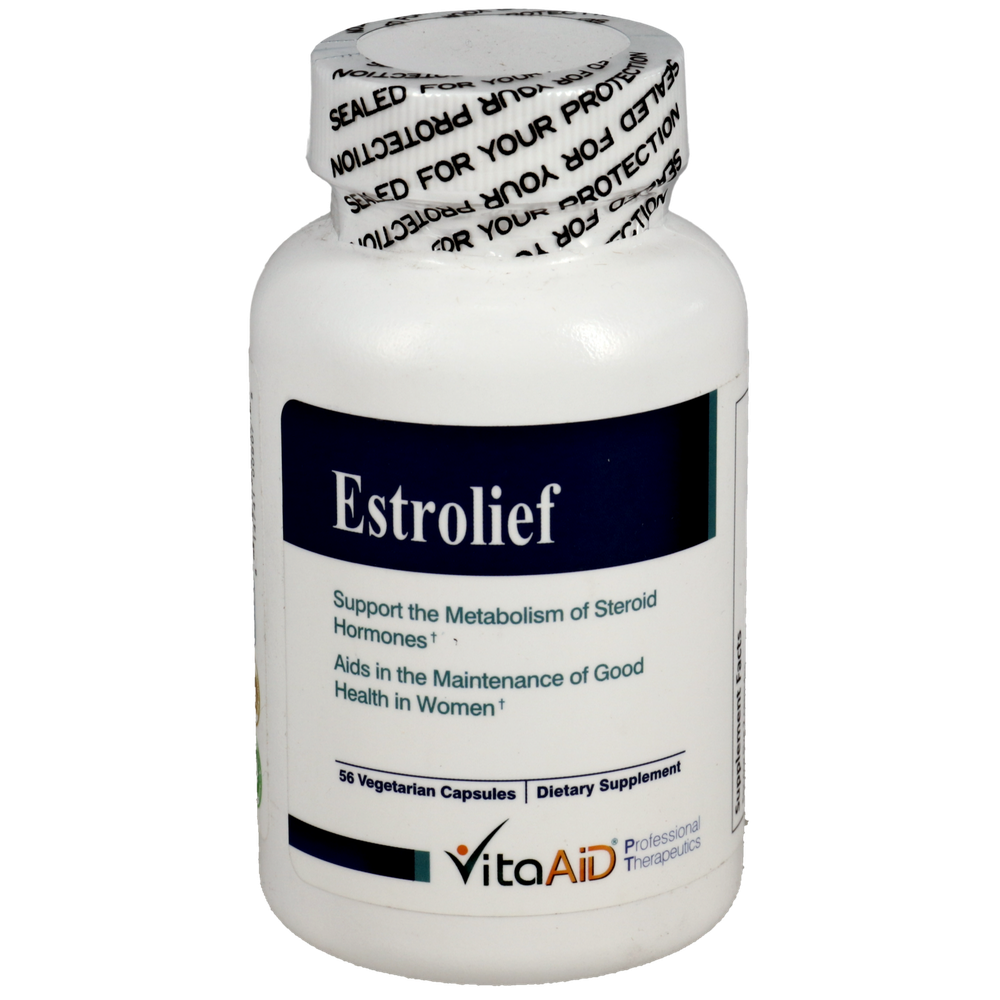 SKU: NAP604-VA907
Support the Metabolism of Steroid Hormones. Aids in the maintenance of good health in women.*
Estrolief contains key components and vitamins to aid in hormone metabolism and reduce the risk of hormone-sensitive, abnormal cell proliferation via different mechanisms.*
DIM is the bioactive metabolite of Indole-3-Carbinol (I3C) from cruciferous vegetables. DIM has been shown in studies to better aid in the estrogen metabolism than I3C due to its actions further down the pathway.* DIM enhances the estrone conversion to 2-OH-estrone (protective) and decreases the conversion to 4-OH & 16-OH metabolites (persistently estrogenic).*
SDG (Secoisolariciresinol diglucoside) has a strong affinity to the receptor of 4-, 16-OH estrone. It exerts an "amphiteric effect" to reduce the harmful estrogenic effect of 4-OH & 16-OH estrones by occupying the receptors while alleviating menopausal symptoms.*
D-glucarate has been shown to inhibit beta-glucuronidase - an enzyme that recycles toxins and hormone metabolites back into the blood stream rather than excreted and, thus, slows down the detoxification process.*
Formulated with essential coenzymes: 5-MTHF, pyridoxine-5-phosphate, and B12 - to promote the steroids detoxification (ie. methylation, transamination).*
Take 2 capsules daily, or as directed by your health care practitioner.
Serving Size: 2 Capsules
Amount Per Serving
3, 3'-Diindolylmethane ... 108mg
(DIM)
Calcium d-glucarate ... 430mg
Flax Extract ... 200mg
(Linum usitatissimum)(seed)
(20% Secoisolariciresinol diglucoside)
5-MTHF ... 700mcg
(from calcium 5-methylfolate)
Vitamin B6 ... 70mg
(from pyridoxine HCL & pyridoxal-5'-phosphate)
Vitamin B12 ... 500mcg
(methylcobalamin)
Other Ingredients: Silicon dioxide, L-leucine, pullulan/ hypromellose (capsule).
Do not use if you are pregnant. Consult a healthcare practitioner prior to use if you are attempting to conceive; if breastfeeding; or if you are taking any medications.