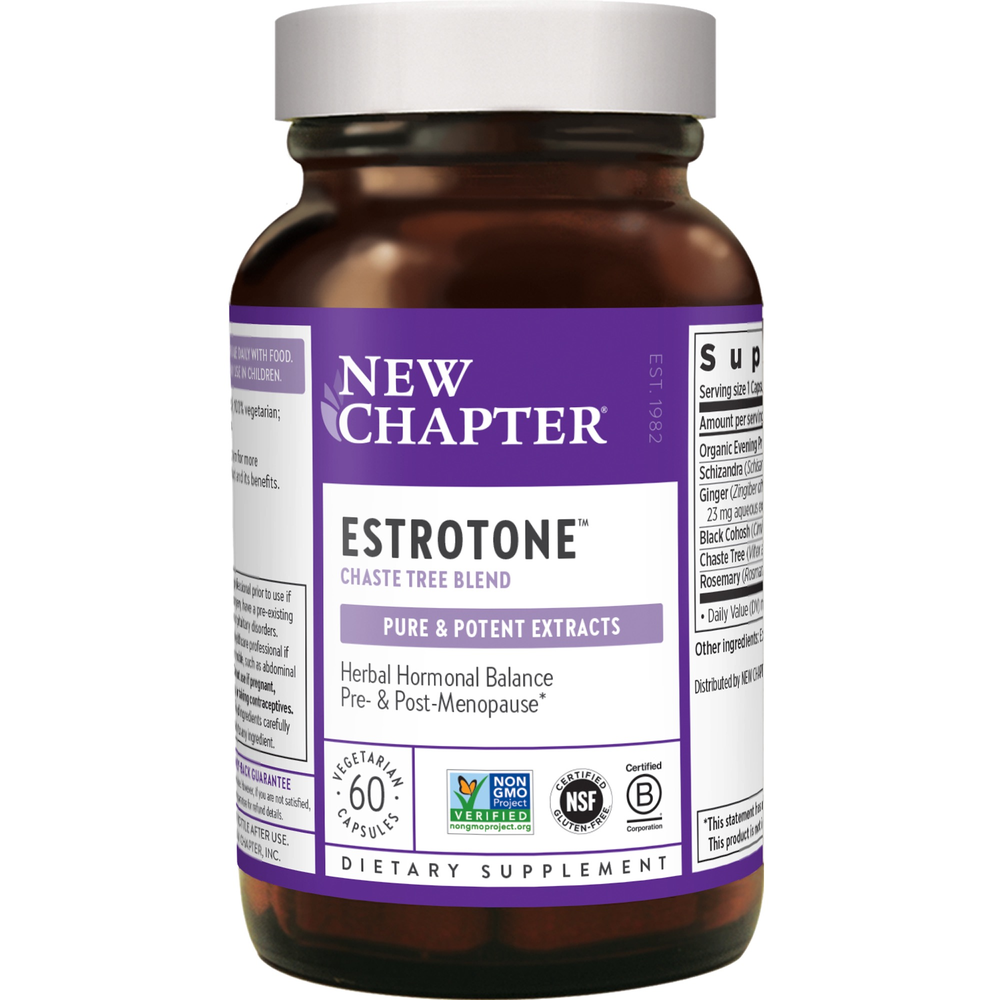 SKU: NCH-4045
Herbal Hormonal Balance*
Supports Pre- & Post-Menopausal Hormonal Balance*
Same Great Formula, Now One-per-Day Dose
100% Vegetarian
Healthy Hormonal Balance*
New Chapter® Herbal Therapeutic formulations target specific areas of wellness and provide synergistic combinations of full-spectrum herbs, whole-food cultured vitamins and minerals, and Omega fatty acids to support health and wellness.*
NOW 100% vegetarian capsule, NEW one-per-day dose
New Chapter is committed to using sustainable, Non-GMO ingredients because we firmly believe in doing what's best for the earth and everyone on it. Thats why we spent years researching the ideal quality, 100% vegetarian, Non-GMO capsules for our herbals, and have transitioned to this clean & pure vegetarian system. Each capsule delivers the same herbs you know and trust, and in the same amounts as always. Estrotone is Non-GMO Project Verified—meaning ingredients are carefully reviewed for GMO risk going all the way back to the seeds.
Herbal hormonal balance*
Estrotone™ combines multiple supportive nutrients, including full-spectrum Black Cohosh and supercritical Evening Primrose, to promote optimal hormonal balance and wellness.*
No hormones or estrogen
A targeted combination of herbs works naturally to help promote healthy hormonal balance.*
Healthy aging
Broad-spectrum herbs with powerful antioxidant activity, including Ginger and Rosemary, help support healthy aging.*
1+1>2
The herbs in Estrotone have been carefully selected and combined, in the traditional method, to provide a broad and comprehensive hormone support formula.*
Pure and potent extracts
Estrotone has transitioned to an improved capsule, now a one-per-day dose, that is plant-sourced and 100% vegetarian. This clean, innovative technology keeps the herbs pure and potent.
GLUTEN FREE
Take one capsule daily with food. Not recommended for use in children.
Serving Size: 1 Capsule
Amount Per Serving
Organic Evening Primrose Oil supercritical extract ... 200mg
(Oenothera biennis) (seed)
Schizandra hydroethanolic extract ... 160mg
(Schisandra chinensis) (berry)
Ginger 27 mg supercritical extract and 23 mg hydroethanolic extract ... 50mg
(Zingiber officinale) (rhizome)
Black Cohosh hydroethanolic extract ... 40mg
(Cimicifuga racemosa) (root and rhizome)
Chaste tree hydroethanolic extract ... 40mg
(Vitex agnus-castus) (berry)
Rosemary supercritical extract ... 10mg
(Rosmarinus officinalis) (leaf)
Other Ingredients: Extra-virgin olive oil, maltodextrin, hypromellose (capsule), organic yellow beeswax, candelilla wax, magnesium carbonate, organic sunflower oil, silicon dioxide and organic rosemary leaf extract.
Gluten free; 100% vegetarian; no artificial flavors or colors.
Caution: Contact a healthcare professional prior to use if taking birth control, planning surgery, have a pre-existing liver disorder, history of cancer or pituitary disorders. Discontinue use and consult a healthcare practitioner if you develop symptoms of liver trouble, such as abdominal pain, dark urine or jaundice. Do not use if pregnant, nursing, considering pregnancy, or taking contraceptives. Keep out of reach of children. Read ingredients carefully and avoid use if known sensitivity to any ingredient.