Even for Antidepressants
Even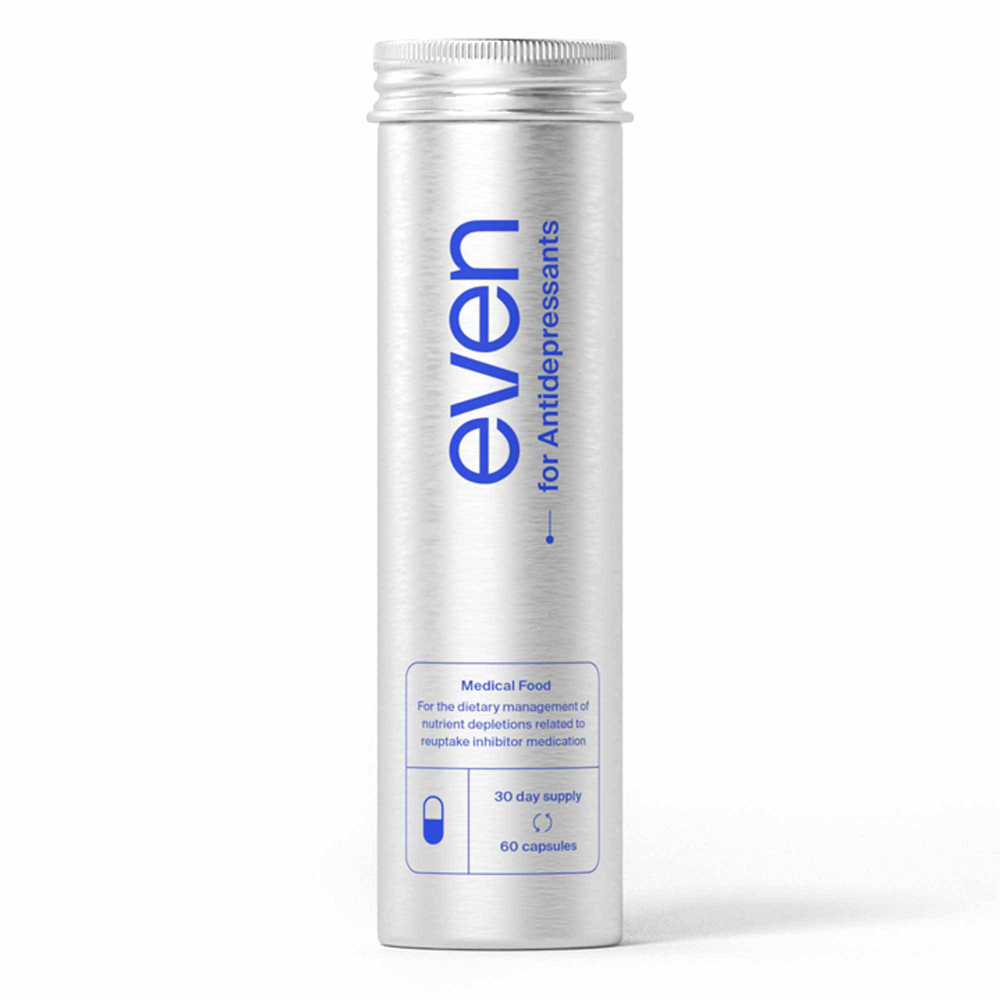 SKU: EVE528-SSRI60CAPS
Personalized nutrition for antidepressant users. A medical food designed for the dietary management of nutrient depletions related to reuptake inhibitors including SSRIs, SNRIs, SSNRIs. Created by doctors, backed by science.

Formulated with the 15 key ingredients including antioxidants, probiotic, bioavailable B vitamins and chelated minerals to support sexual health, GI health and brain health.

Addressing medication induced nutrient depletions (M.I.N.D.) may help to alleviate common complaints related to nutrient depletions.*
Suggested Use:
Take 2 capsules daily or as recommended by your healthcare professional.


Serving Size: 2 Capsules

Amount Per Serving
French maritime bark extract ... 50mg
Bacillus coagulans SNZ 1969 ... 10mg
Glucoraphanin ... 10mg
Vitamin C (ascorbic acid) ... 500mg
Magnesium (dimagnesium malate) ... 75mg
Zinc (zinc bisglycinate chelate) ... 15mg
Iodine (potassium iodide) ... 300mcg
Thiamin (thiamin mononitrate) ... 1.5 mg
Riboflavin (riboflavin - 5 -phosphate) ... 3mg
Niacin (niacinamide) ... 20mg
Vitamin B6 (pyridoxal - 5 -phosphate) ... 5mg
Folate (5 - L -methyltetrahydrofolate, calcium) ... 800mcg DFE
Vitamin B12 (methylcobalamin) ... 5mcg
Biotin (d -biotin) ... 30mcg
Pantothenic acid (d -calcium - pantothenate) ... 5mg
Use under the supervision of a healthcare professional

Contraindications: Even for Antidepressants is contraindicated for individuals with allergies or hypersensitivity to any components contained in this product

Precautions: Patients with low blood pressure should use Even for Antidepressants with caution and monitor blood pressure due to pine bark extract's vasodilatory actions. This product contains iodine. Patients with other medical conditions or patients taking other medications should consult with their physician before use.

It looks like there are no similar
products available