Exakta
D'Adamo Personalized Nutrition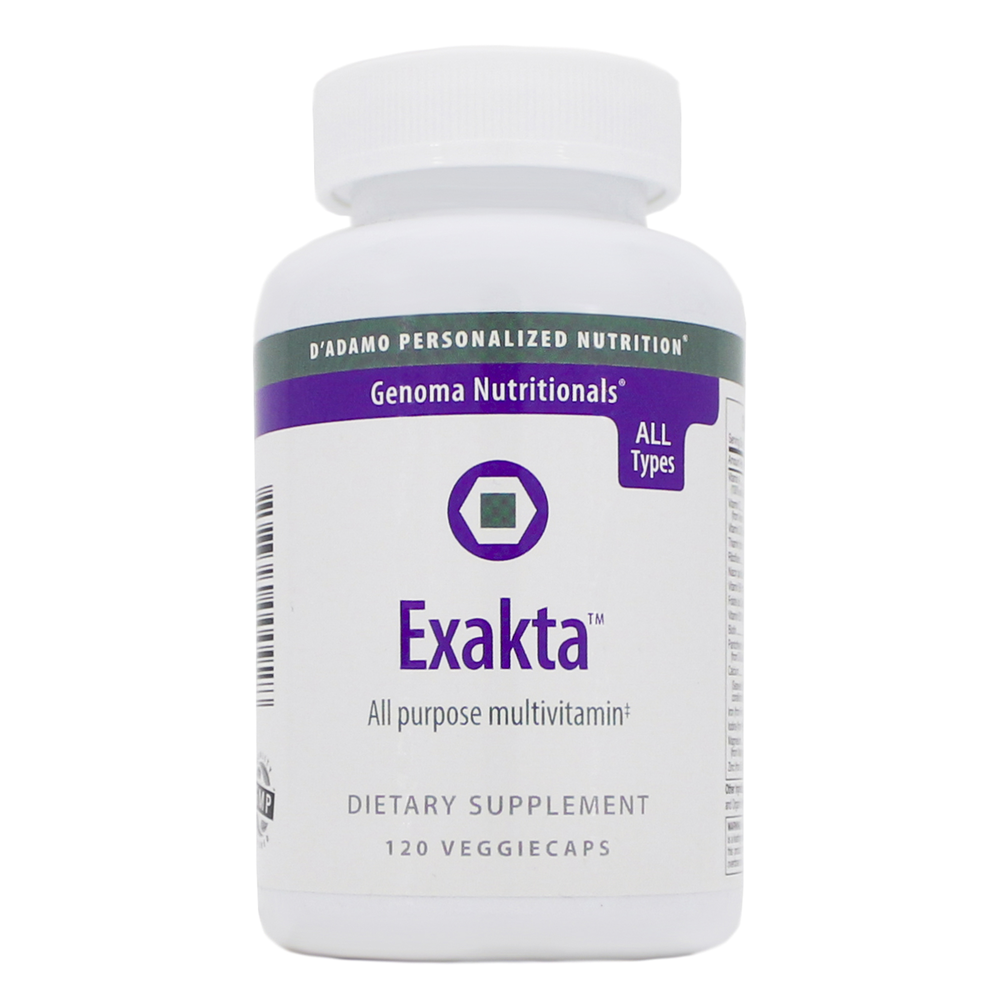 SKU: NAP-NP052
At different life stages, we can experience a higher biological need for more precise nutrient supplementation and support: growing children, pregnant and nursing mothers, and seniors. It is for these groups that Dr. D'Adamo created the Exakta formula. Exakta is a precise proprietary blend of nutrients including vitamins, minerals, essential fatty acids, and botanical concentrates and extracts. Also suitable for all GenoTypes.
Dr. D'Adamo carefully formulated Exakta to be easier to assimilate, utilizing only highly bio-available vitamin and mineral sources like Vitamin A from 100% micro-algae Beta Carotene; Vitamin C from natural-source acerola berry (rather than the typical corn-derived ascorbic acid); highly-buffered Calcium from Maerl seaweed; and Omega 3 EPA/DHA Fish Oil Blend. Also blended into the Exakta formula is Arabinogalactan, to support immune system balance and provide soluble fiber and prebiotics.
Exakta also offers potent antioxidant support from Green Tea and four highly concentrated berry-fruit extracts. Unique to this formula is iron in a basic, cautious, bio-available form and amount to support the recommendation for pregnancy, and the typical, increased demands in seniors.
Suggested Use:
Take 2 capsules twice daily as a dietary supplement, or as directed by a physician.


Serving Size: 2 Capsules

Amount Per Serving
Vitamin A ... 93.75 mcg RAE
(100% as Natural Beta Carotene from Dunaliella salina)
Vitamin C ... 37.5 mg
(from Acerola Berry and Ascorbic Acid)
Vitamin D ... 0.94 mcg
(Cholecalciferol)
Thiamin ... 3.75 mg
(from Thiamin HCl)
Riboflavin ... 5 mg
Niacin ... 2.5 mg NE
(as Niacin and Niacinamide)
Vitamin B6 ... 5 mg
(from Pyridoxine HCl)
Folate ... 680 mcg DFE
(from Calcium Folinate)
Vitamin B12 ... 7.5 mcg
(Methylcobalamin)
Biotin ... 200 mcg
Pantothenic Acid ... 5 mg
(from D-Calcium Pantothenate)
Calcium ... 150 mg
(Seaweed Extract, Derived from Lithothamnium coralliodes and Lithothamnium calcerum)
Iron ... 9 mg
(from Ferrous Succinate)
Iodine ... 37.5 mcg
(from Potassium Iodide)
Magnesium ... 50 mg
(from Magnesium Citrate and Magnesium Oxide)
Zinc ... 7.5 mg
(from Zinc Picolinate)
Selenium ... 5 mcg
(from L-Selenomethionine)
Copper ... 0.5 mg
(from Copper Gluconate)
Manganese ... 0.5 mg
(from Manganese Citrate)
Chromium ... 12.5 mcg
(from GTF Chromium Polynicotinate)
Molybdenum ... 7.5 mcg
(from Sodium Molybdate)
Chloride ... 5 mg
(from Sodium Chloride)
Sodium ... 3 mg
(from Sodium Chloride)
Potassium ... 49.5 mg
(from Potassium Aspartate)
Proprietary Blend ... 161 mg
Arabinogalactan
(from Larix occidentalis Resin)
Berry Concentrate Blend
(Contains 4:1 Fruit Extracts of Elderberry (Sambucas caanadensis), and Blueberry (Vaccinum spp)
Black Cherry 20:1 Extract
(prunus serotina)
Citrus Bioflavanoids
Cranberry Fruit
(from Vaccinum marcocarpon)
Green Tea Leaf Standardized Extract
(from Camillia sinensis, standardized to 50% Polyphenol Content)
Omega 3 Blend
(from Fish Oil (sardine) contains EPA and DHA
PABA
(Para-Aminobenzoic Acid)

Other Ingredients: Vegetable Cellulose, Organic Rice Extract, and Organic Rice Concentrate.
Contains: Fish (sardine), from Omega 3 Blend.


This product contains no corn, soy, salt, yeast, milk & egg products, sugar, starch or preservatives.
Warning:
Accidental overdose of iron-containing products is a leading cause of fatal poisoning in children under 6. Keep this product out of reach of children. In case of accidental overdose call a doctor or a poison control center immediately.