EZ Iron
Nutritional Frontiers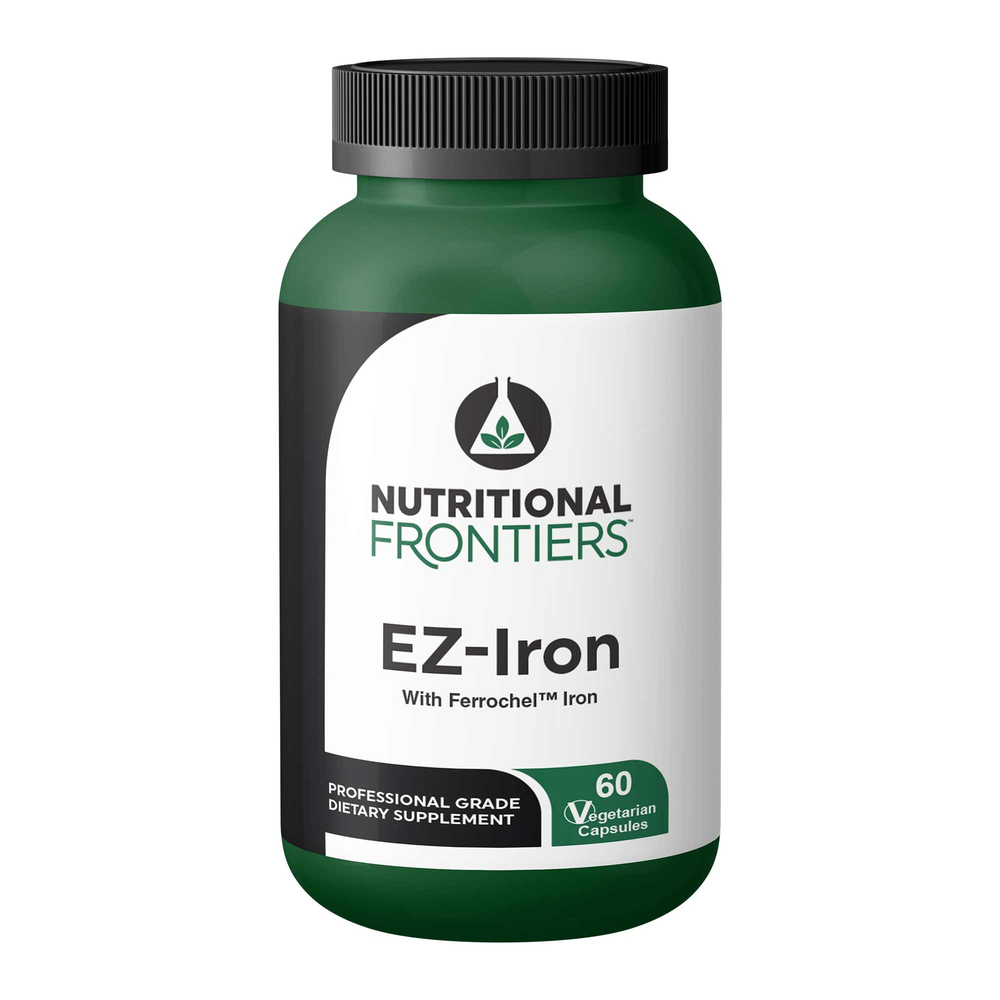 SKU: NUT412-19NF238060
Iron is an essential mineral for proper functioning of our red blood cells and transportation of oxygen throughout the body. Iron is a constituent of hemoglobin which is the oxygen-carrying component of blood. Iron is also part of myoglobin which helps store oxygen in muscle cells. Iron-containing heme is also required for the biological activities of cytochromes and peroxidases. Iron factors in the production of amino acids, collagen, neurotransmitters, & hormones. Since iron is utilized both in hemoglobin and myoglobin, sometimes people who are iron-deficient complain of fatigue even when their bloodwork reveals normal hemoglobin levels.
Suggested Use for Adults (18 years and older):
As a dietary supplement, take 1 capsule daily, with meals. Do not exceed more than 1 capsule daily unless directed by your healthcare practitioner.


Serving Size: 1 Capsule
Amount Per Serving
Vitamin C … 100 mg
(Ascorbyl Palmitate)
Vitamin B6 … 20 mg
(Pyridoxal 5-Phosphate)
Folate …. 1,088 mcg DFE
(L-5-Methyltetrahydrofolate)
Vitamin B12 … 400 mcg
(Methylcobalamin)
Iron … 30 mg
(as Ferrous Bisglycinate Chelate) (Ferrochel™)

Other Ingredients: Vegetable Cellulose (Capsule), Organic Rice Extract Blend, Organic Rice Concentrate.
Warning: If pregnant or nursing, consult your healthcare practitioner before taking this product.
Warning: Accidental overdose of iron-containing products is a leading cause of fatal poisoning in children under the age of 6. Keep this product out of reach of children. In case of accidental overdose, call a doctor or poison control center immediately.
Caution: Children under 18 years should not take this product unless recommended by a physician. If G.I. upset, diarrhea or constipation occurs discontinue use and consult your physician. Don't take product more than 3 months unless directed by a physician.