Fast and Be Clear
Allergy Research Group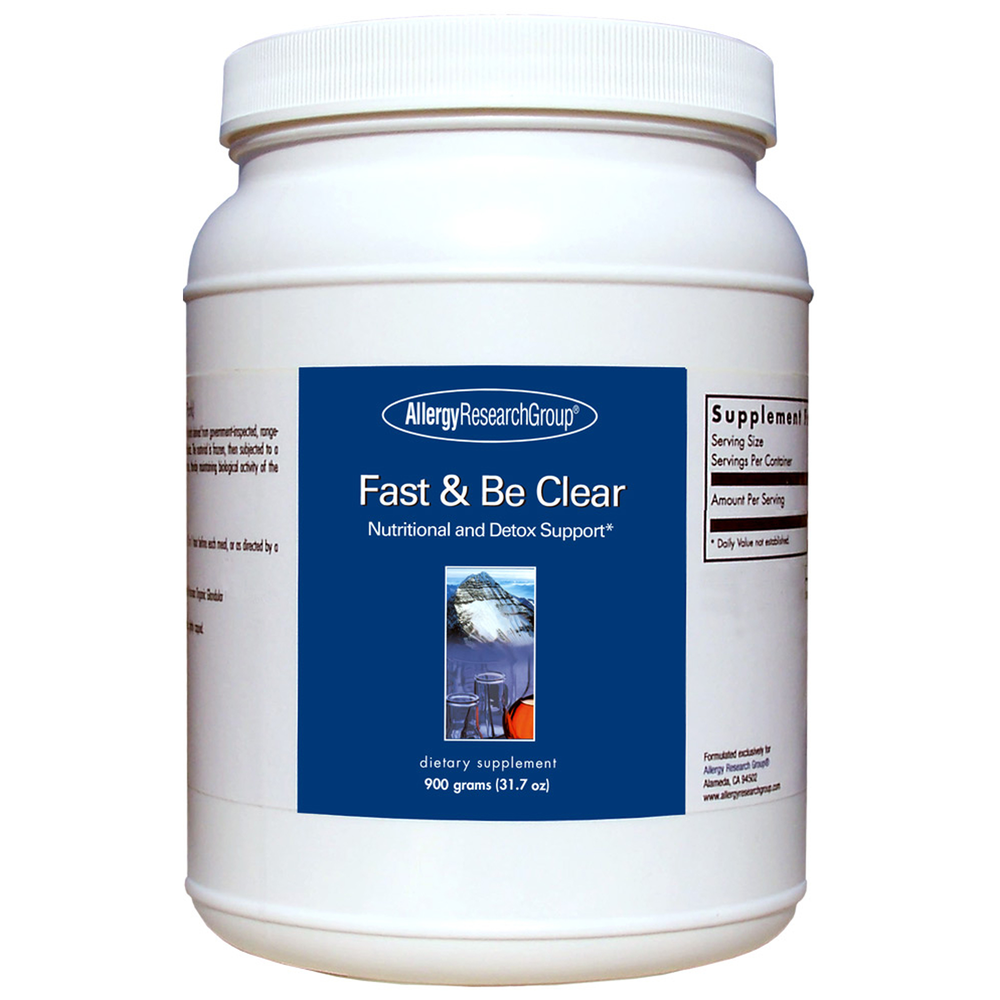 SKU: ARG-74230
Broad-spectrum nutritional and antioxidant support from vitamins, minerals, and bioactive food components.* Updated with bioactive coenzyme forms of vitamins B2, B6, B12, and folate, increased D3, iodine, milk thistle, glutathione, selenium, NAC, green tea, and R-lipoic acid. With pea protein and natural vanilla flavoring, for improved dissolvability and taste! Contains less than 1 mg of caffeine per serving.

Formulated as hypoallergenically as possible to support detoxification.*
As a dietary supplement, 2 scoops one or two times daily with food or shortly before meals, or as directed by a healthcare professional. Mix in 8 oz of liquid.


Serving Size: 2 scoops (40g)

Amount Per Serving
Calories ... 150
Calories from Fat ... 15
Total Fat ... 2g
Saturated Fat ... 0.5g
Sodium ... 20mg
Total Carbohydrates ... 21g
Dietary Fiber ... 4g
Sugars ... 11g
Protein ... 17g
Vitamin A ... 3285µgRAE
(as 3920 IU of Beta Carotene, 1540 IU of Retinyl Palmitate and 1540 IU of Mixed Carotenoids)
Vitamin C ... 300mg
(as Magnesium Ascorbate)
Vitamin D3 ... 10µg
(as 400 IU Cholecalciferol)
Mixed Tocopherols ... 100IU
Thiamine ... 5mg
(as Thiamine Hydrochloride)
Riboflavin ... 5mg
(as Riboflavin-5-Phosphate)
Niacin ... 5mg NE
(as Niacinamide)
Vitamin B6 ... 5mg
(as Pyridoxine-5-phosphate)
Folate ... 167µgDFE
(as 100 µg of 5-Methyltetrahydrofolate (from 185 µg [6S]-5-methyltetrahydrofolic acid, glucosamine salt)
Vitamin B12 ... 200µg
(as Methylcobalamin)
Biotin ... 150µg
Pantothenic Acid ... 25mg
(Calcium Pantothenate)
Calcium ... 200mg
(as Calcium Citrate, Calcium Phosphate, Calcium Pantothenate)
Phosphorus ... 120mg
(as Calcium Phosphate and Potassium Phosphate)
Iodine ... 50µg
(as Potassium Iodide)
Magnesium ... 200mg
(as Magnesium Citrate)
Zinc ... 10mg
(as Zinc Picolinate)
Selenium ... 50µg
(as Selenomethionine)
Copper ... 1mg
(as Copper Gluconate)
Manganese ... 1.3mg
(as Manganese Gluconate)
Chromium ... 80µg
(as Chromium Picolinate)
Molybdenum ... 75µg
(as Sodium Molybdate)
Potassium ... 120mg
(as Potassium Iodide and Potassium Phosphate)
Boron ... 250µg
(as Sodium Borate)
N -Acetyl-L-Cysteine ... 250mg
L-Glutathione ... 100mg
(reduced)
Glycine ... 500mg
Taurine ... 200mg
L-Glutamine ... 500mg
R-Alpha-Lipoic Acid ... 100mg
MSM ... 100mg
(Methylsulfonylmethane)
Milk Thistle Extract ... 100mg
(Seed) (standardized to 80% Silymarin)
Green Tea Extract ... 100mg
(Leaf) (standardized to 40% Catechins)

Other Ingredients: Pea protein concentrate, rice bran, microcrystalline cellulose, vanilla flavor, rice bran oil, guar gum, stevia.

Quatrefolic® is a registered trademark of Gnosis S.p.A., U.S. Patent No. 7,947,662.
EVTeneSol® is a registered trademark of ExcelVite Inc.
Variations in product color may occur. Keep in a cool, dry place, tightly capped.

Product is sold by weight not by volume. Some settling may occur.