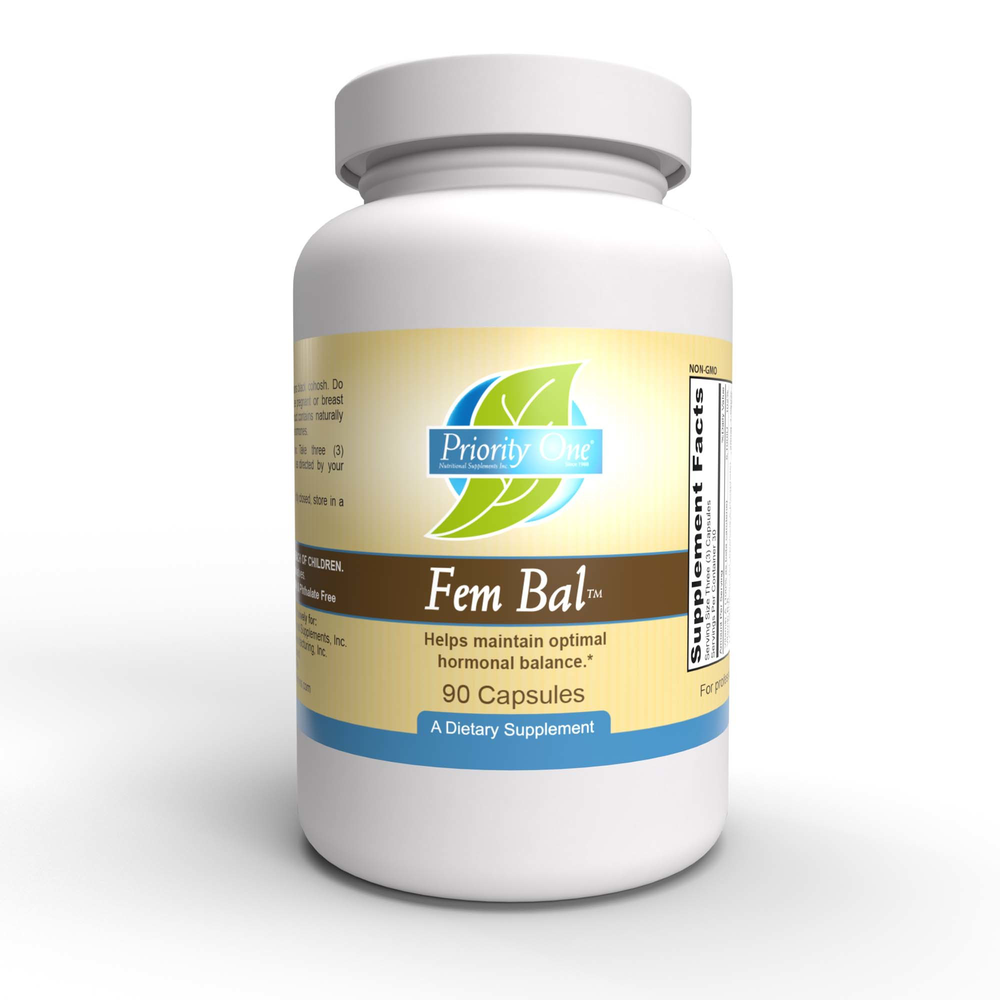 SKU: PR7-1338
Helps maintain optimal hormonal balance. Fem-Bal is a unique combination of glandulars, vitamins, minerals and herbs to help maintain a healthy female endocrine system for women in the menstrual and menopausal years.
Adults take one (1) capsule three (3) times daily or as directed by your physician.
Serving Size: Three (3) Capsules


Amount Per Serving
Vitamin A (100% as beta carotene) ... 5,100IU
Vitamin B-6 (as pyridoxine hcl, pyridoxal-5-phosphate) ... 39mg
Magnesium (as rice chelate aspartate oxide) ... 150mg
Chromium (as chromium polynicotinate)(ChromeMate®) ... 120mcg
Cramp Bark (bark)(Viburnum opulus) ... 51mg
Palm-Leaf Raspberry(fruit)(extract 10:1)(Rubus spp.) ... 51mg
Valerian (root)(Valeriana officinalis) ... 24mg
(0.8% Valeric Acids)
Passionflower (leaf) (Passiflora incernata) ... 51mg
Dong Quai (root) (Angelica sinensis) ... 51mg
Black Cohosh (root)(Cimicifuga racemosa) ... 51mg
Simple-Leaf Chaste Tree (fruit) (Extract 4:1)(Vitex trifolia) ... 75mg
Borage (seed) (10% gamma linolenic acid) ... 45mg
Ovary Concentrate ... 30mg
Adrenal Concentrate ... 51mg
Pituitary Concentrate ... 9mg
Other Ingredients: Rice chelate, gluten free maltodextrin, silicon, silicon dioxide, capsule (gelatin, purified water).
ChromeMate® is a registered trademark of InterHealth Nutraceuticals Inc.
KEEP CONTAINER TIGHTLY CLOSED.
STORE IN A COOL, DRY TEMPERATURE.
KEEP OUT OF REACH OF CHILDREN.
This product contains black cohosh and should not be ingested by pregnant or lactating women. This product contains adrenal hormones.