Femarin
Ortho Molecular Products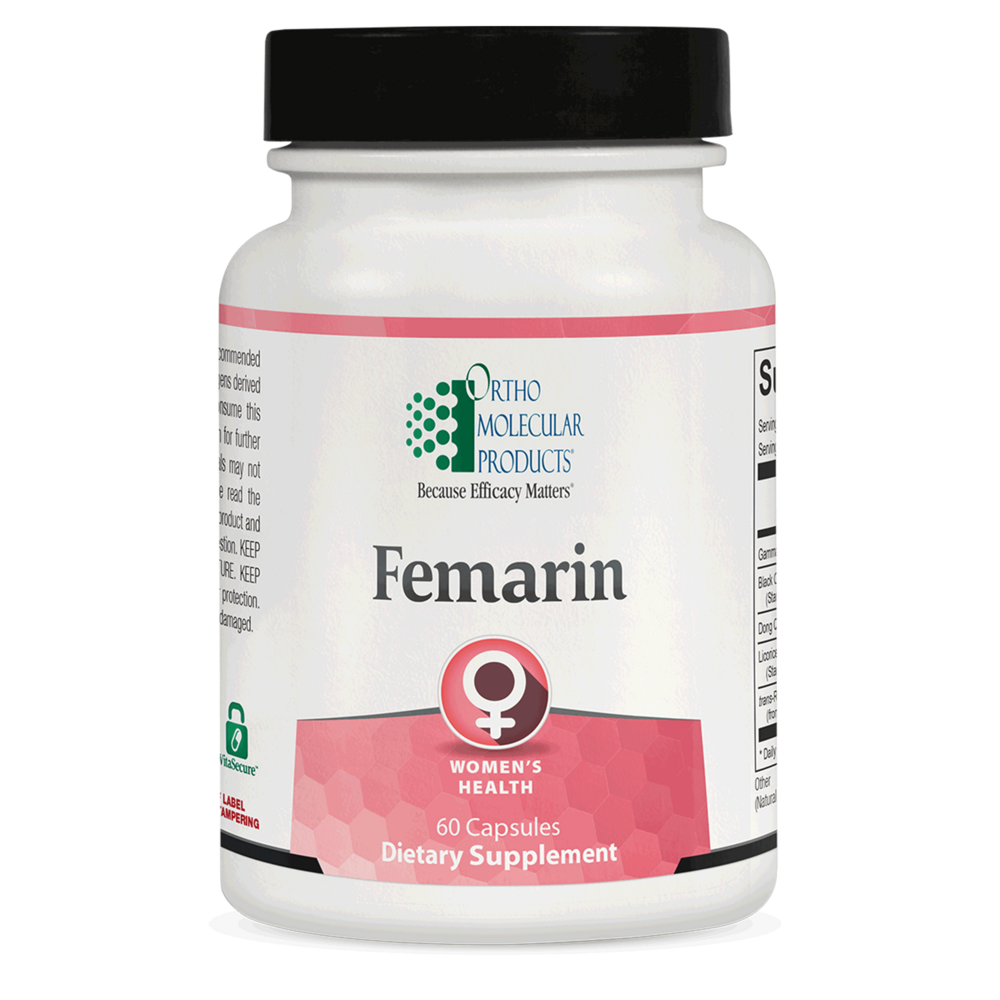 SKU: OHM-559060
Femarin is a unique blend of botanicals formulated to provide targeted support for a comfortable and balanced menopausal transition.
Supports Cardiovascular and Neurologic Health
Supports Homocysteine Balance
Supports Healthy Arterial Function
Maintains Normal Inflammatory Balance
For some women, the accompanying signs and effects that can occur during the transition years can be strong enough to significantly disrupt daily activities and sense of well-being. Femarin contains five key ingredients that provide proven phytoestrogen shown to support a woman's unique needs during this period. Specifically, Femarin's formula addresses hormonal balance, maintains normal inflammatory balance and provides antioxidant support, as well as cardiovascular and bone support for a full spectrum of protection and menopausal symptom relief.
Suggested Use:
Take 2 capsules per day in divided doses or as recommended by your health care professional.
Serving Size: 2 Capsules

Amount Per Serving
Gamma Oryzanol .. 300mg*
Black Cohosh Root Extract … 160mg*
(Standardized to contain 2.5% Triterpene Glycosides)
Dong Quai Root Extract … 75mg*
(Standardized to contain 1% Ligustilide)
Licorice Root Extract 12:1 … 75mg*
trans-Resveratrol … 4mg*
(from Polygonum cuspidatum (Roots))


Other Ingredients: Natural Vegetable Capsules, Microcrystalline Cellulose, and Magnesium Stearate.
Does not contain: Gluten, yeast, artificial colors and flavors.
Cautions:
If you are pregnant or nursing, consult your physician before taking this product. Without drinking enough liquid this product may swell in throat, causing blockage or choking.
Do not use this product if you have ever had esophageal narrowing or swallowing difficulties. Seek immediate medical help if symptoms of esophageal blockage (chest pain/ pressure, regurgitation or difficulty swallowing) occur. May cause allergic reaction in persons sensitive to inhaled or ingested Psyllium.