Fermented Digestive Enzymes
Codeage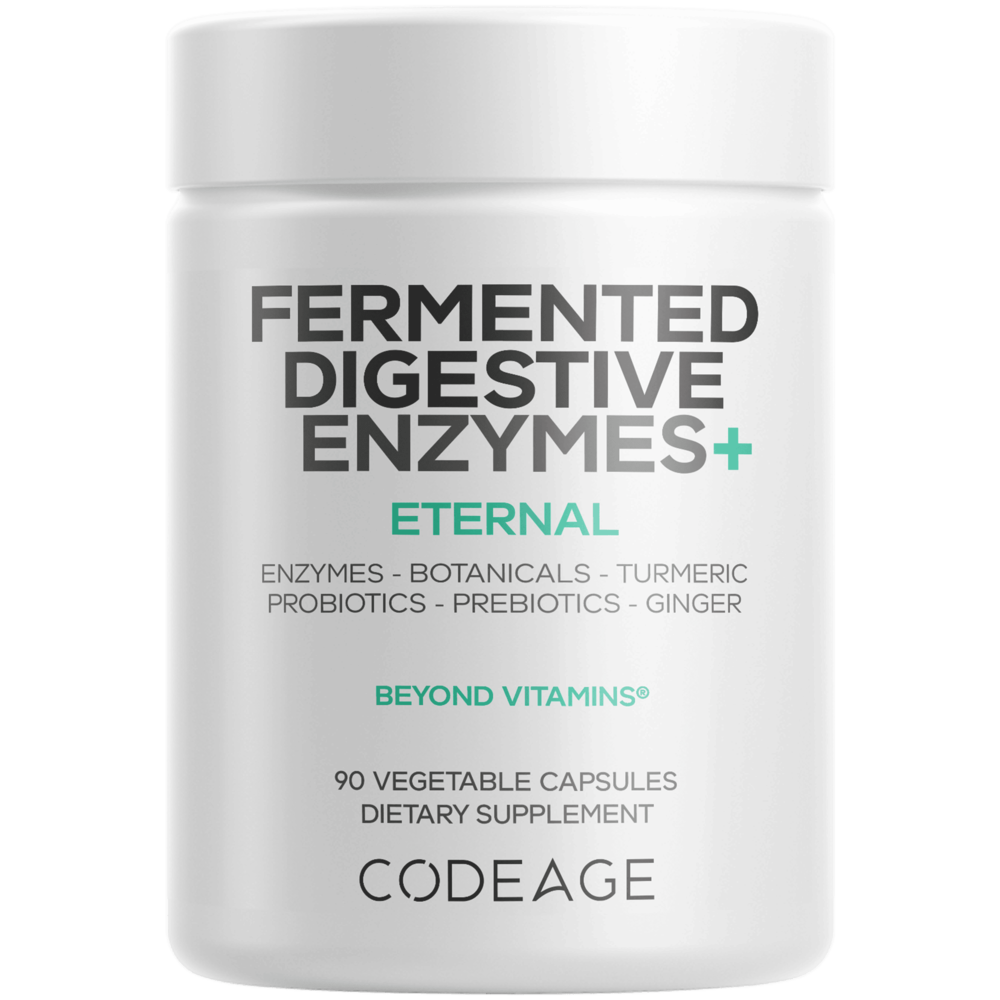 SKU: COD404-853919008502
Codeage Fermented Digestive Enzymes offers an all-in-one digestive enzymes solution featuring raw & vegan digestive enzymes paired with probiotics, prebiotics, fermented botanical fruits, and herbs.
The ingredients used in this proprietary blend are known to:
Support healthy digestion*
Support the natural breakdown of proteins, fats, carbs, and fibers*
May support the gut microbiota positively, which can be associated with overall health*
Suggested Use:
Take 1 capsule daily with 8 ounces of water or your favorite beverage. May be taken with or without food.
Serving Size:
1 Capsule
Amount Per Serving
Fermented Organic Botanical Digestive Blend
… 609 mg
Apple Cider Vinegar, Black Pepper Powder (Fruit; Piper nigrum), Ginger Powder (Root), Ginger C02 Extract (Root), Kiwi Powder (Fruit),Turmeric Powder (Root), Turmeric C02 Extract (Root)
Enzyme Generating Probiotic Blend (1 Billion CFU)
… 83 mg
B. clausii, B. subtilis, B. coagulans, S. boulardii
Protein-, Fat-, & Lactose-Digesting Enzyme Blend
… 34 mg
Protease Blend (90,000 HUT), Lipase (4,100 FCCFIP), Lactase (950 ALU)
Carb-Digesting Enzyme Blend
… 15 mg
Amylase Blend (24,000 DU), Glucoamylase (55 AGU), Diastase (300 DP), lnvertase (350 CU), Pectinase (750 AJDU)
Fiber-Digesting Enzyme Blend
… 15 mg
Cellulase (3,000 CU), Hemicellulase (450 HCU), Xylanase (1450 XU), Phytase (16 FTU)
Anti-Gas & Bloating Enzyme Blend
… 14 mg
Alpha-Galactosidase (455 GalU), Beta-Glucanase (70 BGU)
Other Ingredients:
Methylcellulose Capsule.
Does not contain:
GMO, gluten, dairy, soy, milk, egg, wheat, shellfish, color additives, or preservatives.
Ideal for Vegan and Keto Diet
Warning
: Do not exceed recommended dose. Pregnant or nursing mothers, children under 18 and individuals with a known medical condition should consult a physician before using this or any dietary supplement. Please use caution if you have allergies or sensitivities to any of the listed ingredients.