Fiber Fusion™ Daily
Nature's Way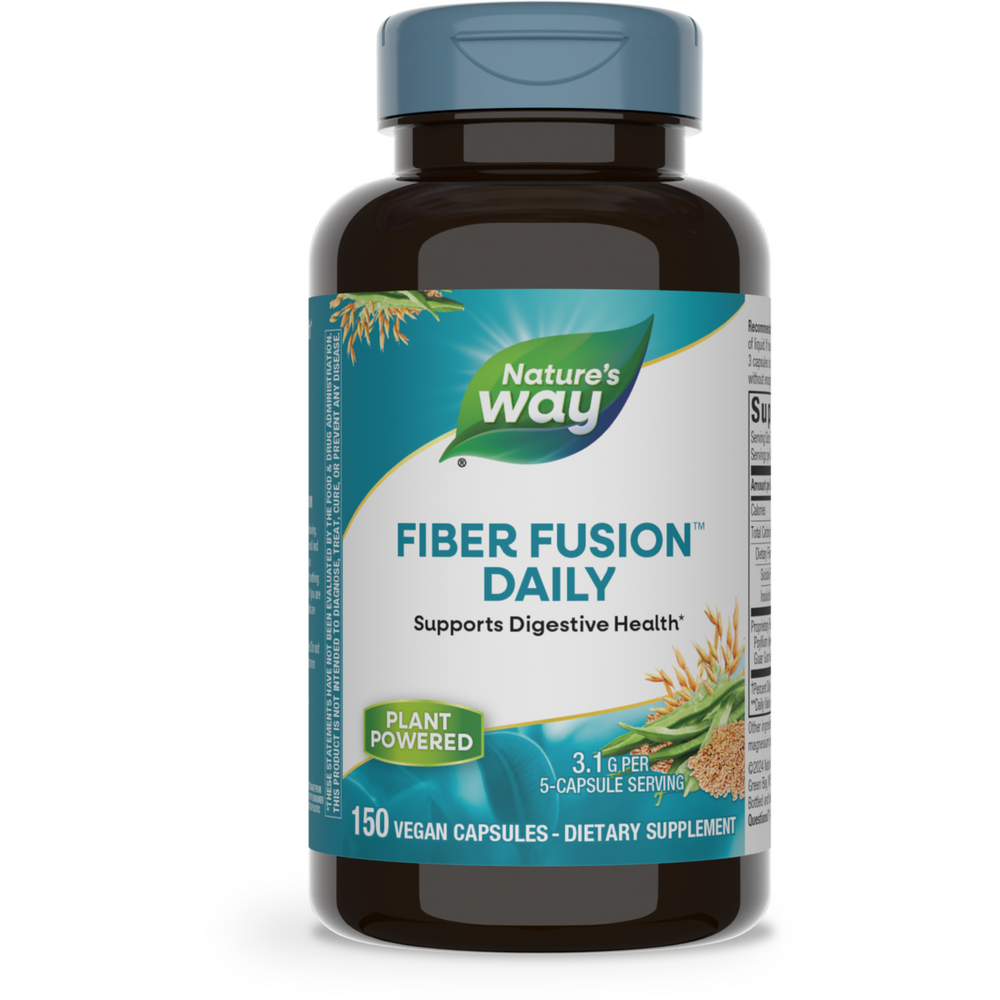 SKU: EN2-08452
Enzymatic Therapy's Fiber Fusion Plus daily cleansing fiber contains all-natural fibers and herbs that safely absorb and eliminate toxins and improve colon function. And, it's gentle enough to be used for daily cleansing. Fiber is effective only when fully dispersed in the colon to adhere to and eliminate toxins and enhance the removal of waste products. Our True Dispersion technology ensures the fiber is completely released and dispersed throughout the colon for thorough daily cleansing.
Fiber Fusion Plus is a clay-free formula. That's important since detoxification products containing clay can deplete the body of healthy minerals, and often contain high levels of lead and other toxins. You can rely on Fiber Fusion Plus every day.
Suggested Use:
Take 5 capsules daily with at least 8 oz of liquid. If desired, may be taken as 2 capsules in the morning and 3 capsules at night, with at least 8 oz of liquid.
Serving Size: 4 Capsules
Amount Per Serving
Total Carbohydrate … 2 g
Dietary Fiber … 2 g
Soluble Fiber … 1 g
Insoluble Fiber … 1 g
Proprietary Fiber Blend … 2.1 g
psyllium (Plantago ovata) husk, glucomannan, oat (Avena sativa) bran, guar gum (Cyamopsis tetragonoloba) seed extract, marshmallow (Althaea officinalis) root extract 3.5:1, and pectin (from citrus fruit)
Other Ingredients: Cellulose, vegetable capsule (modified cellulose), silicon dioxide, and magnesium stearate.
Free Of: Artificial coloring, artificial flavoring, corn, dairy products, ingredients of animal origin, preservatives, salt, sugar, wheat and yeast.
Warning: Do not take this product if you have difficulty swallowing. Take this product with at least a full glass of liquid (8oz). Taking this product without adequate fluid may cause it to swell and block your throat or esophagus and may cause choking. If you experience chest pain, vomiting, or difficulty swallowing or breathing after taking this product, seek immediate medical attention. If pregnant, nursing, or taking prescription drugs, consult your healthcare practitioner prior to use.
Keep out of reach of children. Safety sealed with printed inner seal. Do not use if seal is broken or missing.