Finest Pure Fish Oil Ultra
Pharmax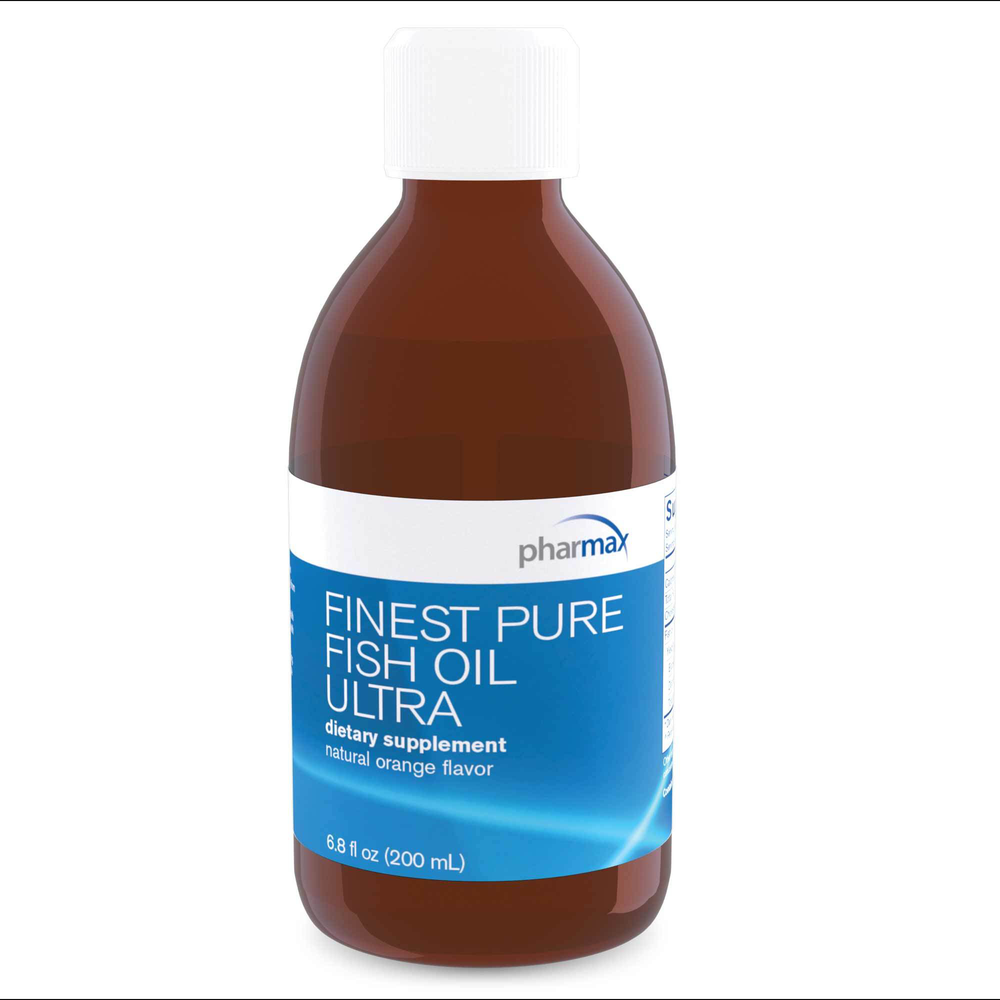 SKU: PX-FA61200U
Great-tasting, double-potency triglyceride fish oil
- Each teaspoon contains a meaningful 2,500 mg of EPA/DHA for optimum maintenance of health*
- Supports cognitive function and joint mobility and comfort*
- Promotes cardiovascular health and healthy lipid metabolism*
- Mixed with essential oil of orange for a delicious flavor
Finest Pure Fish Oil Ultra contains a high concentration of quality EPA and DHA in the bioavailable triglyceride form. EPA and DHA are profoundly beneficial for cardiovascular health, as they promote healthy lipid metabolism, heart rates, and platelet and endothelial function. Fish oil is also heavily involved in supporting cognitive health, including episodic memory and learning in older adults. Furthermore, the importance of DHA in the development of the infant brain during pregnancy and the neonatal period is now widely recognized. These omega-3 fatty acids have also been traditionally used to support mobility of joints and provide joint comfort and function. This formula offers triglyceride-form fish oil, which has demonstrated greater bioavailability than ethyl esters in clinical research. Specifically, one study reported a significantly higher increase in the omega-3 index after six months of supplementation with triglyceride fish oil than an identical dose of ethyl esters. Flavored with essential oil of orange, Finest Pure Fish Oil Ultra provides a pleasant way of taking physiologically meaningful levels of EPA and DHA.*
one teaspoon of Finest Pure Fish Oil Ultra 1-2 times daily or as professionally directed. Do not drink directly from the bottle.

Serving Size: 1 Teaspoon (5mL)


Amount Per Serving:
Calories 40
Total Fat 4.5 g
Cholesterol 15 mg
Fish oil (from anchovy, sardine and mackerel) 4,500 mg
Yielding
Eicosapentaenoic acid (EPA) 1,500 mg
Docosahexaenoic acid (DHA) 1,500 mg
Total omega-3 2,600 mg *

Other Ingredients: Sweet orange oil, rosemary leaf extract, mixed tocopherols concentrate

Contains: Fish (anchovy, sardine and mackerel)
If you are pregnant or lactating, have any health condition or are taking any medication, consult your health professional before use.
Use only if safety seal is intact. Refrigerate after opening.
Contents may not fill package in order to accommodate required labeling. Please rely on stated quantity. Keep out of the reach of children.