EfaGold Organic Flax Super Lignan
Nature's Way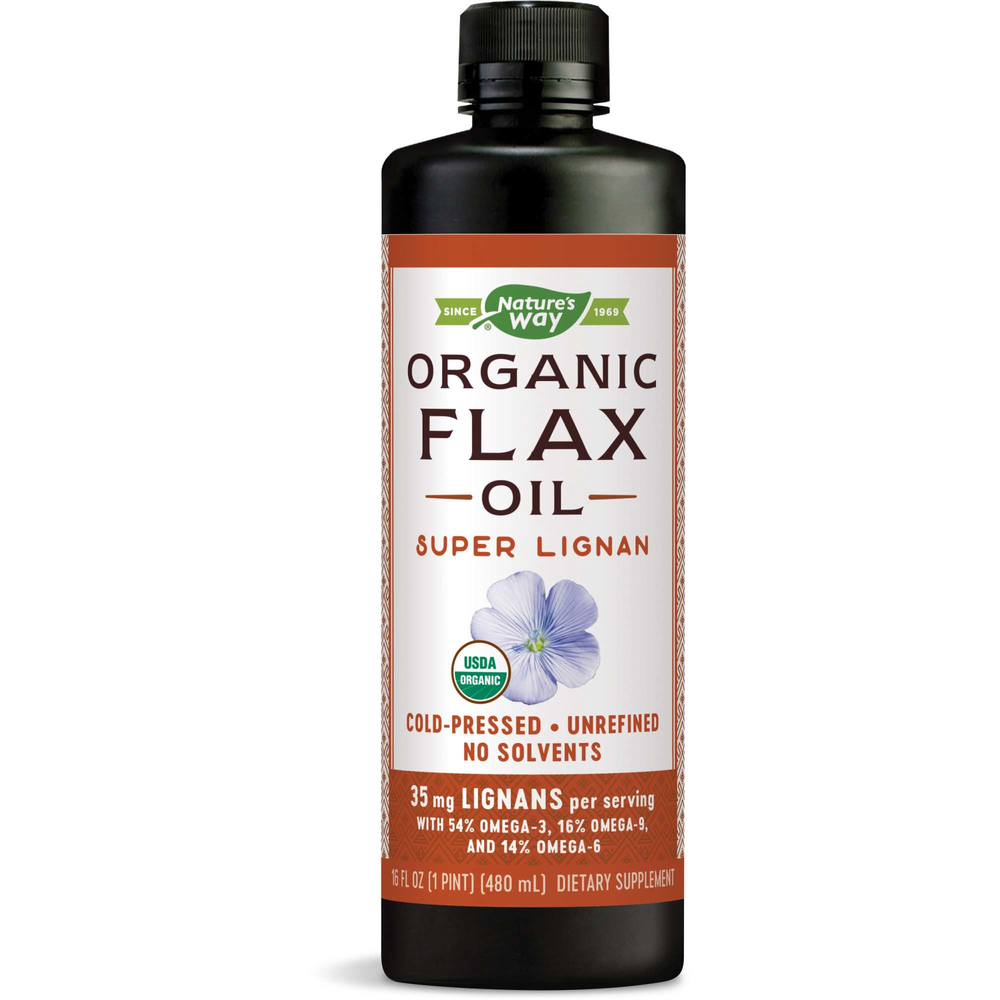 SKU: NW-15428
Product Description
Helps maintain a healthy EFA balance
100% cold-pressed
35 mg lignan content
Restore a proper balance of omega-3 and omega-6 essential fatty acids (EFAs) with Super Lignan Flax Oil from Nature's Way. Many foods in the modern diet are too heavy in omega-6 EFAs and fall short in supplying enough omega-3s. With omega-3 fatty acids, flax oil can help maintain a healthy balance. The omega-3s in flax oil provide valuable nourishment for the cardiovascular system, skin, brain and more. This special formula also delivers a generous supple of lignans, natural flaxseed constituents with unique nutritive benefits for the body's cellular defense mechanisms.
Suggested Use:
Shake well before use. Take 1 tablespoon (15 mL) 1 to 2 times daily. If pregnant, nursing or taking any medications, consult a healthcare professional before use. Refrigerate after opening.
Serving Size: 1 Teaspoon (15mL)
Amount Per Serving
Calories … 130
Calories from Fat … 130
Total Fat … 14 g†
Saturated Fat … 1 g†
Trans Fat … 0 g**
Polyunsaturated Fat … 10 g**
Monounsaturated Fat … 2.5 g**
Cholesterol … 0 mg†
Omega-3 Fatty Acids as alpha-linolenic acid (ALA) … 7.5 g**
Lignan-Rich Flax providing 35 mg Lignans … 2.7 g**
Omega-9 Fatty Acids as oleic acid (OA) … 2.2 g**
Omega-6 Fatty Acids as linoleic acid (LA) … 2 g**
Other ingredients: Organic flax seed oil, organic lignan-rich flax seed oil, FreshGuard® blend (organic sunflower seed oil, organic rosemary extract [stem, leaf], mixed tocopherols, ascorbic acid, citric acid)
No sugar, salt, yeast, wheat, corn, soy, dairy products, artificial colors, flavors or preservatives.
GLUTEN FREE. VEGETARIAN. USDA ORGANIC.
Warning: Keep out of reach of children. Safety sealed with outer shrinkwrap seal and inner seal. Do not use if either seal is broken or missing.