Flora Maintenance (25 Billion CFU)
Patient One MediNutritionals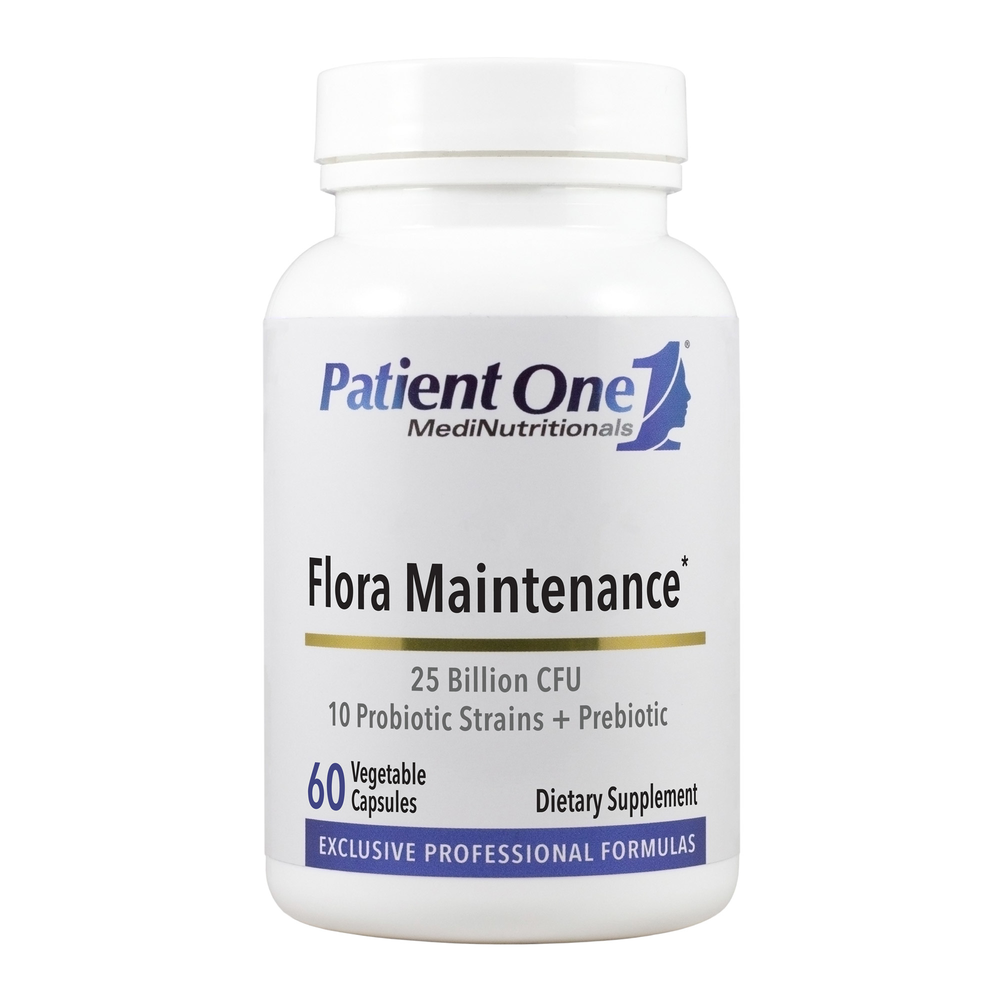 SKU: ONE631-P104160
Patient One Flora Maintenance is a multi-strain, identity-confirmed probiotic with a potency of 25 billion bacteria per serving at encapsulation.

Flora Maintenance supplies HardiStrainTM standardized bacteria cultures, produced with a proprietary system that promotes increased viability over an extended shelf life. Patient One's freeze-dried probiotic cultures are provided in an acid-resistant, delayed release capsule to survive harsh stomach acids for effective delivery to the intestinal tract where the organisms can colonize and replicate. Flora Maintenance helps to inhibit the growth of harmful bacteria, supporting enhanced immune defense while aiding digestion.

The "good" probiotic bacteria have the ability to adhere to the intestinal epithelial cells and to implant in the intestines and positively modulate the immune system. Patient One's proprietary blend contains significant concentrations of L. acidophilus, L. casei, and L. rhamnosus, three of the most well documented strains on the market today. As strain identity is essential to link a strain to a specific health effect, the probiotic strains in our formula are genetically identified using a sophisticated RiboPrinter® microbial characterization system.
Suggested Use:
Take 1 capsule daily as a dietary supplement, with or between meals, or as directed by a qualified health care professional.
Serving Size: 1 Capsule

Amount Per Serving
Bacterial Culture Blend ... 25 Billion Live Organisms*
L. acidophilus, L. casei, L. rhamnosus, B. longum, B. breve, L. plantarum, L. salivarius, S. thermophilus, P. acidilactici, L. bulgaricus
Fructo-oligosaccarides ... 250mg
(FOS)

Other Ingredients: Vegetable cellulose (capsule), microcrystalline cellulose.


Free of: Milk, egg, fish, peanuts, crustacean shellfish (lobster, crab or shrimp), soybeans, tree nuts, wheat, yeast, gluten, corn, and artificial sweeteners, flavors, colors and preservatives.
This product is free of ingredients derived from genetically modified organisms (GMOs).

This product is Vegetarian, Gluten Free and Non-GMO.
Warnings:
If you are pregnant, nursing, or taking any medications, consult your health practitioner before use. Discontinue use and consult health practitioner if any adverse reactions occur. Keep out of reach of children. Use only if safety seal is intact.