Flush-Free Niacin 500mg
Protocol for Life Balance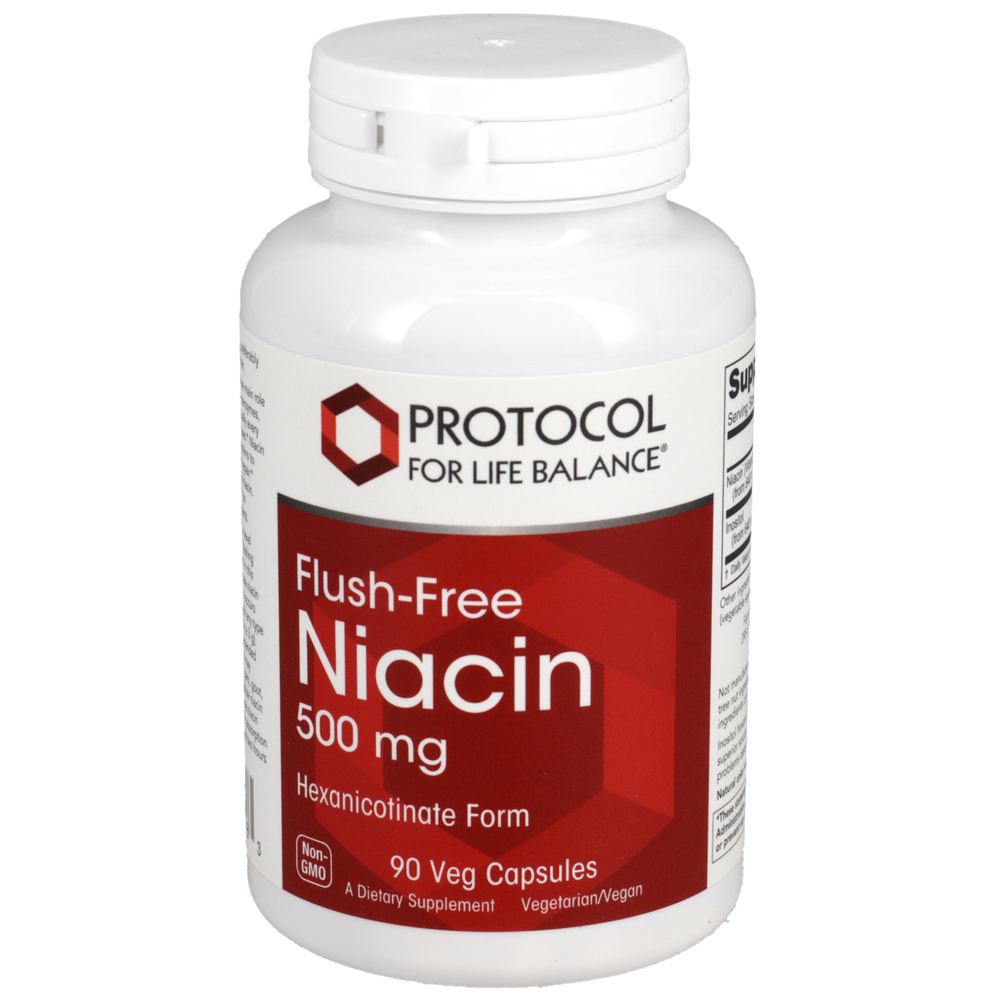 SKU: PROT-P0498
Niacin is a water soluble B Vitamin whose main role is to serve as a precursor for two essential biochemical coenzymes, NAD and NADP.* These two cofactors participate in virtually every aspect of energy production and other metabolic processes.* Niacin coenzymes help the cell use carbohydrates, fats, and proteins to produce energy and are critical for DNA replication and repair.* Inositol Hexanicotinate is a stable, non-flushing source of Niacin. This superior source of Niacin works to reduce the common "niacin-flush" associated with high dose Niacin supplements.
Take 1 capsule daily as needed, preferably with a meal, or as directed by your healthcare practitioner.
Serving Size: One Veg Capsule
Amount Per Serving
Niacin ... 500mg
(Vitamin B-3)(from 640mg of Inositol Hexanicotinate)
Inositol ... 135mg
(from 640mg of Inositol Hexanicotinate)
Other Ingredients: Cellulose (capsule), Stearic Acid (vegetable source), Magnesium Stearate (vegetable source), Rice Flour and Silica.
This product does not contain
wheat
gluten
soy
milk
egg
fish
shellfish
tree nuts
Produced in a GMP facility that processes other ingredients containing these allergens.
Caution
The Tolerable Upper Intake Level for all forms of Niacin for adults is 35 mg/day based on flushing as the critical adverse effect; however, the form of niacin in this product is unlikely to cause a flushing response. High-dose Niacin has been associated with liver dysfunction. Although this occurs most commonly with slow-release Niacin, it can occur with any type of Niacin when taken at a daily dose of > 500 mg (usually ≥ 3 g). Regular blood tests to evaluate liver function are recommended when using high-dose Niacin. The anti-TB drug Isoniazid may increase the need for Niacin. If you have liver disease, ulcers, gout, gallbladder disease, or drink alcohol, do not take high-dose Niacin unless directed by your healthcare practitioner. High-dose Niacin may interact with statin drugs and may interfere with the absorption of tetracycline. If you are taking tetracycline, take at least two hours before or after taking Niacin.
Do not eat freshness packet. Keep in bottle. Natural color variation may occur in this product.