Folic Acid B12
Standard Process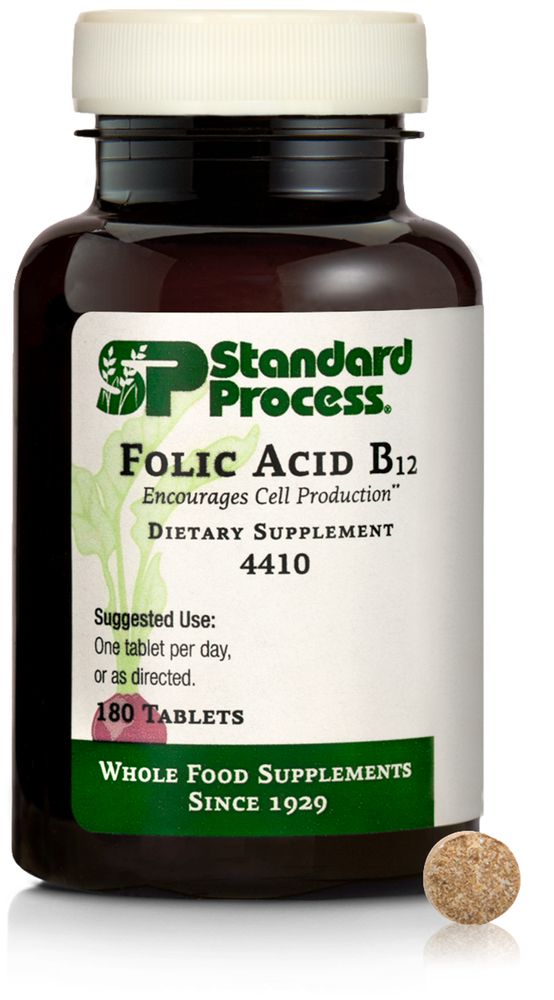 SKU: STP-4410
Folic acid and vitamin B12 support cellular health.*
Encourages healthy cell production
Supports healthy nervous system development
Encourages healthy circulation
Supports healthy homocysteine levels
Essential in the important processes of DNA formation and replication
Healthful diets with adequate folate may reduce a women's risk of having a child with a brain or spinal cord birth defect
Excellent source of folate and vitamin B12*
Take one tablet per day, or as directed.
Serving Size:
1 Tablet
Amount Per ServingFolate
... 665mcg DFE
(400 mcg folic acid)
Vitamin B12
... 6mcg
Proprietary Blend
... 350mg
Calcium lactate, bovine liver, organic carrot, organic sweet potato, porcine stomach parenchyma, defatted wheat germ, bovine spleen, ovine spleen, bovine adrenal Cytosol™ extract, oat flour, and ascorbic acid.

Other Ingredients:
Honey, dicalcium phosphate, cellulose, folic acid, and cyanocobalamin.
Caution:
This product is processed in a facility that manufactures other products containing soy, milk, egg, wheat, peanut, tree nuts, fish, and shellfish.