Fresh Catch Fish Oil Orange Flavor
Barlean's Organic Oils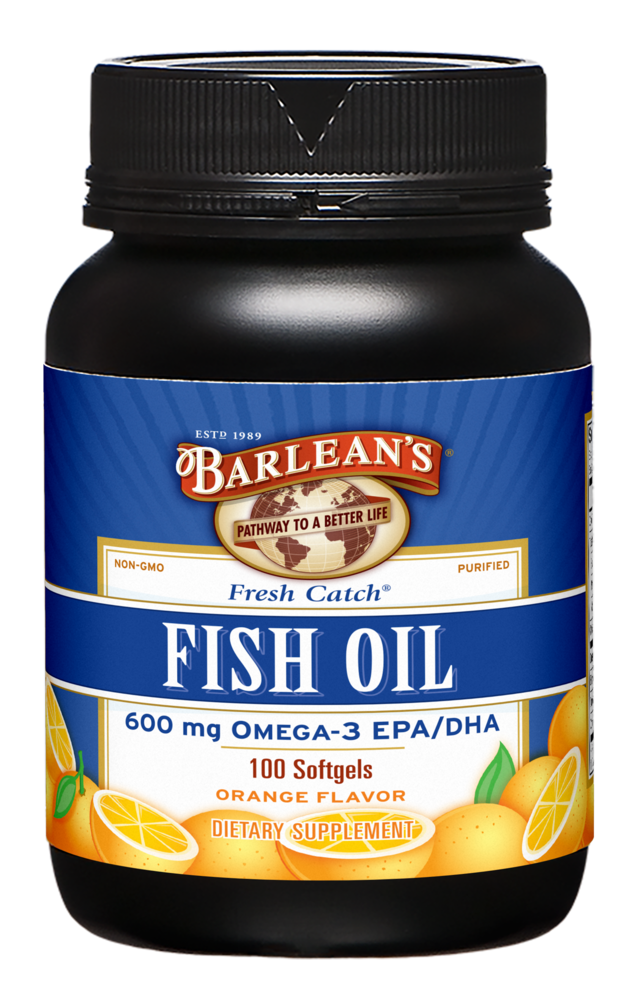 SKU: BAR-BFOC100
Our Fresh Catch Fish Oil softgels are ideal for people who are seeking the absolute highest-quality fish oil in convenient capsules. Ultra-purified, pharmaceutical grade and retained in its natural triglyceride form, our pure and pristine signature Fresh Catch Fish Oil softgels provide a daily recommended dose of Omega-3

Suggested Use:
Take 2-6 softgels daily with a meal.


Serving Size: 2 Softgels (2g)


Amount Per Serving
Calories ... 20
Total Fat ... 2 g
Saturated Fat ... 0 g
Polyunsaturated Fat ... 1 g
Monounsaturated Fat ... 1 g
Cholesterol ... 10 mg
Omega-3 Polyunsaturated Fat: Eicosapentaenoic Acid ... 360 mg (EPA)
Docosahexaenoic Acid ... 240 mg (DHA)
Other Omega-3 Fatty Acids ... 80 mg

Ingredients: Fish oil (Anchovy, Sardine, and/or mackerel), softgel (gelatin, glycerine, water, and caramel color), natural citrus flavor, and antioxidant blend (lecithin (sunflower and soy) natural mixed tocopherols, rosemary extract, ascorbyl palmitate, ascorbic acid, and citric acid)

Keep bottle tightly closed. Store in a cool, dry place, out of reach of children.