Fura-Mag/Interplexus
InterPlexus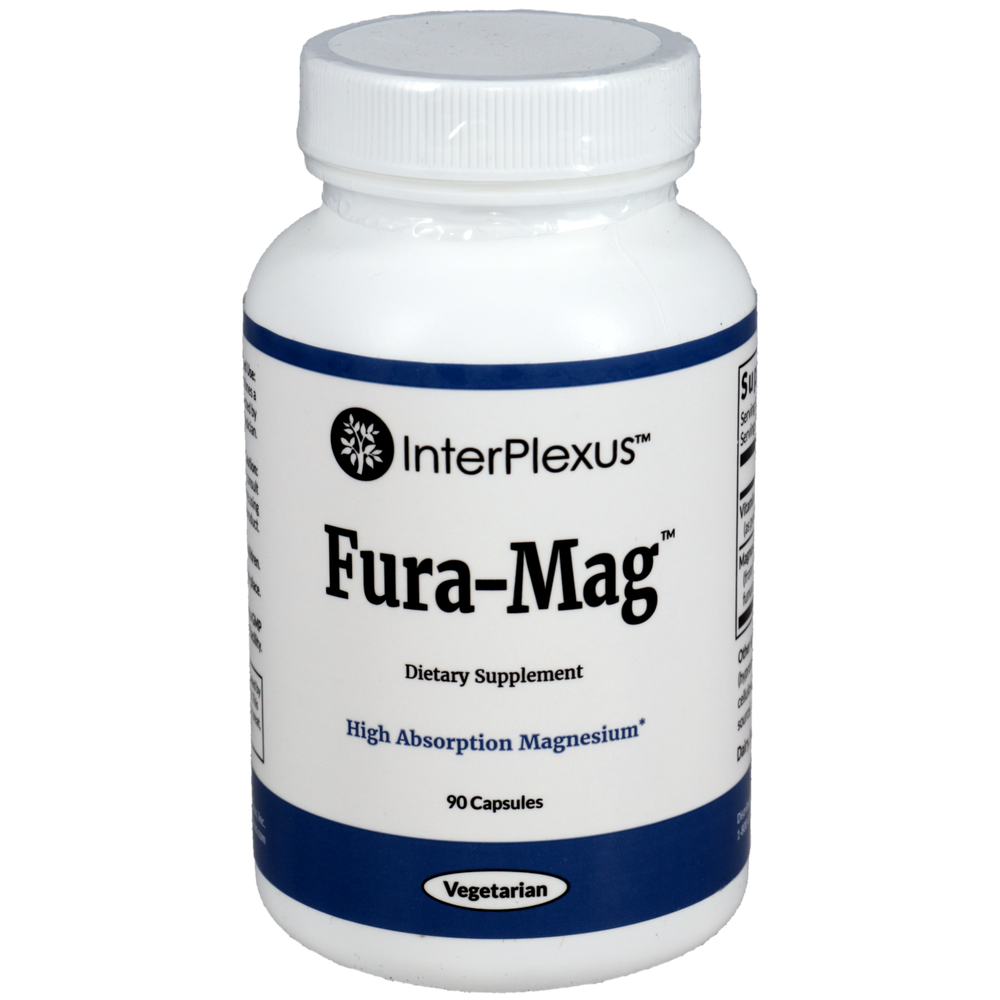 SKU: INT-MIN001
Highly Bioavailable Magnesium with Vitamin B6
Supports healthy cardiovascular, musculoskeletal, endocrine, neurological, and metabolic function*
Magnesium fumarate is a fully-reacted, organic bound magnesium salt known to have good bioavailability.1 Pyridoxine hydrochloride is added as a source of vitamin B6 which appears to enhance the absorption of magnesium into the cells.2
Magnesium deficiency is common in todays society, as many individuals do not consume the recommended daily intake of magnesium from food. With the benefits that come from adequate intake, magnesium supplementation may be a worthwhile consideration for individuals dealing with high levels of stress and many related concerns.
Supplementation with Fura-Mag:
Supports healthy cardiovascular function*
Inhibits platelet aggregation & dilates blood vessels*
Provides nutritional support for muscles & bones*
Reduces muscle spasm & soreness*
Supports healthy bone density*
Supports normal vitamin D synthesis & activity*
Speeds recovery after training*
Supports normal energy metabolism*
Supports cognitive function*
Enhances positive mood*
Improves adaptability to stress*
Supports normal blood sugar levels*
Improves insulin function*
References:
Ranade VV, Somberg JC. Am J Ther. 2001;8(5):345-57.
Abraham GE, et al. Ann Clin Lab Sci. 1981;11(4):333-6.
Romani AM. Met Ions Life Sci. 2013;13:49-79. doi: 10.1007/978-94-007-7500-8_3.
Ross AC, et al., eds. Modern Nutrition in Health and Disease. 11th ed. Baltimore, Mass: Lippincott Williams & Wilkins; 2012:159-75.
Rayssiguier Y, et al. Magnes Res. 2010;23(2):73-80.
Altura BM, et al. Int J Clin Exp Med. 2013;6(10):861-79.
Mazur A, et al. Arch Biochem Biophys. 2007;458(1):48-56.
Swaminathan R. Clin Biochem Rev. 2003;24(2):47-66.
Aydin H, et al. Biol Trace Elem Res. 2010;133(2):136-43.
Mocci F, et al. Occup Med (Lond). 2001;51(1):56-61.
Whyte KF, et al. Clin Sci. 1987;72(1):135-8.
Seelig MS. J Am Coll Nutr. 1994;13(5):429-46.
Golf SW, et al. Cardiovasc Drugs Ther. 1998;12 Suppl 2:197-202.
Jahnen-Dechent W, Ketteler M. Clin Kidney J. 2012;5(Suppl 1):i3-i14.
Singewald N, et al. Neuropharmacology. 2004;47(8):1189-97.
Cheungpasitporn W, et al. Intern Med J. 2015;45(4):436-40.
Long S, Romani AM. Austin J Nutr Food Sci. 2014;2(10).
Gröber U, et al. Nutrients. 2015;7(9):8199-226.
Rosanoff A, et al. Nutr Rev. 2012;70(3):153-64.
Dasgupta A, et al. Indian J Endocrinol Metab. 2012;16(6):1000-3.
Heer M, Egert S. Diabetes Metab Res Rev. 2015;31(1):14-35.
Rotter I, et al. Magnes Res. 2015;28(3):99-107. doi: 10.1684/mrh.2015.0391.
Fathizadeh N, et al. Iran J Nurs Midwifery Res. 2010;15(Suppl 1):401-5.
Mousain-bosc M, et al. Magnes Res. 2006;19(1):53-62.
Rimm EB. Bibl Nutr Dieta. 2001;(55):42-5.
Friso S, et al. Am J Clin Nutr. 2004;79(6):992-8.
Talebi M, et al. Adv Pharm Bull. 2013;3(2):283-8.
Take 1 capsule two to three times a day with a meal or as directed by your physician.
Serving Size: 1 Capsule
Amount Per Serving
Vitamin B6 ... 8mg
(as pyridoxine hydrochloride)
Magnesium ... 99mg
(from 900mg magnesium fumarate)
Other Ingredients: vegetarian capsule shell (hypromellose, water), microcrystalline cellulose, magnesium stearate (vegetable source)
Dairy, Soy, Egg, & Gluten Free. Vegetarian.
Caution: If pregnant or nursing, consult your physician before using this or any other product.
Keep out of reach of children.
Store in a cool, dry place.