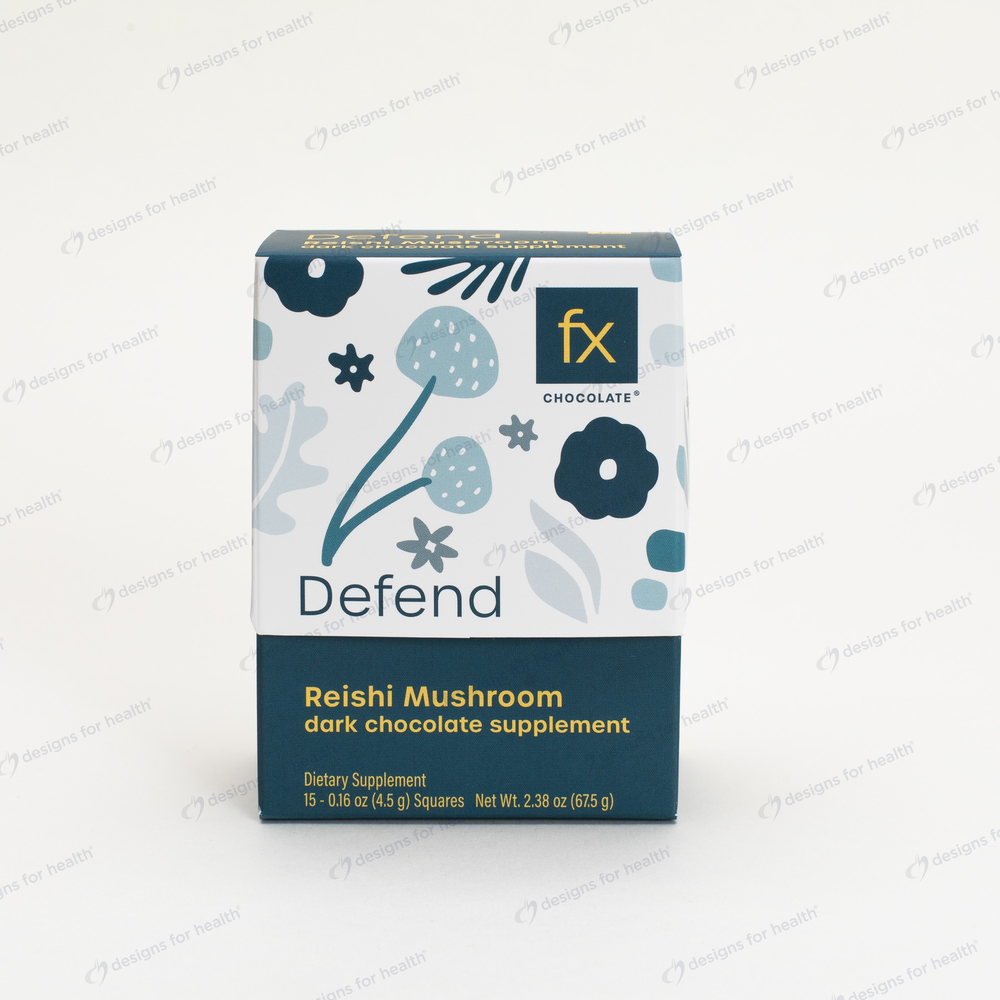 SKU: RXC501-FXDE15
Fx Chocolate® Defend is a synergistic blend of dark chocolate and mushroom polysaccharides for enhanced cellular protection that supports energy and immune health.*

Fx Chocolate® Defend contains 250 mg of GanoUltra™ — three individually extracted strains of full-spectrum organic reishi mushrooms (Ganoderma lucidum, Ganoderma applanatum, and Ganoderma tsugae). GanoUltra™ is revered for sustained energy, mind, and body-balancing properties.*
The mycelium, primordia, fruiting bodies, spores, and extracellular compounds derived from mushrooms are included in this formula for maximum potency. GanoUltra™ is the world's most respected producer of full-spectrum medicinal mushrooms, Aloha Pharmaceuticals.
Fx Chocolate® contains zero grams of sugar and is sweetened with allulose, a sweetening agent that is found naturally in jackfruit, figs, and raisins, with no bitterness or unpleasant aftertaste. The chocolate supplement delivery system is a novel and convenient way to receive the benefits of bioactive ingredients found in nutrients and herbs, especially for individuals who are unable to swallow capsules or softgels.
Suggested Use:
Consume one square of Fx Chocolate® Defend once per day. Do not exceed two squares per day.
Serving Size: 1 Square (4.5g)
Amount Per Serving
Calories … 15
Total Fat … 1g
Saturated Fat … 0.5g
Total Carbohydrate … 3g
Dietary Fiber … 1g
Organic Reishi … 250mg
Full Spectrum Blend
(Ganaderma lucidum, Ganoderma applanatum, and Ganoderma tsugae)
(GanoUltra™) (mycelium, primordia, fruiting body, and extracellular compounds)
Ingredients: Cacao nibs, allulose, organic cocoa butter.
Made on equipment shared with nuts and milk.
Gluten Free, Dairy Free, Soy Free, Non-GMO, Keto, Vegan.
Warning: Consult with your health-care practitioner about your specific circumstances and any questions you may have regarding this product.

Please refrigerate
It looks like there are no similar
products available