GABA-Pro® Calming Effect
Bioclinic Naturals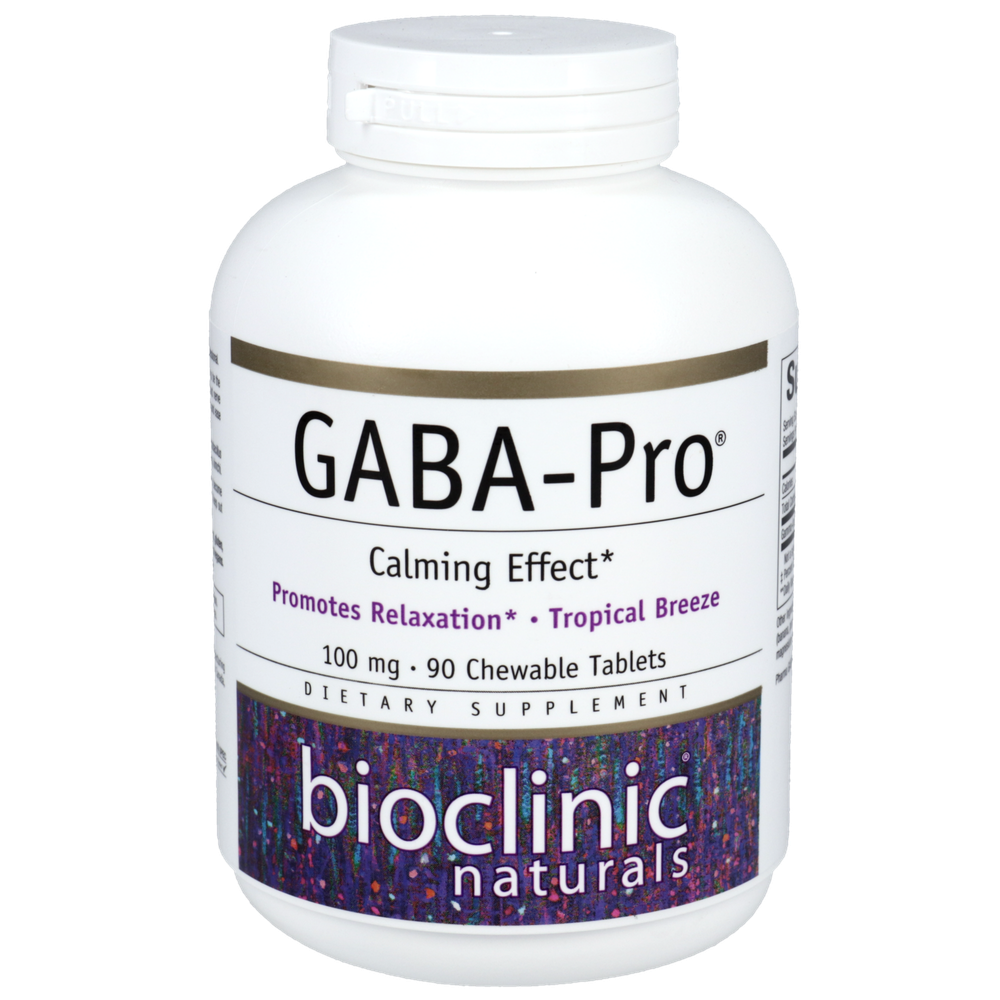 SKU: BCN-9283
Gamma-aminobutyric acid (GABA) is one of the major inhibitory neurotransmitters in the central nervous system, balancing the excitatory effects of glutamate on neuronal activity. The effects of GABA are generally considered to promote relaxation and ease occasional nervous tension.*GABA has also been shown to support an increase in alpha brain waves, which help maintain a more relaxed state and better concentration.*
GABA may support healthy immune system function by helping to maintain normal levels of secretory immunoglobulin A (SIgA), a marker of immune activity related stress. In one study involving people with a fear of heights, a control group crossing a suspension bridge had a 35% decrease in salivary levels of SIgA, while participants taking Pharma GABA had increased levels of SIgA, suggesting a relaxation effect.*
GABA activity and its receptors may help to temporarily decrease wakefulness, maintain normal sleep latency, and support slow-wave sleep.*
Pharma GABA is well absorbed and binds to GABA receptors in the peripheral nervous system. This activates the parasympathetic nervous system, the arm of the autonomic nervous system (ANS) responsible for producing the "relaxation response" – the opposite of the "fight or flight" response.* In a double-blind, crossover study, 12 healthy young adult males taking 30 mg of Pharma GABA per meal after an overnight fast had significant increases in overall ANS and parasympathetic activities, compared to placebo. This suggests Pharma GABA may support relaxation effects by modulating ANS activity.* It may also help support memory and cognitive function.* In two randomized, double-blind, placebo-controlled, parallel-group clinical trials with healthy participants 40 years and older, those receiving 100 or 200 mg of GABA daily for 12 weeks either maintained or improved cognitive function, respectively.
GABA (gamma-aminobutyric acid) is an important neurotransmitter in the brain and is known to be the brain's natural calming agent.*
Uses Pharma GABA, manufactured via a fermentation process that uses Lactobacillus hilgardii, the bacterium used to ferment vegetables in the preparation of the traditional Korean dish, kimchi.
GABA-Pro helps in normal functioning of the brain and nerve cells, which supports a focusing and calming effect.*
GABA-Pro can quickly promote relaxation and ease occasional nervous tension without causing drowsiness.*1
Generally recognized as safe (GRAS) status in the United States
Delicious tropical fruit-flavoured chewable tablet
Suitable for vegetarians and vegans
Suggested Use:
Take 1–2 tablets up to 3 times per day or as directed by a health care professional.


Serving Size: 2 Tablets

Amount Per Serving
Calories ... 10
Total Carbohydrate ... 4g
Gamma Amino Butyric Acid ...200mg
(GABA)

Other Ingredients: Xylitol, stearic acid, hydroxypropyl cellulose, silica, natural tropical fruit flavor (banana, pomegranate, pineapple, mango, passion fruit, orange, tangerine, mandarin), citric acid, magnesium stearate (vegetable grade).
Contains NO: Artificial colors, preservatives, or sweeteners; no dairy, sugar, wheat, gluten, yeast, soy, egg, fish, shellfish, animal products, salt, tree nuts, or GMOs.

Suitable for vegetarians/vegans.