Gamma E Toco Complex
Protocol for Life Balance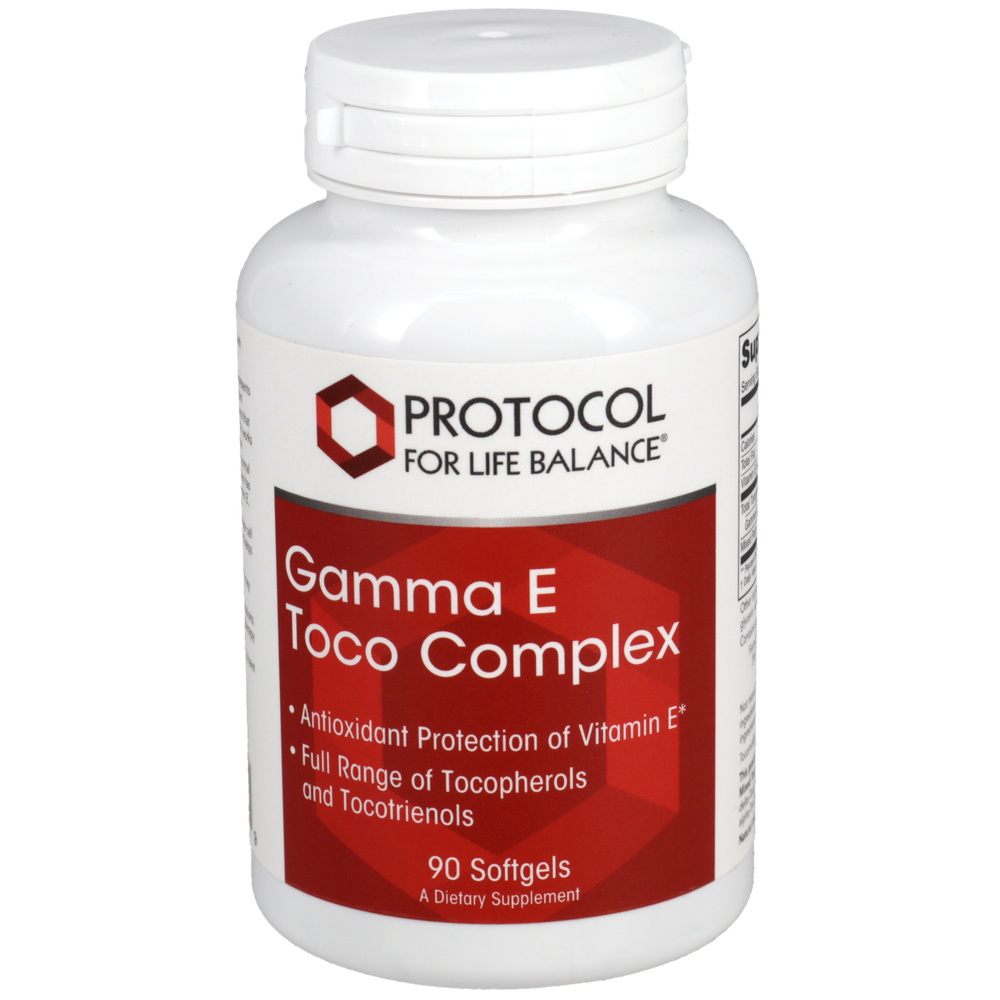 SKU: PROT-P0818
Gamma-Tocopherol (Gamma-TOH) represents the primary dietary form of Vitamin E in the U.S. Recent scientific studies indicate that Gamma-TOH possesses unique functions that distinguish it from other forms of Vitamin E. Gamma-TOH works within the Vitamin E complex to trap and remove free radicals from the body.* It also quenches nitrogen radicals and helps to balance the inflammatory response.* Gamma-E Complex provides the necessary full range of antioxidant protection of Vitamin E because it contains a natural balance of Tocopherols plus a full complement of Tocotrienols. As a complex, the Vitamin E family acts to stabilize cell membranes, provide support for a healthy neurological system, and plays a role in the maintenance of cardiovascular health.*
•Antioxidant Protection of Vitamin E*
•Contains a Full Range of Tocopherols and Tocotrienols


Take 2 softgels daily, preferably with food, or as directed by your healthcare practitioner.
Serving Size: 2 softgels

Amount Per Serving:
Calories ... 10
Calories from Fat ... 10
Total Fat ... 1g
Vitamin E ... 450IU
(as d-alpha Tocopherol)

Total Tocopherols ... 600mg
Gamma-Tocopherol ... 200mg
Tocomin® Mixed Palm Tocotrienol Complex ... 10mg

Other Ingredients: Softgel Capsule (bovine gelatin, glycerin, water, carob), Rice Bran Oil.
Contains soy
Contains no salt, starch, yeast, wheat, gluten, milk, egg, shellfish or preservatives.
Contains only 100% Natural Vitamin E.
Each serving also provides the following naturally occurring Mixed Tocopherols and Mixed Tocotrienols: delta-Tocopherol, beta-Tocopherol, gamma-Tocotrienol, alpha-Tocotrienol, delta-Tocotrienol, beta-Tocotrienol
Cautions/Interactions:
For adults only. Vitamin E may interact with blood thinning medications, including anticoagulant, anti-platelet and anti-inflammatory medications. It may also interact with cyclosporine regimens. Consult physician if pregnant/nursing, taking medication, have a medical condition, or are planning to have surgery. Keep out of reach of children.
*These statements have not been evaluated by the FDA. This product is not intended to diagnose, treat, cure or prevent any disease.