Garlitrin 4000
Integrative Therapeutics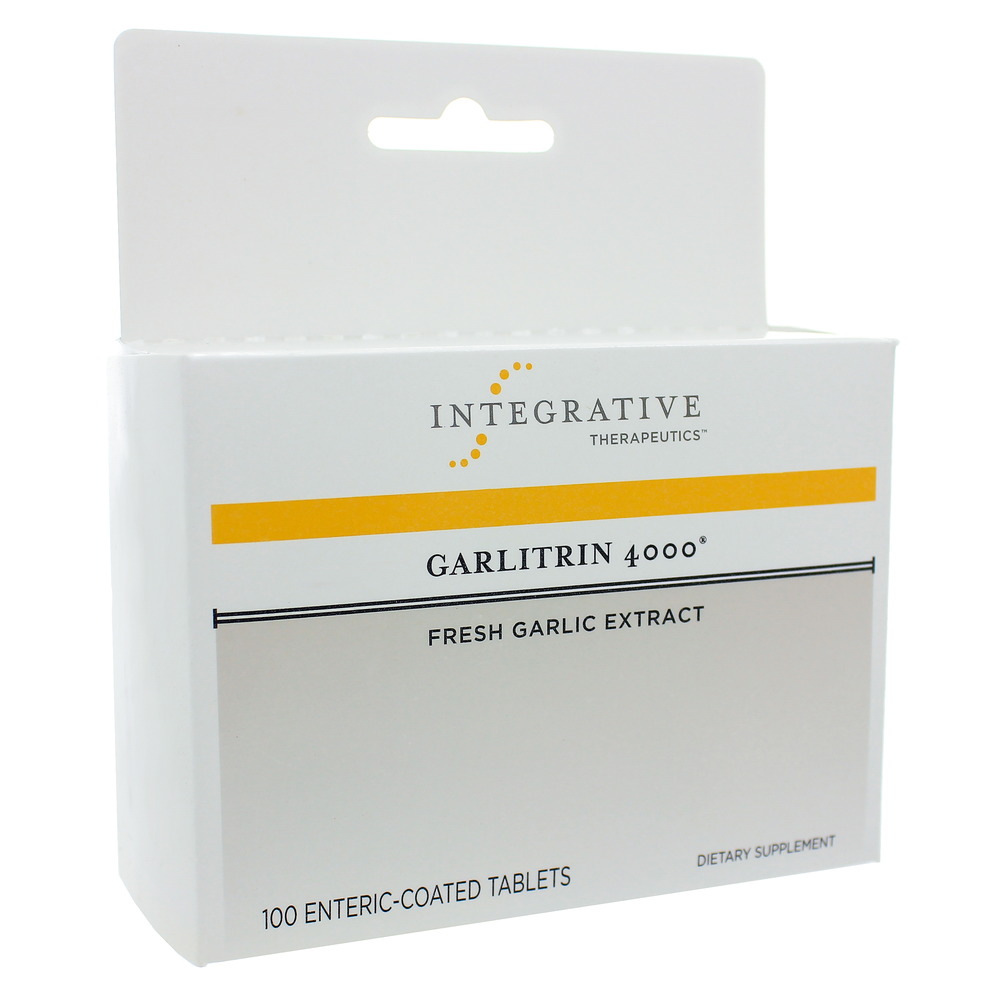 SKU: ITI-78501
Garlitrin 4000® is a once daily nutritional supplement containing garlic extract.
Alliin, the primary substance of garlic, and alliinase, the activating enzyme, are present in separate chambers of the garlic clove. When garlic is ruptured, alliinase interacts with alliin and converts it to allicin. However, allicin dissipates quickly during standard processing techniques.
Thorough disintegration testing shows that our unique manufacturing process actually prevents alliinase from interacting with alliin until the enteric coated tablet is well inside your small intestine.
Take 1 tablet daily with food, or as recommended by your healthcare professional. DO NOT CHEW OR CRUSH.
Serving Size: 1 Softgel
Amount Per Serving
Garlic Bulb Extract ... 320mg
(Allium sativum)
standardized to contain 3.4% alliin (10.88 mg)
Other Ingredients: cellulose, silicon dioxide, sodium carboxymethyl cellulose, hydroxypropyl methylcellulose, titanium dioxide (color), ethylcellulose, calcium stearate, hydroxypropylcellulose, sodium alginate, medium chain triglycerides, glycerin, oleic acid, stearic acid
Garlitrin 4000® Does Not Contain
artificial flavoring
corn
dairy products
gluten
ingredients of animal origin
preservatives
salt
soy
sugar
wheat
yeast
Caution: If pregnant, nursing, or taking prescription drugs, consult your healthcare professional prior to use. Do not use this product if you have a bleeding disorder, are taking blood thinning medication, or are within a week of any surgical procedure.