GastroOne Gut Health Formula
Patient One MediNutritionals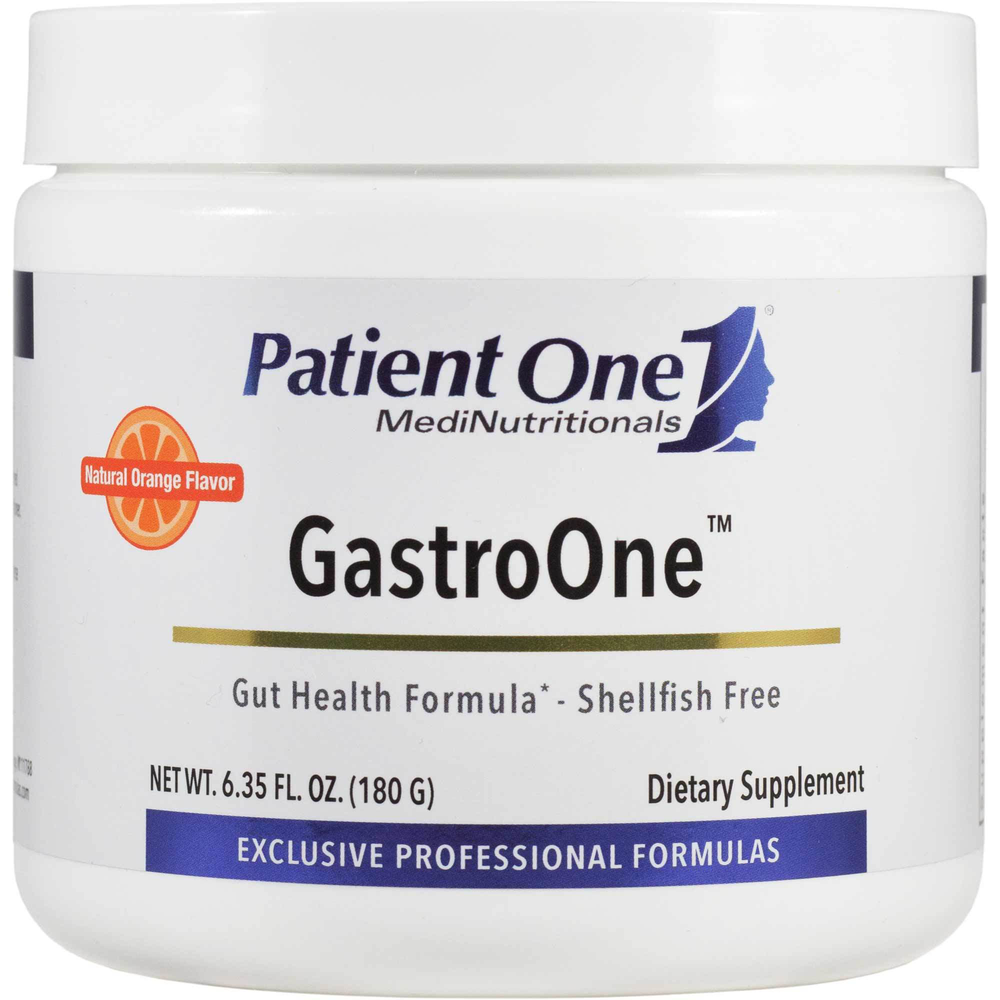 SKU: ONE631-P1045
Nutritional support for restoring GI tract wellness, soothing digestive discomfort and strengthening immune health
-Protects the intestinal mucosal lining
-Supports proper nutrient utilization and absorption
-Offers relief from heartburn, indigestion, gas and bloating
-Aids the body in resisting pathogenic bacteria
Patient One® GastroOne™ supplies comprehensive support for gastrointestinal (GI) health and function. Combining over 12 science-backed ingredients known for their beneficial effect on GI tract health, and presented in a pleasant orange flavor, Patient One GastroOne is an ideal formula for promoting healing of a compromised GI tract. 3000mg of L-Glutamine is the foundation ingredient in our formula, as many clinical studies support use of dietary glutamine for normal intestinal permeability, mucosal cell regeneration and intestinal structure. Various other included nutrients promote anti-inflammatory activities, support damaged epithelial tissue, and coat and soothe injured tissues of the GI tract.
GastroOne was reformulated to be shellfish free and vegetarian.
Blend, shake, or briskly stir 1 scoop of GastroOne preferably into 6-8oz. of water, juice or your preferred beverage. Drink on an empty stomach before breakfast or between meals 1-3 times daily, or as directed by a qualified healthcare professional.
Serving Size:
1 Rounded Scoop (Approx. 6.5g)
Amount Per ServingCalories
... 15
Total Carbohydrates
... 0.7g
Dietary Fiber
... 0.3g
Other Carbohydrates
... 0.4g
Zinc
... 16mg
L-Glutamine
... 3000mg
N-Acetyl-D-Glucosamine
... 500mg
(Shellfish free)
Deglycyrrhizinated Licorice
... 250mg
(DGL)(Glycyrrhiza glabra)(root)[Contains no more than 3% Glycyrrhizic acid (7.5 mg)]
Aloe Vera
... 300mg
(Aloe barbadensis)(leaf)[199:1 gel extract]
Slippery elm
... 200mg
(Ulmus fulva)(bark)
Marshmallow
... 250mg
(Althea officinalis)(root)
Chamomile
... 100mg
(Matricaria chamomilla)(flowers)
Methylsulfonylmethane
... 100mg
(MSM)
Quercetin
... 100mg
(as dihydrate)
Ginger root blend of root powder and root extract
... 500mg
(Zingiber officinale)
Fenugreek
... 250mg
(Trigonella foenum graceum)(seed)
FiberAid® Larch tree arabinogalactan
... 250mg
(Larix laricina)
Zinc L-Carnosine Complex
... 75mg
Other Ingredients:
gum arabic, natural orange flavor, and Stevia rebaudiana extract.

Does not contain
milk, egg, peanuts, crustacean shellfish (lobster, crab, or shrimp), soybeans, tree nuts, wheat, yeast, gluten, rice and artificial sweeteners, flavors, colors, preservatives, GMOs.
If you are pregnant, nursing, or taking any medications, consult your doctor before use. Discontinue use and consult doctor if any adverse reactions occur.